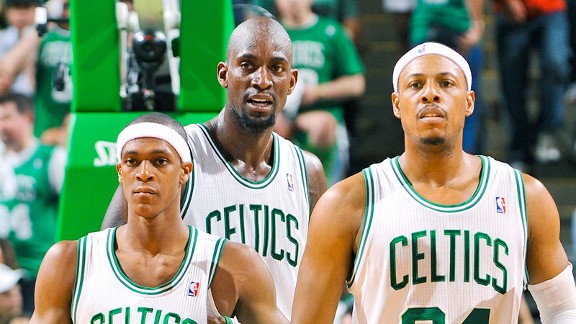 Jesse D. Garrabrant/Getty Images
Boston's new Big 3: Kevin Garnett, Paul Pierce, and Rajon Rondo.
Can the Celtics win the Eastern Conference next season? Bradford Doolittle of Basketball Prospectus examines that topic in an Insider

profile of teams that could dethrone the Heat:
So the Celtics look like a much deeper team this season and they're younger, too. Boston projected to have an average age (weighted by projected minutes) under 30 for the first time since the 2008-09 season. They should be a bit more athletic and projected to be the top defensive team in the league. The key to closing the gap with Miami in a possible head-to-head meeting will be for Boston to keep the scoreboard turning on a consistent basis. While the Celtics project a little better on the offense, they still won't be an elite team on that end of the floor, or even average. Boston does not emphasize offensive rebounding in the least, which is one of the items holding back its offensive efficiency.
Hop HERE

to read the full story.