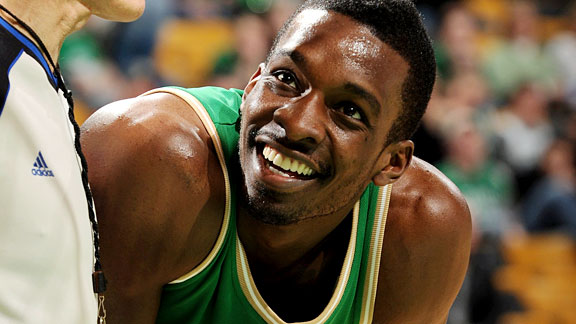 Steve Babineau/NBAE/Getty Images
Jeff Green is hoping to give Celtics fans a reason to smile this season.ESPN Insider's Joe Kaiser

digs into advanced stats to determine what Jeff Green's impact will be on the 2012-13 Celtics and emerges with a cheery outlook:
And while we're talking [James] Posey, that's probably a good starting point in terms of what we can expect from Green statistically in 2012-13. During the C's championship season, Posey averaged 7.4 ppg, 4.3 rpg and 1.5 apg and shot 38 percent from 3-point range in 24.6 minutes a game.

According to the SCHOENE projection system by Kevin Pelton of Basketball Prospectus, Green's numbers are expected to be very similar next season: 25 mpg, 10.1 ppg, 3.7 rpg, 1.1 apg and 35.2 percent from 3-point range.

One area to watch is Green's aggressiveness on offense. Synergy Stats shows that he's been primarily a spot-up shooter and post-up player over his four-year career. A shift toward more cuts to the basket and points in transition is the next step in his development.

He's already expressed a willingness to expand his game.

"I think I have to be more assertive, more aggressive in different areas, not necessarily just scoring," Green told Celtics.com in August. "I just have to change my outlook and my approach of the game, and that time that I had off and seeing certain spots on the floor where I can help really helped my mindset."
Hop HERE

to read the full story.
* Forsberg's thoughts: There's a lot of reasons to be excited about Green's return to the floor this season, but -- assuming full health and a return to the caliber of play before his health woes -- the biggest strides he can make will be on the defensive end. As the Insider article points out, Green never thrived as a man-to-man defender during his time with Seattle/Oklahoma City, but his numbers improved dramatically in Boston. That's not terribly surprising as most anyone would benefit from time in the Celtics' defense-first system. Alas, the sample size (26 games) isn't quite enough to suggest that Boston has tapped into his full defensive potential. Green needs to display greater intensity at both ends of the floor -- especially considering the NBA's talent level at the small forward position -- and, if he does that, then he'll be the sort of addition that can help Boston make another charge at the Finals.