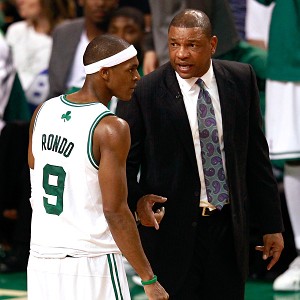 Jared Wickerham/Getty Images
Doc Rivers says Rajon Rondo continues to grow on the job, which he showed this offseason.ESPN Boston's Jackie MacMullan caught up with Celtics coach Doc Rivers, who opined on the Celtics' offseason, including the departure of Ray Allen, Rajon Rondo's "terrific summer," and all of Boston's roster additions. A few of the highlights:
* Rivers on Rondo organizing a team outing to L.A., which mixed basketball and fun (like a group flag football game): "Rondo has been great, just terrific this summer," Rivers said. "He reached out to all the players and got every single one of them to fly to L.A. and practice together. They put in about four or five hours a day. Paul and KG were already out there, but Rondo got Jason and Courtney Lee and all the other guys on board too. He called and asked me what I thought of the idea. I loved it, especially because it was him that organized it."
* Rivers on the loss of Ray Allen and the addition of Jason Terry and Courtney Lee, ""I tell you what," Rivers declared, "You give me [Rajon] Rondo and Avery [Bradley] and Jason Terry and Courtney Lee and I'll take that four-guard rotation over any other in the league."
* Rivers on the addition of Darko Milicic: ""It didn't cost us much," Rivers said. "He has it in him, and if we can get it out of him, then great. If not, well, I'd rather take a chance on a really talented guy."
* Rivers on getting back to work: ""I'm very excited," Rivers said. "I like our team, but then, I like our team every year on paper... I can't wait to get in the gym and see if I like them on the floor."
Hop HERE to read the full story.