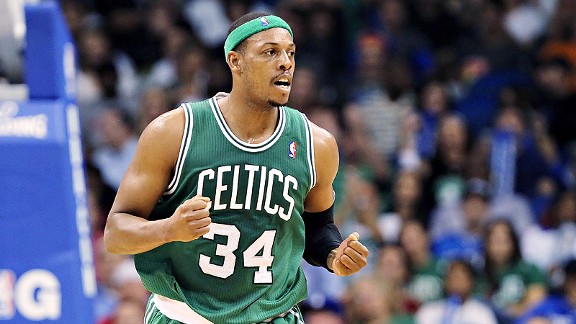 Kim Klement/US Presswire
Paul Pierce will showcase his word skills for charity.From our friends at ESPN Playbook:
Paul Pierce has his eyes on another title — except this time, he won't have to go through LeBron and the Heat to win it all. His toughest opponent actually might be one of the most famous rappers ever.

Zynga (the makers of "Farmville," "Zynga Poker" and "Words with Friends") announced the first "Words With Friends" Celebrity Challenge, which begins Thursday and runs through Oct. 3.

The round-robin competition includes a lineup that even "Dancing with the Stars" would be envious of: Eva Longoria, John Legend, Snoop Lion (Dogg), Jonah Hill, Sophia Bush, Kristen Bell, Ed Norton and -- the lone athlete representative -- Paul Pierce.

All are competing for $500,000 for their charity of choice. Pierce is playing for his foundation, The Truth Fund.

Via email, Pierce told Playbook: "Yes, I love 'Words With Friends,' play it all the time and was excited for this challenge." He also shared his other must-have apps: "NBA, ESPN, Nike+. Obviously 'Words With Friends,' but I just also got into 'Scramble With Friends,' too."
Hop HERE to read the full story.