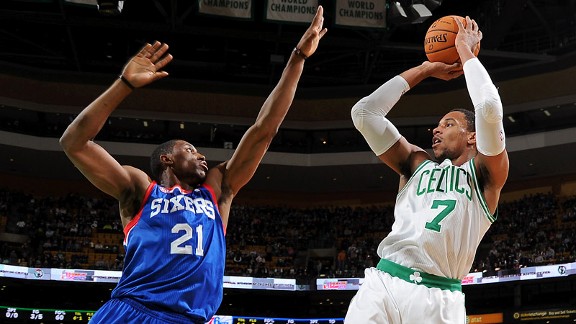 Brian Babineau/NBAE/Getty Images
Thaddeus Young (21) and the Sixers were a pest to Jared Sullinger and the Celtics.BOSTON -- Rapid reaction after the Philadelphia 76ers defeated the Boston Celtics 106-100 on Friday night at TD Garden:


THE NITTY GRITTY
Evan Turner scored a game-high 25 points and added 11 rebounds, while Jrue Holiday added 21 points and 14 assists to propel a Philadelphia offense that scored at will around the basket against a Boston defense that offered little resistance. Thaddeus Young and Dorell Wright added 15 points apiece for the 76ers, who have yet to play with offseason acquisition Andrew Bynum (knee). Paul Pierce scored a team-high 24 points for the Celtics, whose inability to generate consistent stops rendered their offensive efforts useless. Rajon Rondo quietly dished out 20 assists to go along with 14 points, while Kevin Garnett registered a double-double (19 points, 10 rebounds) as well.
TURNING POINT 1: TERRIBLE 2
It was a one-possession game entering the second quarter, but the 76ers needed a mere 1:20 to push their lead to double digits. Philadelphia erupted for 34 second-frame points and pushed its lead as high as 16 in the final minute of the half. Turner chipped in 14 first-half points on 6-of-11 shooting, but it was the 76ers' utter domination near the basket (15-of-23 within 5 feet of the hoop) that made the difference on the scoreboard.
TURNING POINT 2: NOT ENOUGH JET FUEL
The Celtics spent much of the middle quarters trying to whittle away that double-digit deficit. A pair of Jason Terry 3-pointers helped Boston rally within four (83-79) with 10:41 to play, and an offensive foul call on Nick Young had the Garden rumbling for the first time all night. The Celtics turned the ball over at the other end, the Sixers subbed in their starters and Philly got two easy buckets (tip-in and a dunk for Allen) as the lead went back up to eight with 9:27 to play. A 3-pointer by Turner and an old-fashioned three-point play by Thaddeus Young made it 93-79 with 8:21 to go. The Celtics kept making spirited runs, cutting their deficit to six with two minutes to go, but just couldn't get over the hump.
RONDO STREAKING THROUGH THE QUAD
Rondo racked up his 29th consecutive outing with double digits in assists. With that, he shuffled up and tied John Stockton (1990-91) for the third-longest streak in NBA history. Stockton is still in front of him with another streak (37), and Rondo is chasing Magic Johnson's record of 46 games in 1982-83.
JUDO CHOP!
Judo gold medalist Kayla Harrison and Celtics coach Doc Rivers were fast friends at the London Olympics this summer. Harrison, a Marblehead native, sat courtside at the Garden on Friday night, sporting a Rondo jersey. Alas, at 2-3 overall now, the Celtics are not even on the medal stand in the Atlantic Division (New York gold; Brooklyn and Philadelphia sharing silver).
WHAT IT MEANS
Rivers doesn't have to worry about getting Mike Brown'd with this sluggish start, but the Celtics (2-3, 1-2 home) have been stuck playing a miserable game of catch-up pretty much every game this season, and soon they'll be doing the same in the East standings if this keeps up. Defensive issues re-emerged against a team that has struggled to generate points; Boston offered absolutely no resistance around the basket. The Celtics now have a challenging back-to-back looming in Milwaukee on Saturday night -- a team that already beat Boston on its home court in the opener at the Garden last week.