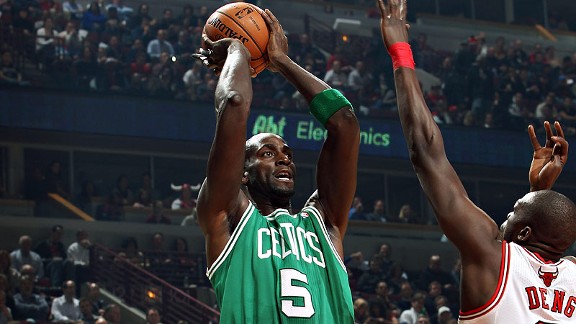 Gary Dineen/Getty Images
Kevin Garnett and the Celtics came out inspired in Chicago.Rapid reaction after the Boston Celtics defeated the Chicago Bulls 101-95 on Monday night at the United Center:


THE NITTY GRITTY
Rajon Rondo flirted with a triple-double, and settled for 20 points, 10 assists (more on that later), 9 rebounds and 5 steals over 37 minutes, 23 seconds. Rondo was 10-of-16 shooting from the field and keyed everything Boston did offensively. All five of Boston's starters landed in double figures; joining Rondo were Brandon Bass (16), Kevin Garnett (15), Jason Terry (13) and Paul Pierce (10). Despite a fourth-quarter lull, the Celtics shot 50.6 percent (41-of-81) and hung a rare triple digit on old friend Tom Thibodeau's vaunted Chicago defense. Luol Deng finished with 26 points and 11 rebounds to lead the Bulls, while Joakim Noah added 17 points and 11 boards.
TURNING POINT 1: C'S START FAST
The Celtics cranked the tempo from the jump and -- in committing only one first-quarter turnover -- erupted for 33 points in the frame while shooting 63.6 percent from the floor. Boston was 14-of-19 inside the 3-point arc and led by as much as 11. The Celtics kept Chicago at arm's length most of the night despite some feverish charges, including ...
TURNING POINT 2: TOO CLOSE FOR COMFORT
Boston's offense finally went cold in the final period, and Chicago trimmed a 12-point, fourth-quarter deficit down to three with 8:23 to go. That's where the game stood for 3 1/2 excruciating minutes before Terry (finally) drilled a 21-foot jumper with 4:54 to go. It was Boston's first bucket in more than five minutes of action. The Bulls got within two (95-93) with 49 seconds to go, but the Celtics got a way-too-easy Rondo-to-Garnett lob out of a timeout for an easy bucket that helped seal the win.
BOLD PLAY OF THE GAME
Bass put together a nice little sequence late in the second quarter, first blocking a Carlos Boozer fadeaway to start a fast break going the other way. When Leandro Barbosa's layup trickled off the rim, a hustling Bass was able to tip it to highlight a 10-0 run that had Boston out front 51-38 with 3:24 to play in the first half.
THE STREAK LIVES!
Rondo's streak of 30 games with double-digits assists seemed doomed with him sitting on seven helpers with less than three minutes to go. A couple of alley-oops to Garnett put him on the brink, and Rondo found Bass wide open under the basket late in the game to push the streak to 31 games.
LOOSE BALLS: BUMPS AND BRUISES
Bass suffered a right ring finger displacement midway through the first quarter, and trainer Ed Lacerte could be seen trying to put it back into place on the bench. Bass got taped up and put together one of his best efforts of the season. ... Jeff Green suffered a mild right ankle sprain after stepping on Garnett's foot on a drive to the basket early in the second quarter. He played 15:14 and kicked in seven points on 3-of-7 shooting.
WHAT IT MEANS
Forget how close it got late; this was Boston's best win of the season by a landslide. Sure, the Bulls don't have Derrick Rose (or even Kirk Hinrich), but there's still plenty of talent here, and the Celtics stormed into the United Center and put on an offensive clinic for the first three quarters. Between Monday's win and Saturday's triumph in Milwaukee, there's plenty to build off here. For the Celtics, this is the first of five games over a seven-day span. Boston hosts Utah on Wednesday, before heading back out on the road for a nationally televised battle with Brooklyn on Thursday. The weekend features a back-to-back that starts with a visit from Toronto on Saturday before Boston treks to Detroit on Sunday.