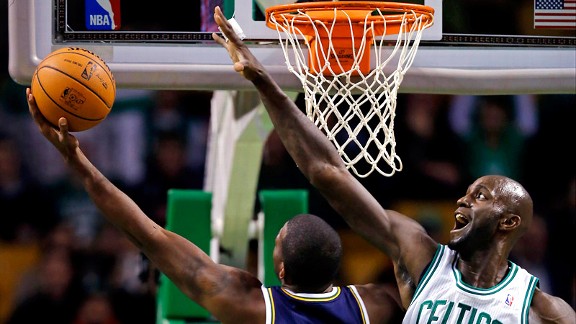 Greg M. Cooper/US Presswire
Kevin Garnett tries to protect the rim during Wednesday's game against the Jazz.BOSTON -- Rapid reaction after the Boston Celtics defeated the Utah Jazz 98-93 on Wednesday night at TD Garden:


THE NITTY GRITTY
Paul Pierce scored a team-high 23 points (despite 7-of-17 shooting), while Jeff Green and Leandro Barbosa provided a bench spark with 16 points apiece. Rajon Rondo added six points and 10 assists over a mere 25:18, sitting out the final 16:55 after rolling his right ankle on a drive to the basket in the third quarter. Paul Millsap scored a team-high 20 points on 9-of-21 shooting with 12 rebounds for the Jazz, while old friend Al Jefferson added 13 points and 14 rebounds.
TURNING POINT
While it seemed Boston was in control for most of the night, Jefferson's 19-foot jumper with 1:56 remaining tied the game at 93 (and the Jazz actually had multiple possessions with a chance to take the lead). A free throw by Garnett put Boston on top 94-93 with 1:08 to go and Piece added two more freebies with 19.5 seconds to play. The Jazz missed their last five shots over the final two minutes as Boston escaped.
BARBOSA PROVIDES EARLY SPARK ...
Rondo -- he of the now 32-game double-digit assist streak -- had zero helpers in the first 12 minutes and Boston trailed by five after the first frame. Enter Barbosa, who produced a strong drive to the rim for a layup and a 3-pointer from the top of the arc to give Boston a spark. Barbosa had seven points over a stint of less than six minutes. But he wasn't done.
... THEN A LATE ONE TOO
When Rondo rolled his right ankle with 4:55 to play in the third quarter, Barbosa provided another offensive jolt, this time a couple of running bank shots and a driving layup for six points before the end of the frame. Barbosa finished with 16 points, 3 rebounds and 2 assists over 23 minutes.
BOLD PLAY OF THE GAME 1
Rondo registered his first assist midway through the second quarter when he delivered a high alley-oop feed to Garnett, who thundered it down for his first bucket of the game. Just a few minutes later, Chris Wilcox reaped the benefits of running with Rondo, throwing down his own one-hand alley-oop off a lob from Rondo.
BOLD PLAY OF THE GAME 2
Garnett showed Rondo a thing or two about a pretty pass, delivering a behind-the-back baseline feed to Barbosa for a layup and an 80-74 lead early in the fourth quarter.
BOLD PLAY OF THE GAME 3
Just when we were ready to give Garnett the play of the night award, here comes Green with the gold-medal effort midway through the fourth quarter. Garnett was swarmed in the paint when he kicked to Green in the corner. Green attacked the basket and threw down a vicious one-handed jam that put Jefferson on a poster. Green got a technical for the ensuing staredown, but Utah missed the free throw. (Watch it HERE).
RONDO'S STREAK ROLLS ON
Considering he didn't have an assist until midway through the first quarter, but departed midway through the third quarter with 10, Rondo did some work in the assist column during that 13-minute stretch. His double-digit assist streak is now at 32 games -- within five of former Jazz point guard John Stockton -- as he pursues Magic Johnson's NBA record of 46 consecutive games.
WHAT IT MEANS
Nothing comes easy for the Celtics, but they've now got a three-game winning streak. Barbosa came up big with Rondo sidelined and the defense came up with big stops down the stretch. What's more, Celtics coach Doc Rivers managed minutes on the first night of a back-to-back with Brandon Bass playing a team-high 32:11, while Garnett (29:40) and Pierce (29:13) had comfortable nights. The Celtics trek to Brooklyn for a national-TV battle on Thursday night, then have a weekend back-to-back by hosting the Raptors in a Saturday matinee before visiting the Pistons on Sunday night.