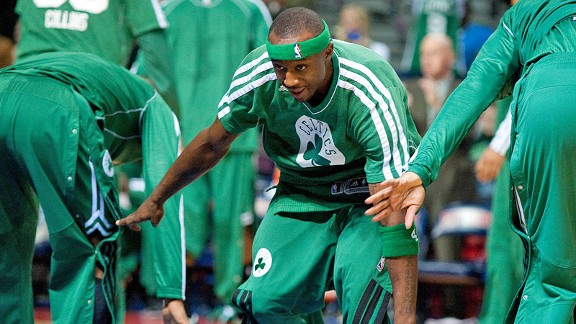 Tim Fuller/USA TODAY Sports
Less than halfway through his first season with the Celtics, Jason Terry is a Boston fave.From our friends at ESPN.com's Playbook, Jason Terry dishes to Jared Zwerling about his new teammates on the Boston Celtics:
Even in interviews, Terry's infectious personality comes through and he's down to talk about whatever -- including his new teammates in Boston. ESPN Playbook sat with the guard, who's averaging 10.6 points per game for the suddenly surging Celtics, to discuss Courtney Lee's dancing, Rajon Rondo's unique rituals and hitting Dick Bavetta in the head.

Best dancer: "Courtney Lee. He doesn't really have a go-to move. He does every era [of] dance, so you can take it back to the old school, he can do new-school dances -- he has a full repertoire of dance moves.

"Jeff Green, myself and Courtney Lee, we all do a little thing [before a game] where we'll slap hands twice, I'll fly in his direction, he'll fly towards me and we'll spin around. Then, we call Jeff Green 'Iron Man,' so we'll open up our chests like 'Iron Man' and then Courtney Lee will come in with a crazy, goofy dance to end it off, and then we'll go to the jump-off."

Best nickname: "Myself ['Jet']; you've got 'The Big Ticket' [Kevin Garnett]; you've got 'The Truth' [Paul Pierce]; 'Iron Man' is Jeff Green; 'Animal' is Brandon Bass; and [Leandro] Barbosa is 'The Blur.'"

Most interesting off-court talent: "Paul Pierce bowled like a 298 or something one time. For some reason, he has the glove, he has the shoes, he has the ball. I think he'll make the tour or something when he retires."

Most unique pregame routine: "Rajon Rondo, for sure. His routine is long-winded and it lasts all the way through tip-off. It starts in the back hallway. He runs down a corridor and he throws the ball to our team chaplain, who throws it back. Then [Rondo] runs out into a circle, high-fives the whole team and then he does the layup lines for five minutes.

"Then he will stand under the goal and Paul Pierce will shoot every ball on the rack from half court. Rondo will catch four balls at one time and then after that, it's just amazing -- one pass off the backboard to KG, one bounce pass to Paul Pierce and then he throws it all the way up to the scoreboard and Jeff Green finishes with an alley-oop.

"It's every game, even road games. I have no idea how he started it; I'm new to the team. I was still going through layup lines and I almost got hit with one of those balls in the head. I wasn't aware that's what they were doing. It threw me off.

"Before I came here, I had a ritual, and that was I'd throw the ball and make sure I hit the JumboTron. Some of them were way, way up to the ceiling, and I wanted to hit it every time. The funniest story is one time I hit the JumboTron, the ball came back and hit the ref in the head. I walked off so quick. It was Dick Bavetta."
Hop HERE to read the full story.