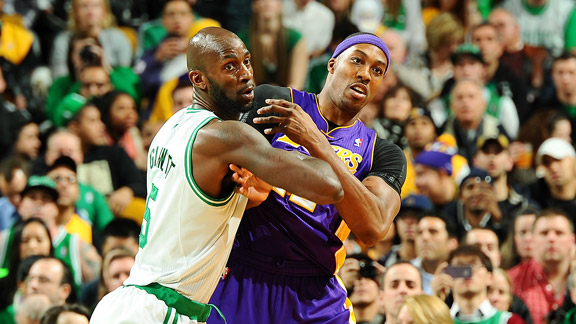 Brian Babineau/NBAE/Getty Images
Kevin Garnett and Dwight Howard renewed acquaintances during Celtics-Lakers on Thursday. BOSTON -- Rapid reaction after the Boston Celtics defeated the Los Angeles Lakers 116-95 on Thursday evening at TD Garden:

THE NITTY GRITTY
Paul Pierce scored a team-high 25 points on 10-of-17 shooting to go along with seven rebounds, six assists and a block before resting for much of the final frame. Jeff Green matched his season high with 19 points off the bench, while Jason Terry kicked in 15 more. Kevin Garnett, the newest member of the league's elite 25,000-point club, overcame early foul trouble to score 15 points to go along with five rebounds and four assists over a mere 23 minutes. Kobe Bryant scored a game-high 27 points on 9-of-15 shooting (this despite solid defense by Courtney Lee), while Dwight Howard had nine points and nine rebounds for the Lakers.
MILESTONE MOMENT: KG'S 25,000TH POINT
Garnett became only the 16th player in NBA history to reach 25,000 points with a vintage turnaround fadeaway over Earl Clark early in the second quarter. When the moment was acknowledged during the next stoppage in play, Garnett received a standing ovation and waved to the crowd. For more on the milestone, hop HERE.
TURNING POINT
The Celtics were up 15 with three minutes to go in the third quarter, but just in case Los Angeles had any thoughts of a rally, Boston slammed the door -- and slammed it hard. Terry hit a 3-pointer before a dizzying sequence in which Green delivered a thunderous one-handed jam and hustled back for a chase-down swat on an Antawn Jamison layup before Pierce drilled a 3-pointer of his own to put Boston on top 95-69 and sent the Garden into an absolute frenzy.
WHISTLES WHILE YOU WORK
Two fouls over the first 2:08 forced Garnett to the bench, and it took Jason Collins a mere three seconds to get his first foul after subbing in for KG. The Lakers were in the bonus in 2½ minutes into the game as the Celtics were whistled early and often. Collins picked up three fouls over a 5½-minute stint and Boston was forced to lean heavily on Chris Wilcox (who rewarded the team with six points and a plus-9 in plus/minus in 10:47 of first-half action).
VALUE THE BALL
The Celtics built a 14-point halftime lead in large part by taking care of the basketball. The Celtics had only two first-half turnovers (and the Lakers didn't cash them in for points). Boston also played a solid second quarter, limiting the Lakers to 37.5 shooting (9-of-24), while the Celtics shot a blistering 58.8 percent (10-of-17) to outscore Los Angeles 31-21. For the game, Boston committed a mere nine turnovers (leading to just six points).
MELO'S FAB FIRST BUCKET
Celtics rookie center Fab Melo got five minutes of trash time and registered his first NBA bucket with a layup off a feed from Avery Bradley late in the game. Melo is incredibly raw, but the arena goes nuts when he hits the floor. He was also credited with a block, but finished minus-6 in plus/minus.
WHAT IT MEANS
The Celtics matched a season high by winning their sixth straight (and have now won 12 of their last 18 overall, sandwiching both of their six-game winning streaks around a six-game losing streak). Even after playing on Wednesday night in Toronto, Boston didn't lack for energy and absolutely dominated the middle quarters. The Celtics surely don't mind adding to the drama in La-La Land. Boston gets two days off before hosting the Denver Nuggets on Sunday night.