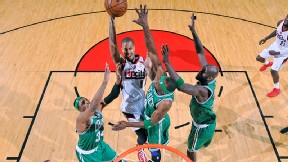 Sam Forencich/NBAE/Getty Images
The Celtics couldn't quite corral the Blazers on Sunday night in Portland.Operation Upright began for the Boston Celtics on Friday night in Phoenix when Celtics coach Doc Rivers took a calculated risk by resting Kevin Garnett.
The move offered a glimpse into Rivers' thinking over the final two months of the regular season and, his team ravaged by three season-ending injuries in recent weeks, he's clearly putting a premium on ensuring his remaining players are still able to step on the floor when the playoffs roll around.
If that comes at the cost of making their playoff path slightly more difficult, Rivers will take the tradeoff.
"Listen we're not going to be a 1 seed, we know that, so we just want to be a seed," Rivers said before Friday's game in Phoenix, acknowledging that a road-heavy schedule (18 of Boston's 30 games after the All-Star break are on the road) makes climbing the Eastern Conference playoff ladder all the more difficult.
Boston dropped to 1-3 on a five-game road trip with a 92-86 loss to the Portland Trail Blazers on Sunday and a tough turnaround awaits with a visit to Utah on Monday. The Celtics would love to close this road trip out on a positive note, but even with seven of the following eight days off, don't expect it to come at the expense of running veterans into the ground.
"The neat thing is that we are very close to the fifth seed," Rivers pointed out on Friday, his team now actually a mere 3½ games behind fourth-seeded Brooklyn (and three games behind both Atlanta and Chicago). "But [the focus is] going to be health now for sure for us."
Which, maddening as it may be, might simply mean more roller coaster basketball from this team.
The Celtics certainly desire to play more consistent ball, particularly before the playoffs arrive -- Paul Pierce implored his team to do such in the closing moments in Portland -- but the road-heavy schedule and a roster that's being infused with new faces makes it that much more difficult.
The Celtics don't necessarily have to pile up wins before the playoffs arrive, but they need to focus on two areas: (1) Consistency and (2) Winning on the road.
After Jeff Green's 31-point outburst in a spot start for Garnett on Friday, observers wanted to either put him in the starting lineup or the Hall of Fame. On Sunday, Green labored through 4-of-12 shooting for 11 points while finishing a team-worst minus-17 in plus/minus in Portland. Newcomers Terrence Williams and Jordan Crawford were spectacular in Phoenix, only to pair up for 1-of-8 shooting for two points in a combined 19 minutes on Sunday. Chris Wilcox had a brilliant night running the floor offensively in Phoenix, but his defense regressed in Portland. Boston's bench has been too prone to invisibility at times this season.
The more daunting aspect might simply be solving Boston's road woes.
The Celtics are a cringeworthy 9-18 away from TD Garden this season, continuing a downward trend on the road in the Garnett era. Since the start of the 2007-08 season, Boston has won 58.5 percent of its road contests, but that success has fallen off in recent seasons. In fact, the Celtics' win total on the road has essentially been halved, dropping from 31-10 in 2008 to 15-18 during last year's lockout campaign. It'll dive again this season, barring an unforeseen turnaround.
So how exactly does Boston reverse its road fortunes?
"You gotta come out and be the aggressor when you're playing on somebody's opposing floor," Jason Terry said at the start of this trip. "You gotta throw the first punch, so to speak, and I thought [in recent games], we were back on our heels. We played on our heels a lot. But again, next game is another opportunity for us. And on the road, too, you gotta be resilient. Teams are going to make runs, but you have to stay calm, stay confident, and play your game."
The Celtics visit Utah on Monday to wrap up a five-game road trip. The Jazz are a stellar 21-6 at home, their success on their home turf essentially fueling a potential dash toward the playoffs. Boston's road struggles might be the biggest reason the team seems resigned to a lower seed.
Boston is almost certainly going to have to do some damage on the road in the postseason if it is going to make another run. The Celtics know they haven't showed the potential to do such so far this season, but players remain convinced more consistency remains achievable.
We just might not know if they are being honest until the playoffs arrive.