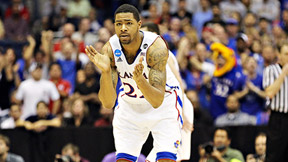 Ronald Martinez/Getty Images
Marcus Morris ended up traded to Phoenix at the trade deadline.Did the Celtics nearly land forward Marcus Morris at the trade deadline?
Initial reports indicated that Houston was debating two trade options for the second-year forward, the 14th overall pick in the 2011 draft. Morris ended up going to Phoenix -- reunited with twin brother, Markieff -- in exchange for a 2013 second-round draft pick.
The other team? Markieff Morris intimated on Phoenix sports radio KTAR that Boston was the other team in play. Courtesy of SportsRadioInteriews.com:
Q: When did you first learn that your team was pursuing your brother?

Markieff Morris: "I was on the bus riding to … the Golden State game and Jared Dudley was like, 'They're talking about trading your brother.' So I was just calling him to see how he felt about it. And he said it was between [Phoenix] and Boston."
Morris is a 6-foot-9 forward who could have helped replenish Boston's depleted frontcourt depth. In 73 career appearances, he's averaged 7.1 points and 3.3 rebounds over 17.9 minutes per game.
On the surface, the decision between the two potential deals seems like a no-brainer for Houston. Phoenix is dead last in the Western Conference and their second-round pick this season will likely be in the early 30s. Boston doesn't own a second-round pick in this year's draft -- it traded it to Portland as part of a three-way deal with Houston to acquire Courtney Lee this summer -- which means the Rockets would have had to wait to collect a future second-rounder (Boston has two second-round picks in 2014, its own and another from Brooklyn).
Boston could have made a stronger push by offering a future first-round pick, but that's risky. Plus, it's unclear if hard-capped, apron-pushing Boston could have taken on Morris' $1.9 million salary without sending something back to Houston (whose payroll is already clogged with bought-out Boston castoffs like E'Twaun Moore and JaJuan Johnson).
Ironically, Morris made his Phoenix debut against Boston on Friday night, scoring seven points over 6½ minutes in the Celtics' lopsided triumph.
Size-craving Boston has clearly not been fond of what's available on the free-agent market and might have missed out on a chance to add a recent lottery pick at a low cost. Instead, Boston has turned its attention to free-agent bodies, including D.J. White, who is expected to (finally) ink a 10-day contract later this week once his clearance issues are resolved after playing in China at the start of the season.
Celtics coach Doc Rivers said in Phoenix that Boston desires to add another big body with an available roster spot.
In other potential near-miss news, our friends at CelticsHub point out that German big man Tim Ohlbrecht signed with -- who else? -- the Rockets on Tuesday. European hoops site Sportando reported last week that Ohlbrecht turned down a 10-day contract offer from Boston and it appears he was simply waiting for the security of a rest-of-the-season deal that the Rockets extended.
Rockets general manager Daryl Morey is doing his old friends in Boston no favors this month.