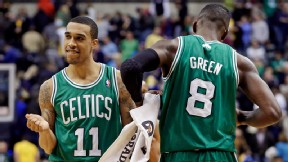 AP Photo/Darron Cummings
The Celtics had plenty of reasons to celebrate in Indiana.The Boston Celtics pitched a shutout over the final 4 minutes, 36 seconds of Wednesday's come-from-behind triumph in Indiana. The Pacers didn't score on their final 10 possessions, missing seven shots and turning the ball over three times.
What were the Celtics doing defensively?
"We were laughing because, I think someone called it a manwich, a man zone, I mean, we were half zone, half man. It was almost silly, it really was," said coach Doc Rivers. "But it was really good.
"We went into timeout [and said], 'Any pick and roll, we're man; any ball swing, we're zone.' [The players] figured it out. We've been doing that a lot lately, we have enough guys on the floor that can do it. And it's really important with [Jason Terry] at the end of the game, because that's the guy they are going to try to attack. And to be able to put him in the zone -- and he's great in zone from Dallas -- it's been good for us."
The Celtics have gone zone in each game of their current four-game winning streak. When Avery Bradley and Courtney Lee got in foul trouble against Golden State, Boston threw a zone curveball at the Warriors. Philadelphia came out on fire on Tuesday night and the Celtics went zone trying to cool them down (then stuck with it for much of the evening).
Synergy Sports data pegs only 3.8 percent of Boston's total defensive possessions in zone during the past four games, but Rivers admits it's hard to decipher when the Celtics are in pure zone -- because often it's a crazy mix with both man and zone principles.
You can't argue with the results, however. In the small sample, Synergy data has the Celtics allowing a microscopic 0.4 points per play. To put that in perspective, Boston is allowing 0.822 points per play overall during this winning streak and 0.892 for the season (fifth best in the league). Synergy has Boston at 0.747 points per play overall in zone this season.
"It's really a matchup zone more than a college zone," said Rivers. "We switch everything, but we guard the ball, whereas a college zone, they are standing there with their arms up -- you can't do that in our league. Our guys actually go out and guard the ball. They play our man defense in pick-and-rolls; whenever the ball goes to the post, we draw up into a man; under 5 seconds we go up into a man. So it's a lot of changes and you have to be really alert to do it. Kevin Eastman has been the guy, he's done a terrific job."
Rivers expects to keep going back to the zone and his players -- yes, even Kevin Garnett -- like it.
"Kevin wants to just play man-to-man and he thinks you should just guard your own guy, and if everybody did what he did, then it'd be perfect defense," said Rivers. "But he's gotten into it. He likes it [the zone], too, at times because of the switching."