With his current 10-day contract set to expire on Saturday, Celtics forward D.J. White can't afford to look too far into the future, but Boston's schedule might just be too tempting.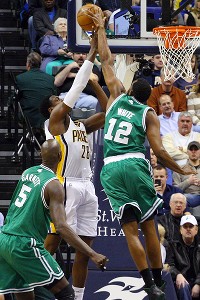 Brian Spurlock/US Presswire
DJ White debuted for Boston against the Pacers on Wednesday.White is clearly hoping his tenure with the C's can continue -- and all indications are he'll be sticking around, including the fact that he traveled with the team on Saturday -- but right now his interest might extend past simply wanting to play for a potential Eastern Conference contender. The Celtics' next two matchups are with the Oklahoma City Thunder and the Charlotte Bobcats -- White's two former NBA teams.
Prior to Friday's 107-102 overtime win against the Hawks, White downplayed a potential matchup with the Thunder, but admitted he'd be a little bit more amped up for a showdown with the Bobcats.
"I've played Oklahoma, I've played them before, so it's just another game. It'll be good to see those guys. I'd love to play Charlotte though," White said with a laugh. "I'd love to see them. But that's a different topic. At the end of the day, it's basketball, so hopefully I'll be there for those games."
White was traded to Charlotte from Oklahoma City midway through the 2010-11 season, but after appearing in 58 games for the Bobcats during the 2011-2012 campaign, he was not retained. When he first signed with the Celtics after finishing a season in China, White didn't deny he was a little bit miffed when Charlotte didn't pursue his services.
"I was a little surprised," White said. "Especially, I felt I played pretty decently, especially at the beginning of the season. But my minutes went down towards the end of the season for whatever reason, but that's part of the business."
So with Charlotte on the horizon, it's only natural for White to want to still be with Boston and get a chance to stand out a bit against his former club. "I have a little juice for them," White said with a wry grin on Friday.
White saw his first action with the Celtics during Wednesday's last-second win over the Pacers. In four minutes, he pulled down two rebounds and blocked two shots, perhaps showing head coach Doc Rivers he has the ability to be active on the defensive end.
"It was good," White said of playing Wednesday. "Just happy to be out there, I got a couple minutes, just to touch the ball, get a little live action because it's different than practice and definitely different in China. So, it was good to get out there."
White compared being thrust into this new environment to that of being traded, stressing that the biggest hurdle is adjusting to a new system and the new players. But while it's been a bit of a whirlwind so far, White said the C's have made him feel right at home.
"Everybody embraced me," White said. "I know a lot of the guys from playing with them or just being in the league, seeing them in the summer. So everybody's embracing me. I kind of feel like sometimes I've been here all season, just how we've all jelled and have a good time. So it's a great locker room here."
White went on to praise the veteran leadership of Kevin Garnett and Paul Pierce, saying he couldn't even properly describe what it's like to see them conduct themselves on a day-by-day basis.
"I can't even describe it. I've never been around anything like it, just their focus, how they can snap to being focused so quick," White said. "It's great. I can't even describe it, it's just awesome."
White's also been impressed by C's head coach Doc Rivers.
"He's a great coach, players' coach... he's just been great, just from seeing it," White said. "He's the same with the number one guy to the last guy on the roster. You can't say that about many coaches, and I appreciate that about him."
White can't be entirely sure when his run in Boston will come to a close -- the team can ink him to one more 10-day deal or sign him for the remainder of the season if it desires to keep him around -- but regardless of that expiration date, he said he's already learned things that he'll carry for the remainder of his career.
"Just continuing to be a professional. I think that I've been pretty good at it so far, but these guys take it to another level, with KG, (Jason) Terry, (Pierce)," White noted. "Like I said, I can't even describe it, it's just visual, just paying attention to them. They just make you think, take you to another level in your mind. So it's just been great being around that. It's a blessing."