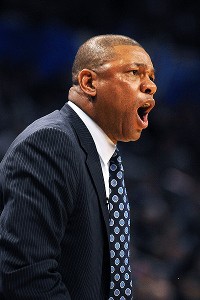 Mark D. Smith/USA TODAY Sports
Doc Rivers wasn't thrilled with his team's performance in Sunday's loss in Oklahoma City.The Celtics accomplished many of their defensive goals in their 91-79 loss to the Thunder on Sunday, limiting Oklahoma City to 91 points on 44.1 percent shooting from the field while not allowing All-Stars Kevin Durant and Russell Westbrook to have breakout games.
But Boston wasn't as successful on the other end of the floor, conjuring just 79 points while shooting an unsightly 37.7 percent from the floor for the game and an even more ghastly 18.1 percent in the fourth quarter. Head coach Doc Rivers pointed to his club's poor shot selection for the subpar offensive performance.
"I thought it was awful. Really," Rivers told reporters in Oklahoma City. "I thought we missed some open shots, which I always love those, but I thought we got stuck a lot on one side of the floor. We saw matchups that we had advantages on. And give them credit, they would fight it and if it's not there, at some point you've got to get the ball to the other side and we just refused to do that. It was almost like, 'I'm going to make sure we get the ball to that guy.' And give them credit, sometimes they take you out of it. You've got to move the ball."
Though he finished with a 10-point, 11-rebound double-double, Kevin Garnett labored through a 5-for-19 shooting performance that saw him miss a handful of looks both in the paint and from the perimeter.
"Those weren't great shots tonight," Rivers said of the looks Garnett was getting. "So, I want him to be aggressive, but we want to get him better shots than he had tonight. He did miss some open shots and those were the elbow shots, but I think we -- I -- have to do a better job of getting him better shots. I love him having 20 shots, but I'd like to have him 20 good shots. I thought he had 10 good shots and then 10 very tough shots."
Boston managed to limit Durant to 23 points on 6-of-16 shooting (he connected on all 11 of his free throw attempts) and Westbrook to 15 points on 5-of-11 shooting, largely due to the respective efforts of Paul Pierce and Avery Bradley. Rivers was pleased, overall, with the Celtics' effort on the Thunder's two star players.
"Well (Durant's) going to shoot. He gets the ball every time," Rivers said. "It's one of the things I told our guys. I said, 'We're going to do a great job.' Our goal was to hold them under 100. I said, 'At the end of the day, Durant and Westbrook, they're probably going to have a lot of points because they get to shoot the ball every time down the floor.' But, it's to make it so it's not efficient shooting -- hard shooting, rough shooting. And I thought we did a pretty good job staying in his air space and making him earn them. You know, he got a lot from the foul fine."
What Rivers wasn't as satisfied with was Boston's inability to effectively attack Durant and Westbrook on the other end -- something that worked well for the Celtics when they defeated the Thunder in Boston back in November.
"The reason I thought we beat them in (Boston) was our defense was great, but we attacked those two guys on the other end," Rivers said. "And tonight, I just thought we tried to do that, but we didn't do a very good job of it."