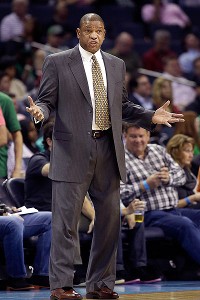 AP Photo/Bob Leverone
Celtics coach Doc Rivers didn't like anything about his team's effort Tuesday in Charlotte.Following the Celtics' 100-74 bludgeoning at the hands of the Charlotte Bobcats on Tuesday night, coach Doc Rivers wasn't looking to make any excuses for his club's poor effort, nor was he content crediting the loss to the absence of Paul Pierce, who took the night off to rest.
"I just thought we approached the game with the wrong mentality," Rivers told reporters. "I thought we were really cool tonight and they were really hard. And then I thought that everyone kind of thought that they were going to take up for Paul's points, instead of coming into the game with the right mentality. We grind games out and you play, you move the ball, you defend. You could see it early on -- I thought our guys thought, 'Well, let's trade baskets. They score, we can score right back on them.' But we couldn't do that."
Though the wide margin of defeat suggests otherwise, the Celtics only trailed by three (49-46) heading into halftime after shooting over 51 percent from the field over the opening 24 minutes. But Rivers already was displeased with his team's effort by that point and saw the issue only grow worse as Charlotte outscored Boston 51-28 in the second half.
"I just thought we laid an egg," Rivers said of Boston's second-half effort. "But I thought it was a byproduct of the first half, honestly. It just carried over. And we never could get it started.
"But they play really hard. I mean, I tell you, every time I watch them, you look at their record, you've got to give (Bobcats coach) Mike (Dunlap) a lot of credit, especially with the young guys. They played so hard, and we, honestly, just couldn't match how hard they played tonight, for whatever reason. That's on me. That's disappointing that I couldn't get that out of our guys. But we clearly did not. They were so much more competitive than us the entire night and I thought it felt like we had a Band-aid on the dam in the first half and then it came off and it just blew us open."
Boston couldn't do anything to contain Charlotte guard Gerald Henderson, who erupted for 35 points on 11-of-19 shooting (plus 12-of-12 shooting from the free throw line). "Gerald Henderson, I just thought, looked at whoever was guarding him and said, 'I'm better than you tonight,' and proved that," Rivers said.
Jeff Green and Jordan Crawford led the Celtics with 14 points apiece, but Boston clearly suffered from another poor shooting night from Kevin Garnett, who finished with just five points (2-of-10 from the floor) over 20:32. Rivers dismissed the idea that Garnett is ailing in any way, stressing the need to get Garnett into a better groove on offense.
"We've got to get him a better rhythm," Rivers said. "He's been in the way for a while now and that's more on us. We've got to get him the right shots and we're not doing a very good job of that."
Tuesday's loss marked the second time in just more than a month that the Celtics have fallen to the Bobcats in Charlotte. Still, despite Charlotte holding the NBA's worst record and his club fighting for vital playoff positioning, Rivers wasn't going to overreact to the frustrating defeat.
"It's one game," Rivers said adamantly. "I mean, I'm not going to overdo it. I mean, listen, we were awful tonight. Our spirit was awful, the way we played was awful. But we've also got to look at our team as a whole. We haven't had a lot of nights like that. So I'm not happy with the way the game went, but overall, I like our team."
Rivers defended his decision to rest Pierce, and even joked with reporters that he should have sat Garnett as well.
"Oh yeah, definitely," Rivers said of being happy he sat Pierce. "Otherwise he'd have been part of that. What I was thinking was I wish I would have given Kevin the night off, too, in the middle of the game. That would have been terrific because now we have two guys who could have gotten some rest."