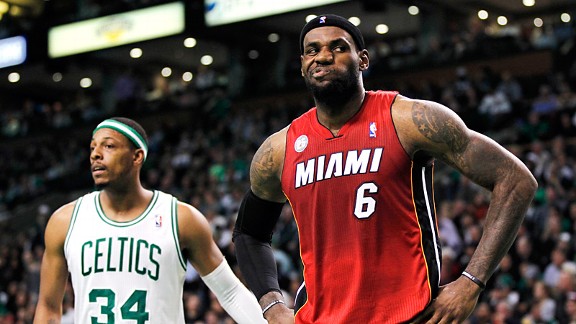 Greg M. Cooper/USA TODAY Sports
LeBron James didn't like the way things started for the Heat in Boston.BOSTON -- Rapid reaction after the Miami Heat defeated the Boston Celtics 105-103 on Monday night at TD Garden:


THE NITTY GRITTY
LeBron James scored a team-high 37 points on 16-of-29 shooting, producing a pair of clutch buckets over the final 81 seconds as Miami rallied from a 17-point deficit to push its winning streak to 23 games, which is the second-longest single-season streak in league history. James added 12 assists and seven rebounds while flirting with a triple-double and the Heat snapped both their 10-game losing streak in Boston and the Celtics' 11-game home winning streak. James' exploits spoiled a monster night for Jeff Green, who scored a career-high 43 points on 14-of-21 shooting (5-of-7 beyond the 3-point arc) and was relentless attacking the basket. Paul Pierce added 17 points, 8 rebounds and 8 assists for Boston.
CAN'T PUT MIAMI AWAY
Green turned the first half into his personal layup line, erupting for 26 points over the first two quarters while helping Boston open that 17-point cushion (fueled by a 17-0 run to close out the first quarter, the Celtics were up 12 after one frame). But Miami clawed back and an 8-0 run to start the second half pushed the Heat out front 61-59, setting up a game of chase. Boston kept trying to pull away, but the Heat rallied each time. Despite trailing by 13 with 8:27 to go, Miami stormed back again and a 3-pointer from Mario Chalmers with 2:40 to play put the Heat out front 101-100. But things were just getting interesting.
TURNING POINT
Avery Bradley answered Chalmers' triple with one of his own from the left corner to put Boston up 103-101 with 1:49 to play. A James putback of his own miss tied the game at 103 with 1:21 to go and, after both teams failed to break the deadlock, James hit a low-shot clock jumper over Green with 10.5 ticks to play for a 105-103 lead. Green's drive got stripped out of bounds and Pierce missed a 23-foot fadeaway in the closing moments as Miami hung on.
TURNOVER POINT
The Celtics were their own worst enemy for much of the night, committing 21 turnovers that led to 24 Miami points. When playing the Heat, coaches always stress the need to limit live-ball turnovers and Boston got burnt with its carelessness.
SO MANY HIGHLIGHTS
Good luck to whoever is cutting up these highlights in Bristol, Conn., tonight. In the first two quarters alone: Courtney Lee broke Bosh's ankles with a little crossover move that led to a jumper; James "Brandon-Knighted" Jason Terry (only mildly tamer than DeAndre Jordan's alley-oop slam over Brandon Knight); Bradley produced a chase-down block on Norris Cole that led to a Pierce 3-pointer in transition and nearly blew the roof off the Garden.
WHAT IT MEANS
On the five-year anniversary of Boston snapping Houston's 22-game winning streak, the Kevin Garnett-less Celtics couldn't play streak busters again. What they did prove yet again is that they can hang with the defending champs, and Monday's entertaining battle will leave most clamoring for a playoff series between these teams. Boston drops to 36-30 and slides back a bit on the Eastern Conference playoff ladder. One more regular-season battle looms in Miami on April 12. The Celtics head out on a three-game road trip with stops in New Orleans, Dallas and Memphis.