The Celtics absorbed another brutal road loss to a bad team on Wednesday night, fumbling away a double-digit lead (yet again) and watching rookie Anthony Davis tip in the winner with 0.3 seconds to play during an 87-86 defeat in New Orleans.
These sorts of losses are inexcusable, and a Boston team that has been downright atrocious away from home this season might eventually look back on this type of defeat and lament not aiding its playoff positioning.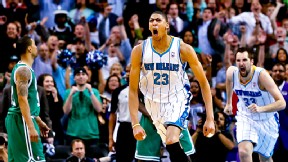 Derick E. Hingle/USA TODAY Sports
The Celtics lost focus late and Anthony Davis swooped in to lift New Orleans to victory.Boston is now 12-21 on the road this season and those losses include 1) two defeats to the league-worst Bobcats; 2) Wednesday's stumble to the Western Conference-worst Hornets and 3) five other defeats at the hands of sub-.500 non-playoff opponents (Detroit, Philadelphia, Sacramento, Cleveland, Portland).
Winning on the road is absolutely imperative in the postseason, particularly if you're a low seed, which the Celtics are slowly becoming resigned to being (at least that's what efforts like this suggest). And while this team deserves no silver lining after a pathetic second-half effort on Wednesday, let's keep in mind the list of teams that Boston has beaten on the road this season.
Indiana, New York, Brooklyn, Atlanta, Chicago, Milwaukee.
Yes, with a win in Miami on April 12, the Celtics will own at least one road victory against every other playoff team in the East. With 15 games to play in the regular season, Boston is 6-5 on the road against East playoff foes.
Hey, at least these guys don't have to worry about seeing the likes of the Bobcats and Hornets in the postseason.
That's not to absolve Boston from Wednesday's effort. Clearly there's a motivation and a focus issue at play with these Celtics, and they somehow do not recognize yet that they are not good enough to simply turn it on and off. Boston came out looking extremely crisp against New Orleans, shooting 60 percent from the field in the first half and leading by as much as 13 in the opening minutes of the third quarter. Then the Celtics checked out.
Boston fans know all too well what happens next. You mock the basketball gods and they smite you. And they smite you hard.
Even after Boston rallied from a nine-point hole with under six minutes to play -- Paul Pierce fueling a late-game charge with 11 points in a 3½-minute span -- the Celtics had some atrocious defensive miscues in the closing moments. Clinging to a three-point lead, Pierce inexcusably fouled Ryan Anderson behind the 3-point arc. The basketball gods toyed with Boston a bit as Anderson missed the first freebie and could only trim New Orleans' deficit to 1 with 35 seconds to go.
Oh, but it was just setting up the stomach punch. The Hornets got a chance to pull ahead on their final possession after Pierce missed a jumper at the other end. Eric Gordon's layup attempt wouldn't fall, but a crashing Davis went up and over Garnett -- back on the floor after a two-game absence (thigh, illness) -- for the winning tip. Boston never even got off a final-shot opportunity when a potential alley-oop design never materialized for a last gasp.
Celtics coach Doc Rivers lamented to reporters after the game: "I thought we deserved everything we got. We don't learn, because we've done this three or four times this year and we just don't learn. It's disappointing."
It is, but, well, this team has to move on. This road trip doesn't get any easier with a back-to-back looming against Dallas (Friday) and Memphis (Saturday).
Boston takes a step back from the pack in the middle of the Eastern Conference playoff ladder. Only 3½ games separate the Celtics from currently fourth-seeded Brooklyn (with one head-to-head matchup still to come), but Boston's road struggles offer little confidence that it can make much of a move and shimmy up.
The question is whether this team's road woes will prevent it from hanging around in the playoffs. As unsightly as nights like Wednesday have been, Boston has managed to keep its focus when the games matter most (at least against its conference playoff competition).
The most concerning aspect of Wednesday's loss isn't the final score, but areas like Jeff Green's disappearance (11 of his 13 points came in the first quarter), Jason Terry's 0-fer (0 points on 0-of-5 shooting over 20 minutes), Boston's second-half rebounding woes (New Orleans finished with a 30-12 advantage in the second half), and the Celtics' struggles to generate consistent offense when Pierce isn't shouldering that load.
There's less than a month left in the regular season to remedy those issues. Fortunately for Boston, the lack of focus that plagued the Celtics Wednesday should disappear on its own when the games matter more. Otherwise, Boston will be on the golf course with the Hornets pretty quickly.