WALTHAM, Mass. -- Celtics forward Chris Wilcox has fought to be a mainstay in head coach Doc Rivers' rotation for the majority of the season, and while injuries and general inconsistencies have derailed that effort at times, the recent loss of Kevin Garnett (left ankle injury) is about to shine a greater spotlight on Wilcox's contributions.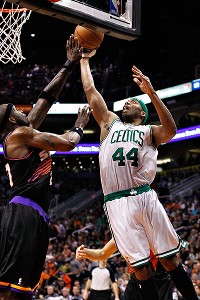 AP Photo/Paul Connors
Without Kevin Garnett, Chris Wilcox takes on a bigger role for the Celtics.With Garnett expected to be sidelined for the next two weeks, the Celtics will undoubtedly look to Wilcox to help fill the void. When Rivers glances at his big-man options on his bench these days, he has only Wilcox and newcomers D.J. White and Shavlik Randolph at his disposal. While White and Randolph have shown flashes of energy and hustle, Rivers will likely want to lean on Wilcox first, with the hope that the 10-year veteran can consistently bring the athleticism and willingness to run the floor that has made him an asset to Boston in the past.
"You've just got to step up, guys have to step up," Wilcox said prior to practice on Monday. "I've got to step up and we've just got to go out there and compete. We've got to go out and play hard, run the floor. We can't be Kevin, but we've got to be ourselves and just go out there and bring energy."
Through 12 games in March, Wilcox has averaged only 14.8 minutes per game, which has translated to averages of just 4.3 points and 3.3 rebounds. The one encouraging stat for Wilcox this month? He's shooting 77.8 percent from the field, having missed only six of the 27 shots he's attempted. In fact, 25 of those 27 shots have come from less than five feet from the rim, and many have been generated in transition, where Wilcox is always most effective.
Wilcox might not produce the majority of his own offense -- 66.7 percent of his looks this month have been assisted by teammates (Jason Terry's accounted for the most) -- but his value still stands through his ability to stay open and finish around the basket.
The bigger test for Wilcox will come on the other side of the ball. Paul Pierce said prior to Monday's practice that defense still needs to be what the Celtics hang their hat on as they seek to break out of their current four-game losing streak. While Wilcox won't be able to make quite the defensive impact that Garnett can be counted on for on a nightly basis, he can be dedicated to his rotations and, perhaps more importantly, be a vocal presence on the floor. Boston still needs to communicate on defense, even without its loudest defender.
"We've all got to talk, and that's part of it," Wilcox said. "We've all got to talk, we've all got to communicate. It's good that we've got a couple practices right now that we can get on the same page, and I think that's going to help us out along this stretch. It's definitely going to take all the guys to step up and communicate. Kevin is more vocal when he's out there on the court, but now it's going to have to be other guys. Everybody has to talk, and we've all just got to be on the same page."