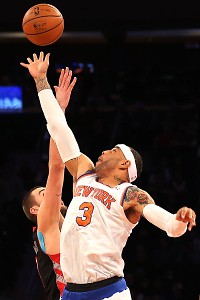 Anthony Gruppuso/USA TODAY
Kenyon Martin thought he'd be in Celtics green this season.Just how hard did the Celtics consider adding Kenyon Martin? From Jackie MacMullan:
The New York roster will include one Kenyon Martin, who signed with the Knicks last month but was sure he'd be wearing Celtics green this season.

"It was real close," Martin told me before last night's game. "Like, the deal was almost done. From what I understood, [coach] Doc [Rivers] wanted me and the players wanted me, but in the 11th hour …"

In the 11th hour what?

"They didn't pull the trigger," Martin said. "And I'm not talking a few days ago or even a few weeks ago. This was a couple of months ago.

"So now I'm here and I'm going to make them pay -- I'm going to make all the teams that passed on me pay."

It's hard to fathom why the Celtics passed on a guy who submitted nine points and five boards Tuesday night and whose defensive energy is precisely what is missing in Boston's lineup. Perhaps they were scared off by his creaky knees. Maybe it was the whispers out of Denver that his stay there was divisive.

Either way, they could have kicked the tires on Martin for a 10-day contract for short change. The Knicks signed K-Mart to a prorated deal that is worth less than what Boston is paying Keyon Dooling to be a "coaching consultant," a job description that has become a bit of a moot point since his friend [Rajon] Rondo went down.
Hop HERE to read the full story.