BOSTON -- Few would have blamed Shavlik Randolph if he was the last one out of the Celtics' locker room on Friday night. After flirting with his first career double-double -- posting nine points and a career-high 13 rebounds over 22 minutes during a 118-107 triumph over the Atlanta Hawks -- Randolph could have basked in the glow of maybe his finest NBA performance with breathless reporters ready to document his high-energy outing.
Instead he was the first one gone.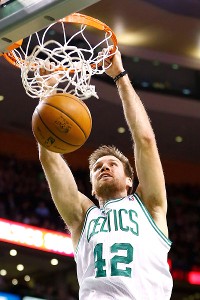 Jared Wickerham/Getty Images
Shavlik Randolph goes up for a dunk Friday night against the Hawks.You see, the Duke game was on. And Celtics coach Doc Rivers and captain Paul Pierce had the media's attention, so the 29-year-old Randolph slipped out of the locker room practically unfettered, even if he didn't quite make it out of the arena without a couple questions from reporters left a slightly different sort of breathless after chasing him to the elevators.
So what did Friday's performance mean to a player who had been out of NBA employment for three seasons before the Celtics swooped him up from the Chinese Basketball Association?
"It meant one more win for us," said a selfless Randolph. "It wouldn't have meant anything if we had lost. The most important stat for me is not rebounding -- it is, what is my plus-minus? When I go in the game, is our team plus or minus, as far as overall points, and I can care less if I have a rebound, a point. Obviously, those are things I'm going to need to do to add value to the team and help the team do that, but the Celtics brought me here to come in and give their rotation guys some rest and be able to come in and buy minutes. When I'm out there, hopefully the team can still play well and have a big man out there."
For the record, Randolph was plus-12 for the night, second only to Pierce's plus-28. Over the last four games that Kevin Garnett has been sidelined with ankle inflammation, Randolph is plus-19 when he's on the floor (and Boston is minus-26 when he's not). It's safe to say he's accomplishing his primary goal.
And that will help keep him on the floor, maybe even after Garnett returns, if Randolph maintains this sort of production. Randolph was otherworldly at times on Friday, most notably on the glass, where his rebound percentages were off the charts. He grabbed 36.8 percent of all available offensive rebounds, 37.5 percent of all available defensive caroms and 37.1 percent of all rebounds overall while he was on the floor. Those are insane numbers for someone playing nearly half the game.
To put it in perspective, Pierce grabbed 10 caroms, and his rebound percentages were 0.0 offensive, 28.6 defensive and 15.4 overall. And what Randolph didn't corral, he often got a hand on -- just a tireless effort to rebound the basketball -- and his teammates clearly fed off his play.
"He does what he does. He's proven that he can rebound, and he mixes it up," Celtics coach Doc Rivers said. "And he's been put in those positions and he's been doing it. So I'm really, really happy for him. Our guys -- I thought he gave us so much energy. You can see the bench jumping around for rebounding -- that's really impressive. And then I thought he did a lot of good things with the ball once he got it. Some of the times he put it back up, a lot of times he threw it back out. I just thought he did a lot of good things. I'm really happy for him."
Randolph's numbers came on a night when Pierce registered his third triple-double of the season, Jeff Green went off for a team-high 27 points and Jason Terry added 24 more while hitting five 3-pointers. But the talk afterward centered around Randolph.
"He's player of the game to me," Avery Bradley said. "He played great tonight. I have a lot of respect for him. He plays so hard. And it's hard to learn our system so fast, and I felt like he did a great job."
Echoed Terry: "Huge. You talked about a guy executing his role, this is his role for us. Come in, provide energy, rebound, bang, be a presence in the paint -- and he did all that tonight. He earned every bit of that money he's been getting."
After playing through two 10-day contracts, Randolph signed on for the remainder of the season earlier this month. He'll make about $250,000 total with Boston, likely far less than his payday overseas. But his skill set, built on rebounding and defense, might allow him to carve out a role with this team, even when Garnett is healthy. And the Celtics hold a low-money option to bring him back next year.
It's fair to ask if Randolph ever wondered if he still had this in him.
"To be honest, I really didn't think about it. Basketball is basketball," said Randolph, who hadn't played in the NBA since a few 10-day contracts with the Heat and Blazers during the 2009-10 season. "I was trying to be the best player I could be, whether that's playing in China, whether that's playing in Puerto Rico, or whether that's in the NBA. And I was just, every day, working on my game. It's the same approach I've had since I was 14 years old. And I feel that I've shown that if I can string together a few years without having some kind of career-threatening, career-altering injury, that I can be an efficient player on any level. I've been able to develop for a couple seasons, I've gotten better, and I'm here."
Just overcoming a major injury history has put him in position to thrive.
"When I was in high school, I started losing cartilage in my hip, I had to have surgery when I was at Duke," he said. "I dislocated my ankle my second year when I was with Philadelphia. Two years later, that re-aggravated my hip, I had to have microfracture surgery on my hip about 2½ years ago. So, here I am, fully recovered from it, feel good."
The injury to Garnett -- and the underperformance of some of Boston's other rotation bigs -- has opened a door for Randolph, and he's looking to jam his foot in there.
"I knew I was coming here to a playoff team. I knew what the situation was," he said. "I'm not coming in here to a team that was tanking, that wants to develop guys for next year or anything. I was coming here in a situation where, if they needed big men, I was going to have to be ready, and I have to be ready right now because KG is out for a while. The coaches have worked with me and I've paid attention and gotten better since I've been here, so it's worked out for me."
It's worked out just fine for the Celtics as well.