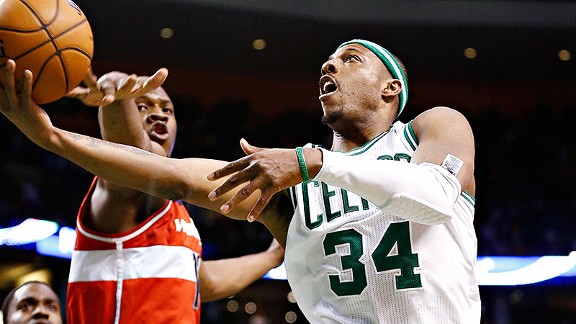 AP Photo/Winslow Townson
Paul Pierce drives to the hoop Sunday against Washington.BOSTON -- Rapid reaction after the Boston Celtics defeated the Washington Wizards 107-96 on Sunday night at TD Garden:


THE NITTY GRITTY
Brandon Bass scored a team-high 20 points on 9-of-12 shooting to go along with six rebounds to pace a balanced Boston output that put five players in double figures for scoring. Kevin Garnett, back on the floor after missing eight games due to left ankle inflammation, finished with 12 points on 6-of-9 shooting with 6 rebounds, 3 assists, 2 steals and a block over a manageable 24 minutes of floor time (his night would have been 3½ minutes shorter, but Washington rallied a bit late). Paul Pierce, back after a one-game absence due to a sore right ankle, added 15 points and five assists over 30 minutes and was a team-best plus-15 overall. John Wall scored a team-high 16 points on 8-of-20 shooting to pace the Wizards.
TURNING POINT
The Celtics were clinging to a one-point lead after a Garrett Temple 3-pointer on the first possession of the second half. Soon after, however, Boston embarked on a 19-3 run to blow open the doors a bit and build a 17-point cushion. The Celtics made all seven shots they took over a six-minute span and got six points from Bass. A Pierce 3-pointer put Boston out front 77-60 with 3:51 to play in the third quarter. The Wizards were 1-of-10 shooting and turned the ball over twice during the Celtics' run.
HELP FROM THE BACKUP BIGS
The Celtics got a nice little boost from their backup big men as Chris Wilcox connected on 6-of-7 shots for 13 points (with five rebounds) and Shavlik Randolph made both shots he put up for eight points (with a team-high seven rebounds). Having Garnett to anchor the front line kept their playing time in manageable bursts and got the most out of their 35 minutes of combined floor time.
TECHNICAL DIFFICULTIES
Garnett picked up his team-leading eighth technical foul of the season for arguing about a foul called against Pierce early in the third quarter. Pierce looked to get all ball trying to prevent Okafor from going up with a second-chance shot, but was whistled for the foul and Garnett, miffed from what he thought was a missed call earlier, voiced his displeasure.
WHAT IT MEANS
Nothing like KG to cure what ails you. The Celtics led by as much as 18 in the second half before the Wizards rallied a bit (forcing Rivers to sub in both Garnett and Pierce with four minutes to play). The Celtics shot 55.8 percent (43-of-77) and generated 50 points in the paint. Boston gets two days off before closing out a four-game homestand on Wednesday with a visit from the Brooklyn Nets.