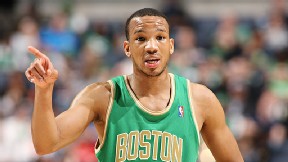 Kent Smith/NBAE/Getty Images
Avery Bradley earned two first-place votes for Defensive Player of the Year.Boston Celtics guard Avery Bradley finished 12th in this year's balloting for Defensive Player of the Year. The lingering question is whether he deserved better.
Bradley, a third-year guard, landed on just five of 121 ballots cast by sportswriters and broadcasters, but earned a pair of first-place votes while accruing 15 points overall. Memphis' Marc Gasol won the award with 30 first-place votes and a total of 212 points, while LeBron James (149 points), Serge Ibaka (122), Joakim Noah (107), and Tony Allen (102) rounded out the top 5.
A few thoughts on where Bradley landed this year:
* Those that stumped for Bradley will point to his individual defensive numbers, most notably those from Synergy Sports. In terms of points allowed per possession, Bradley was No. 1 among all players with at least 250 possessions defended at 0.697 points per play (next closest was old friend Marquis Daniels at 0.707 ppp). What's more, Bradley was also tops in opponent field goal percentage (30.8) and opponent score percentage (31.8). He wasn't perfect, but when he kept his man in front of him, he made things very difficult for that player (whether that was harassing opposing ball-handlers or making shots difficult for shooters).
* Boston's barely-better-than-.500 record certainly didn't help Bradley's cause (he was the only Celtics player to receive a vote, despite being a team that ranked sixth in defensive rating this season). What's more, the fact that Bradley missed the first 30 games of the season likely played a role in driving down his vote total.
* It's a big man's award. Always has been, with Gary Payton really the only exception in the past two decades.
* This is a step in the right direction for Bradley, who tied for 14th place last season with only two points.
* The more important defensive honors await with the NBA's All-Defense teams announced next month. That's voted on by the league's 30 head coaches and is position specific. It will be interesting to how Bradley fares there.
Read on for the full voting and previous year's recipients:
And a list of previous year's recipients:
1982-83 Sidney Moncrief, Milwaukee
1983-84 Sidney Moncrief, Milwaukee
1984-85 Mark Eaton, Utah
1985-86 Alvin Robertson, San Antonio
1986-87 Michael Cooper, L.A. Lakers
1987-88 Michael Jordan, Chicago
1988-89 Mark Eaton, Utah
1989-90 Dennis Rodman, Detroit
1990-91 Dennis Rodman, Detroit
1991-92 David Robinson, San Antonio
1992-93 Hakeem Olajuwon, Houston
1993-94 Hakeem Olajuwon, Houston
1994-95 Dikembe Mutombo, Denver
1995-96 Gary Payton, Seattle
1996-97 Dikembe Mutombo, Atlanta
1997-98 Dikembe Mutombo, Atlanta
1998-99 Alonzo Mourning, Miami
1999-00 Alonzo Mourning, Miami
2000-01 Dikembe Mutombo, Philadelphia
2001-02 Ben Wallace, Detroit
2002-03 Ben Wallace, Detroit
2003-04 Ron Artest, Indiana
2004-05 Ben Wallace, Detroit
2005-06 Ben Wallace, Detroit
2006-07 Marcus Camby, Denver
2007-08 Kevin Garnett, Boston
2008-09 Dwight Howard, Orlando
2009-10 Dwight Howard, Orlando
2010-11 Dwight Howard, Orlando
2011-12 Tyson Chandler, New York
2012-13 Marc Gasol, Memphis