BOSTON -- Celtics veterans Kevin Garnett and Paul Pierce huddled with coach Doc Rivers after Boston's 2012-13 season ended with a Game 6 loss to the New York Knicks on Friday night in an Eastern Conference first-round series at TD Garden, but the group tabled any decisions on their futures.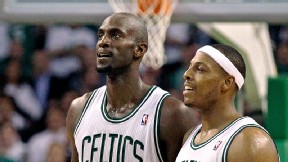 AP Photo/Charles Krupa
Was Friday's Game 6 the last time Paul Pierce and Kevin Garnett share the Garden floor?Garnett, who will turn 37 later this month and just completed his 18th NBA season, said it was simply too early to know whether the trio will be back in Boston next season.
"I haven't really thought about it, to be honest with you. I'm kind of digesting , obviously, the current, and Doc came to me, pulled Paul and I to the side and all three of us agreed to speak later -- too emotional," said Garnett. "Obviously, it was a big game, tough loss, especially at home. But more importantly in the future, it's a different day for that conversation."
While Garnett swatted away most inquiries about his future, he spoke strongly about how the organization's decision on whether to retain Pierce, whose contract is only $5 million guaranteed and could be an amnesty candidate, could play into his status.
"One of the big reasons I came [to Boston] was because of Paul," said Garnett. "Obviously, you want to be in a situation where it's better. I want to make sure that I'm able to always help a team. I want to be in positions to where I'm giving something. I demand a lot of myself, both physically and from a skill level. But I'd be lying to y'all if I said Paul didn't play into that factor. Like I said, it's too soon of a conversation for me right now."
Asked if he expected to be back in Boston next season, 35-year-old Pierce said that was a question for the Celtics' front office.
"That's up to [Celtics president of basketball operations] Danny [Ainge] and them," said Pierce. "I have no idea."
Pierce reiterated that he'll return for a 16th NBA season, whether it's in Boston or elsewhere. He was asked if a healthy Rajon Rondo and Jared Sullinger would be enough to boost Boston back to title contenders.
"That's a decision for the management," said Pierce. "Who knows what the future [holds]? I've been here 15 years and I've seen a lot of changes each and every year. So I'm sure there's going to be a lot of changes here and we'll see what happens."
As for Rivers, who has three years remaining on a five-year, $35 million extension, he said he'll take a step back before making a decision about his own future.
"I don't think about any of that stuff," said Rivers. "Danny knows me pretty well. I immerse myself; that's the only way I can do it, probably to a fault. Pretty much unlivable during the year. So I don't know. Danny knows he gives me at least a week to do just whatever I do -- and I don't know what I do, sit and watch cartoons or something -- then we'll talk about it. But Danny has already worked on [offseason planning]. He never shows me. I don't want to hear it, I don't want to see it, I don't want to know anything. We'll figure it all out, and we'll see."
The other member of Boston's 35-plus club, Jason Terry, also said he'll be back for a 15th NBA season next year and, signed for two more years with Boston, Terry hoped to see Garnett back, too.
"Whatever [Garnett is] going to do is up to him," said Terry. "He's earned the right to make a decision. I think he's signed for two more years here, as am I. I'd hate to see him go. I hope he's not thinking that. It's solely up to him. It's on him. No pressure from this side of the locker room. Again, just an honor to play alongside a great like him."
Speaking for the team's younger nucleus, Avery Bradley said he'd like to see Pierce and Garnett return.
"Of course I would love them to come back, just like everybody," said Bradley. "Those guys are the best players I've ever seen or played with. Of course we would want them here, just like Rondo. We all want them here. They're part of this team, and since I've been here, they've made this team. Especially Kevin, in the locker room, his intensity. Like the culture, the Celtic culture, he's the definition of it. I love playing with both of them."
Echoed Jeff Green: "If I had a wish, everybody would be back, healthy, the way we started."