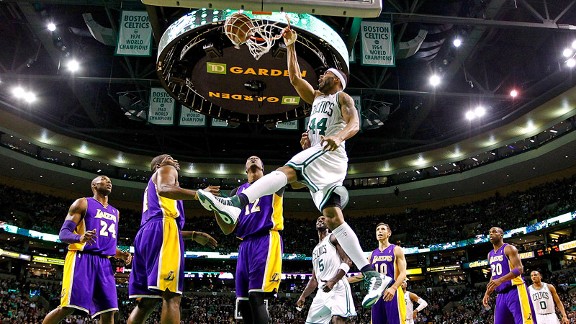 Jared Wickerham/Getty Images
Chris Wilcox throws down a jam against the Los Angeles Lakers.After the Boston Celtics' 2012-13 campaign met an untimely end, we've busted out our red pens and assigned grades to each player based on their individual performances this season. This is the 10th in a series of end-of-the-season report cards:
Player: Chris Wilcox
2012-13 averages: 4.2 ppg, 3 rpg, 13.6 mpg, 71.9 FG%
2012-13 salary: $1.35 million
Season in a paragraph: The fact that Wilcox was back on the floor in November was nothing short of amazing considering he underwent major heart surgery for an enlarged aorta just eight months prior to that. A thumb injury paused his season for a bit into the new calendar year, but Wilcox was a consistent presence -- to the dismay of some armchair coaches -- later in the season. Wilcox was insanely efficient on the offensive end, but struggled to maintain defensive consistency and rebound the ball, leaving him a spectator for most of his first taste of the NBA playoffs.
Season highlight: Wilcox's best individual effort came in Phoenix in late February. With Kevin Garnett resting his tired legs, Wilcox put his to good use, running the floor while putting up a season-high 14 points on 7-of-9 shooting to go along with eight rebounds over 22 minutes. What made the effort all the more noteworthy was that it came on the heels of ...
Season lowlight: In need of guard help after injuries eroded Boston's depth, the Celtics attempted to deal Wilcox to the Washington Wizards as part of a swap for Jordan Crawford at February's deadline. But utilizing a bit of a loophole in the collective bargaining agreement, Wilcox was able to veto the deal (due to impending Bird rights) and forced Boston to send out veteran center Jason Collins instead. That the Celtics were willing to move Wilcox showed their frustration with the inconsistency in his play.
Final grade: D+
Teacher's notes: It speaks volumes when one of the league's most efficient offensive players, competing for one of the league's most stagnant offenses, can't carve out a steady role. Unfortunately for Wilcox, his inconsistent defense and a low rebound rate (he hauled in just 16.4 percent of available defensive rebounds and 12.5 percent of total rebounds -- marks that were close to the worst of his career) made it tough to keep him on the floor (the Celtics were minus-43 in his time on the court). The Celtics eventually gave midseason import Shavlik Randolph a chance and he responded by devouring the glass (rebound rates of 26.3 percent on defensive glass; 22.4 percent overall). You want to give Wilcox the benefit of the doubt coming off major heart surgery, but in two seasons in Boston, he just hasn't been able to put the whole package together. Incredibly, Wilcox was the league's most efficient offensive player during the regular season, averaging a whopping 1.21 points per play, according to Synergy Sports data (albeit in a somewhat small sample size of 214 total offensive possessions). Regardless, Wilcox shot a staggering 71.9 percent from the floor and did a tremendous job of scoring when opportunities presented themselves around the basket. All of this while playing half the season without his alley-oop running mate in Rajon Rondo.
What's next?: Wilcox is the only player on Boston's end-of-the-season 15-man roster who is not under contract for next season. He's eligible for a slight bump in pay if the Celtics desired to keep him around, but with roster space at a premium -- at least at the moment -- it's likely the team will examine other options. Wilcox was a good locker room guy who had supporters, including Rondo, but while the talent is obvious, he hasn't been able to be a 20-minute-per-game guy since his 2007-08 season in Seattle. Wilcox will turn 31 before next season and might find more playing time elsewhere next season, though he clearly values the opportunity to play for a contender.
Honor roll: Click HERE to read past report cards.
Don't agree with teacher? Just want to sound off on Wilcox's 2012-13 season? Leave your thoughts in the comments section.