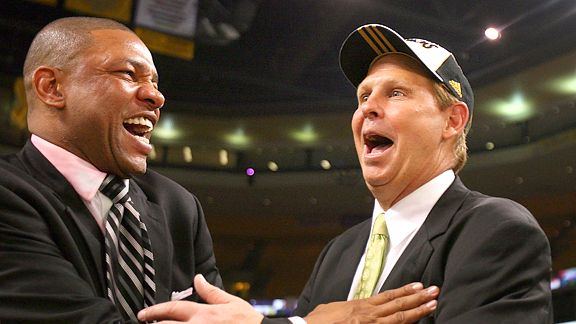 Elsa/Getty Images
Doc Rivers and Danny Ainge didn't have quite as much to laugh about this season.After the Boston Celtics' 2012-13 campaign met an untimely end, we've busted out our red pens and assigned grades to each player based on their individual performances this season. This is the 14th and final installment in a series of end-of-the-season report cards:
Coach: Doc Rivers
Season in a paragraph: Delivered a preseason roster chock full of depth, potential, and expectations, Rivers helmed a season in which that depth quickly eroded, potential wilted, and typically lofty expectations were not met. Injuries forced Rivers to lean heavy on veterans Paul Pierce and Kevin Garnett, and that eventually caught up with a Boston team that finished a game over .500 in the regular season before, seeded seventh in the Eastern Conference playoffs, Rivers' squad was unceremoniously ousted from the postseason in six games by the New York Knicks.
Final grade: B-
Teacher's notes: There's a very vocal mass (typically loitering in your favorite comments section) that believes Rivers deserves much of the blame for Boston's struggles this season. From this vantage point, it's hard to pin all of Boston's difficulties on Rivers when you consider the team lost three rotation players (All-Star point guard Rajon Rondo, rookie standout Jared Sullinger, and Leandro Barbosa) to season-ending injuries within a three-week span around midseason. This on top of Darko Milicic's request to be released early in the year. Rivers dealt with an insane amount of roster adversity (and underperformance, which falls on him a bit, too) just to get the team to the regular-season finish line and into the postseason. Yes, Rivers was stubborn at times with his rotations (Chris Wilcox got plenty of opportunities before Shavlik Randolph finally got a turn to prove himself) and a whopping 13 different players started at least two games apiece for Boston during a mix-and-match season, where roles player saw playing time come and go. In a less-than-ideal campaign, Rivers at least gave his team a chance to compete.
What's next?: Rivers returned to Boston earlier this week and, while he hasn't made any sort of formal announcement on his future, his co-workers insist that he'll be back on the bench for a 10th season in green. Rivers pledged to lead the team through any makeover process that lied ahead when he inked a five-year, $35 million contract in May of 2011. Now, more than ever, Rivers' presence is important to determining how quickly Boston can restore itself to true contender status while navigating a murky offseason.
General Manager: Danny Ainge
Season in a paragraph: Despite watching Ray Allen defect to the rival Heat at the start of the summer, Ainge put together what most considered maybe the deepest roster of the Kevin Garnett era on a bit of a shoestring budget. Jason Terry and Courtney Lee were big-splash additions, essentially adding two mid-level-caliber contracts, including Lee on a super creative sign-and-trade deal (though both underperformed mightily during the season). Ainge was also able to re-sign the likes of Brandon Bass and Jeff Green to long-term deals, both of which looked like quality contracts by the end of the season. He hit a home run in the draft after Jared Sullinger slipped to Boston at No. 21 (and the Celtics followed that up by taking a long-term project in Fab Melo and the jury won't return a verdict there for a while).The depth erosion left Ainge raiding the Chinese Basketball Association late in the season, but Boston's lack of a pure point guard came back to bite the team late in the year. Many players underperformed for Boston this season, but Ainge had constructed a group that -- if healthy and clicking -- should have been in the mix in the Eastern Conference.
Final grade: B
Teacher's notes: Ainge offered Allen enough money and security to make it worth his while to stay, but hurt feelings and a diminished role left him fleeing for South Beach. Lee, added to offset some of what the team lost in Allen, might have been the most creative deal of the offseason (Boston flipping four end-of-the-bench players and a couple second-round draft picks for a mid-level-caliber player). Both Lee and Terry struggled in their first seasons, but Ainge couldn't have envisioned their woes when constructing the roster. Much was made about Boston's lack of a backup point guard after Rondo and Barbosa went down, forcing the Celtics to lean on China import Terrence Williams as their primary backup ball-handler at times. Ultimately, it was't enough to overcome all the adversity. You can second-guess Ainge on whether the team should have found another pure ball-handler and if it should have rolled the dice on a veteran big man like Kenyon Martin.
What's next?: Ainge's staff will look different after assistant general manager Ryan McDonough took over the GM gig in Phoenix earlier this month, but the philosophies remain the same and Boston will explore all avenues moving forward. Big decisions about the future of the team lie ahead and Ainge will have to consider trade options for the face of the franchise in soon-to-be 36-year-old captain Paul Pierce, while the return of Kevin Garnett remains up in the air. This is an important offseason for Ainge and how he handles the potential makeover process, trying to keep Boston competitive in the interim while ensuring it returns to championship contender status soon.
Honor roll: Click HERE to read past report cards.
Don't agree with teacher? Just want to sound off on the 2012-13 season for Ainge and Rivers? Leave your thoughts in the comments section.