Boston Celtics co-owner Wyc Grousbeck acknowledged his team faces a murky offseason while deciding which path to travel in hopes of restoring it to contender status, and admitted that it might be a multi-year process depending on how things shake down.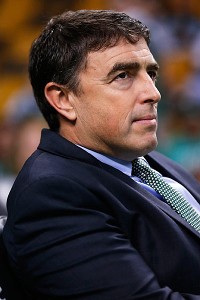 David Butler II/USA TODAY Sports
Celtics co-owner Wyc Grousbeck.Grousbeck, phoning into Boston sports radio 98.5 The Sports Hub on Thursday, stressed a desire to bring back much of Boston's core, but also said some sort of makeover is necessary after the early playoff exit this season.
"We don't feel like we have a championship team [at the moment]; It's pretty obvious, we lost in the first round," said Grousbeck. "We have to see who is with us, we have to see what offers there are for people, we've got to decide what to do. It might be a multi-year plan. We've never intentionally lost games and we don't intend to trash things now. We've got players -- [Rajon] Rondo, [Avery] Bradley, [Jeff] Green, [Jared] Sullinger, Brandon Bass, the younger guys are not going to let us win the lottery anyway. That's a good roster. We hope that Paul [Pierce] and [Kevin Garnett] are back with them and we hope we can reload along the way.
"I don't know what will happen, I'll know more about the plan in early July. At the moment, we just have to see what the options are."
Grousbeck gave a bit of a behind-the-scenes glimpse, noting that management and the front-office staff huddled this week to gauge the direction of the team. He stressed that Celtics president of basketball operations Danny Ainge will examine the trade and free-agent markets and that the team likely won't make any firm decisions until late June when it knows all the potential options.
"By the end of June, we'll have different options to go in with this team," said Grousbeck. "Keeping it all together just as it was is one option, but we lost in the first round, so there is an obvious possibility that we ought to start making some changes. And we're going to have to make those decisions. They won't be made in May."
Echoing the sentiments of Ainge, Grousbeck said "our indications" are that coach Doc Rivers will be back on the bench for his 10th season. But Grousbeck did leave the door slightly ajar, noting the team is still giving Rivers space to decompress after a frustrating 2012-13 season.
"Our indications are that Doc's coming back," said Grousbeck. "Typically, and it's probably similar to Kevin Garnett, as an example, everybody is tired, burnt out, frustrated -- I mean, losing to the Knicks is something I never wanted to experience in my life... Everybody gets time to unwind and decompress. I expect Doc is going to help Danny with the draft workouts, I expect he's going to be in the war room on June 27th when all the drafts and trades -- if any -- are made. And then over the free-agency period, a week or two after that. So between now and July 15th, there's a lot of work to do to put the team together for next year. And I expect Doc's going to be there for that."
Grousbeck later added: "I haven't spoken to Doc, but I don't typically talk to Doc at this time. I spoke with him right after the last game and thanked him for what he had done, and it was a great talk. He's been in touch with our team president [Rich Gotham] -- maybe it was an e-mail, maybe it was a phone call, I'm not sure which, but he made some suggestions for how the locker room could be reconfigured for next year, because there's going to be a little construction over the summer. He's making requests on how to change the locker room around. That doesn't mean he's obligated to come back and it doesn't mean he's sitting in my office right now telling me personally he's going to come back. I believe he'll be back, and Danny is his closest relationship on the team, they are partners, and Danny believes he'll be back. We'll give him the time to decompress, and I imagine he'll be here on draft day."
Grousbeck deferred to Ainge on questions about trades, but hinted late in the 15-minute interview that he wants to keep the core together, so long as there's a way to supplement them beyond the return of Rondo and Sullinger from injuries.
"I want to retire Paul's number, but I don't want to do it any time soon because I want him to keep playing for us, to be honest," said Grousbeck. "I want KG back. I want Doc back. I'd love to have Rondo back. I just want to get them more help, that's my going-in assumption."