BOSTON -- Doc Rivers returned to Boston on Wednesday for the first time since May 4 -- the day after his team was eliminated in the first round of the playoffs by the New York Knicks -- with a number of chores to complete, among them being examined by the Celtics medical staff for his aching hamstring, sitting in on some organizational meetings, and talking with his own staff regarding next season.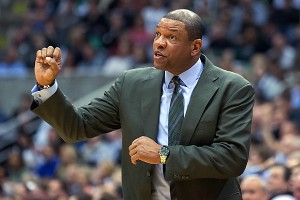 Russ Isabella/USA TODAY Sports
Doc Rivers returned to the Boston area on Wednesday.Sure doesn't sound like a guy planning to leave town.
And, yet, Rivers has yet to publicly declare his intentions going forward, even though everyone in the organization expects him to be back. When he said he'd take a step back and catch his breath more than 20 days ago, that made sense. Now, it's a bit curious, particularly since he is under contract to the Celtics and has few viable options.
If Rivers were a free agent, he would be one of the most sought after coaches in the league.
In fact, team and league sources confirmed to ESPNBoston.com that Celtics president of basketball operations Danny Ainge was contacted by the Brooklyn Nets, who wanted to speak to Rivers about their vacant coaching position. Ainge, according to those sources, denied the Nets permission to talk with his coach, who has three years and $21 million remaining on his contract.
Reached late Thursday, Ainge refused to comment on the Nets' interest in Rivers and reiterated that he expects him back on the Celtics bench next season.
"Doc has told me he's coming back," Ainge said bluntly. "I talk to him almost every day about our team and what we are going to do moving forward."
Hop HERE to read the full story.