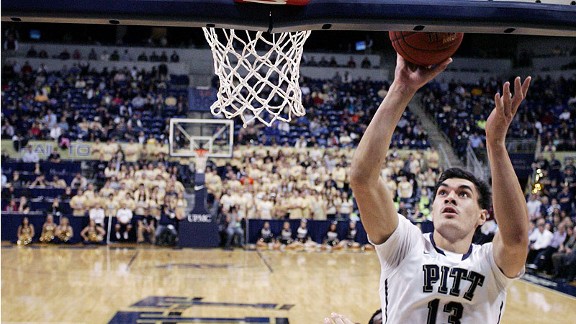 harles LeClaire/USA TODAY Sports
The Celtics brought in Pittsburgh's Steven Adams for a pre-draft workout.WALTHAM, Mass. -- Here's pretty much all you need to know about Pittsburgh center Steven Adams: He comes with the Brian Scalabrine stamp of approval.
Scalabrine, the former Celtic and cult figure (turned television analyst), suggested earlier this month during a local radio appearance that Boston should consider Adams with its lone pick -- No. 16 overall -- in next month's NBA draft. Scalabrine raved about the long-term potential of the 19-year-old 7-footer out of New Zealand, calling him a "freak athlete" and comparing him favorably to former Chicago teammate Omer Asik.
Scalabrine is somewhat biased, having worked out with Adams in advance of the draft, but his glowing review is seemingly one being adopted by talent evaluators across the league. Adams is climbing draft boards this week and ESPN.com draft guru Chad Ford shuffled him up to a potential lottery pick (landing at 13th overall in Ford's top 100; third at his position).
Adams was the top-ranked prospect among 12 players Boston auditioned in pre-draft workouts at their training facility in recent days. After showcasing a better-than-expected offensive game at the draft combine in Chicago, Adams has caught the attention of teams across the league.
So what exactly has Scalabrine been teaching him?
"He's been up against NBA players, so he knows how they play," said Adams. "He's just been showing me, not tricks, but the basic fundamentals of NBA play. Like, you can get away with a lot more physicality and throwing a lot more [elbows] around. He's just showing me that side of things and separation on the court. How to use the 3-point line."
One season after Boston drafted a pair of bigs (Jared Sullinger, Fab Melo) in the first round, Adams comes with the Melo-like tag of being a potential long-term project. He averaged 7.2 points, 6.3 rebounds and 2 blocks over 23.4 minutes per game as a freshman at Pittsburgh this past season, but his pure size and athleticism -- along with a relentless motor -- make him an intriguing target.
Celtics assistant coach Jay Larranaga, who ran the pre-draft workouts and works with the team's big men during the season, came away impressed by what he saw from Adams on Saturday.
"I thought he was great today," Larranaga said. "I think he showed his size and athleticism, which is what most people first see. He competed, and he showed a high basketball IQ. I think through these workouts, he's shown maybe more skill than people realized he had during his year at Pittsburgh. He was just a lot of fun to work with."
The "Kiwi Phenom" has a fascinating story as one of 18 children. He got a taste of New England after spending a short time at Fitchburg-based prep school Notre Dame Academy. Adams kept things light with Boston reporters during a brief post-workout chat on Saturday and displayed the sort of charm that should help endear him to those deciding his NBA future.
A potential climb up draft boards doesn't bode particularly well for Boston, which likely would prefer Adams stick to his initial mid-round projection so that they at least have a chance to decide if he's their guy at No. 16. Adams is still acclimating to the American game, but said one season at Pittsburgh helped that process.
"I think I got a lot better because I got to understand how basketball is in America, the whole culture and the coaching system, and all that sort of stuff," said Adams. "It was a great learning experience from that standpoint. In New Zealand, the level is much lower. So getting to that strategic side of things was definitely a good learning [experience]."
The Celtics needed big-man help last season as depth was eroded by injuries and departures. Adams might be raw, but there's a whole lot of potential. And having the Scalabrine stamp of approval can't hurt his cause.