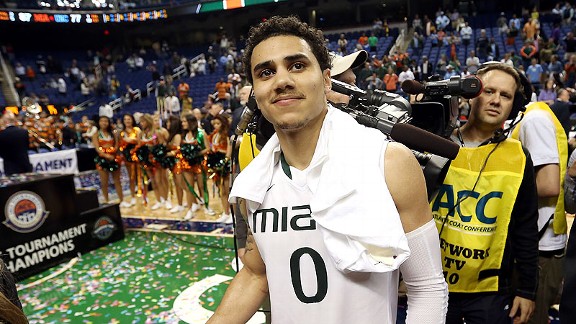 Streeter Lecka/Getty Images
Miami's Shane Larkin goes way back with Celtics coach Doc Rivers.WALTHAM, Mass. -- Boston Celtics coach Doc Rivers has always been brutally honest with his advice for Shane Larkin. Like the time after Rivers' son, Austin, defeated Larkin's high school squad in a Florida state championship hoops battle.
"Doc saw me after the game and said, 'Great game. Just keep doing what you're doing. I'm glad my son beat you, but at the same time, you're a great player, you're going to do great things,'" said Larkin, smiling as he recalled the slightly backhanded compliment in a losing effort. "I have a great relationship with [Doc]. If there's a chance of being able to play for him in the NBA, that's just like a dream."
As Orlando residents, Larkin has known Rivers for the better part of a decade, dating back to when he and Austin were teammates on a 9-year-old AAU All-Star team in the early 2000s. The pair soon became the Larry and Magic of local high school hoops, meeting in two state title clashes (Austin's Winter Park twice bested Larkin's Dr. Phillips). The two would even cross paths again in college -- both wearing No. 0 at that level -- in a Duke-Miami showdown two seasons ago. Could coach Rivers' familiarity with Larkin convince the Celtics to consider Larkin with the 16th overall pick in next month's draft?
Larkin was the top-ranked guard of the eight backcourt players the Celtics auditioned over two days of pre-draft workouts at their training facility last week. Larkin is currently ranked the 19th best player (and fourth best point guard) on ESPN.com's Top 100 draft board, and is pegged as a mid first-round pick.
The 5-foot-11 Larkin is undersized, but he has showcased speed (producing the fastest ¾ court sprint at this month's draft combine) and leaping ability (posting the second-highest max vertical ever at 44 inches; he thanks his dancing mother for his hops). But that's not his only athletic pedigree -- his father is 12-time MLB All-Star and Hall of Fame shortstop Barry Larkin, while his uncles were stars on both the hardwood and gridiron -- and there's obvious intrigue in his game giving just his bloodlines.
Boston was Larkin's first stop on a workout shuttle that was scheduled to also take him to Milwaukee, Utah, and Phoenix while hoping to better his draft standing.
"I just need to come in here and show how athletic I am, show that I can defend and show that I'm willing to work," said Larkin. "I'm an undersized guy, so I have to work harder than everybody else. Just go out there and show them those things that's what is going to help me play in the NBA.
"It's a great learning process. It's great to know what people doubt about you so you can go in there and work as hard at that, so when they watch you play, you try to show them that even though they're doubting it and they don't think you can do it, you go out there and show them that you can. It's been a great process. As a kid, you always dream about playing in the NBA. This is a dream. I'm living my dream."
If you've heard of Larkin, you've probably heard the often-relayed story about how basketball ended up as his sport of choice. After shadowing his father at Cincinnati Reds camp as a kid and learning how to hit from Hall of Famers like Pete Rose and Tony Perez, a YMCA coach questioned 8-year-old Larkin's stance, sending him into a season-long funk, and Larkin hasn't played the sport in organized format since then. He flirted with football (his uncle Mike played at Notre Dame), but a gridiron injury his freshman year of high school forced him to miss time in basketball and that downtime only confirmed his love for hoops.
Like Austin leans on his NBA-tested father, Larkin has a family support system as he embarks on his pro career.
"My uncle [Mike] has been more hands on, but my Dad has pretty much been my Dad and has supported me through everything," he said. "If I had a bad workout somewhere, I'd call him. He'd be like, 'Just brush it off. There's going to be another workout another day. It's just another workout.' He's just been really supportive throughout the process."
Larkin felt right at home in Boston. Not only did he cross paths with Rivers, but Jay Larranaga -- son of Miami coach, Jim Larranaga -- helmed the pre-draft workouts and the up-close look only confirmed what his eyes saw watching Hurricanes games.
"I've seen him a lot," said Larranaga. "For me, I think he showed the things I've watched over the last two years in playing for my father. I know what [general manager] Danny [Ainge] has seen, I'm sure he's seen him a lot as well. Shane, I thought he did what he normally does. He's a very athletic, unselfish, tough player."
With Rajon Rondo set to return from ACL surgery this season, Larkin knows he'd be deep on the depth chart his rookie season if he were swooped up by Boston. He's fine with that possibility.
"As a rookie, you've got to come in and you've got to earn everything," he said. "So coming in and having an opportunity to play behind Rajon Rondo, that can't be a bad thing. I mean, the minutes aren't going to be there immediately, but learning everything you can from Rondo -- he's one of the better point guards in the NBA, an All-Star every year – it's just going to help me become a better player. Going up against him every day in practice is going to make you better. Having an opportunity to play against someone like that would be a great experience, especially as a rookie."
And, of course, there would be the opportunity for plenty more advice from Rivers.