Poor Brian Shaw.
Indiana's highly regarded top assistant, already passed over multiple times for quality vacancies while searching for his first head-coaching gig, was meeting with Clippers brass during a second interview when word trickled out that Los Angeles has re-engaged the Boston Celtics in trade talks with the goal of delivering Doc Rivers and Kevin Garnett out west.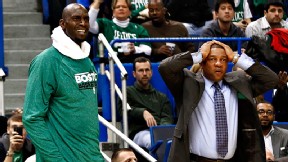 Mark L. Baer/USA TODAY Sports
Doc Rivers and Kevin Garnett could finally be headed to Los Angeles after all.Awwwwwkward.
But that's this whole Celtics-Clippers fiasco in a nutshell. After five days of very public on- and off-again negotiations, trade chatter between the two teams was paused yet again on Wednesday night with sources indicating the teams planned to resume discussions on Thursday morning.
The Clippers still took Shaw out to dinner. Maybe by the time the dust settles on this whole mess, he'll be the coach of the Celtics.
It's getting harder to believe that Rivers will be back in that post. When the second round of talks with the Clippers stalled on Tuesday, Celtics president of basketball operations Danny Ainge and Rivers made a plan to huddle on Wednesday, presumably to determine whether Rivers was interested in walking through the door that Boston had left ajar even after this public flirtation with L.A.
Some wondered if the two would emerge arm in arm, Ainge proclaiming that Rivers would indeed be back on the Boston bench for a 10th season, and downplaying this whole L.A. fling. Instead, the silence out of Waltham seemed a bit condemning. When combined with the return of these zombie talks with the Clippers, it seems to suggest that Rivers still cannot immerse himself 100 percent in whatever lies ahead for the Celtics.
What happens next? Who knows, given this nauseating game of red light/green light being played by the Celtics and Clippers. But there's a crasser colloquialism that suggests that both sides ought to go to the bathroom or get off the pot.
Hop HERE to read the full story.