WALTHAM, Mass. -- Boston Celtics president of basketball operations Danny Ainge doesn't remember the first time he met Brad Stevens. But he remembers sitting courtside for the 2010 NCAA men's basketball title game and telling Celtics owner Steve Pagliuca that Stevens was one of the top coaches in the college game.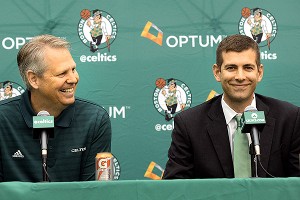 Darren McCollester/Getty Images
Danny Ainge introduces new head coach Brad Stevens on Friday.A little more than three years later, Ainge beamed as he introduced Stevens as the 17th head coach in the history of the franchise during Friday's press conference at the Celtics' training facility. But how exactly did we get here, with Boston quietly dropping a coaching bombshell on Wednesday evening via a team-issued press release? Here's a recap of Stevens' recruitment through the accounts of those at Friday's introduction:
* Eleven days ago, after officially completing a transaction with the Clippers that sent Doc Rivers westward, Ainge made an exploratory phone call to Stevens to gauge his interest. "[It was] before [Thursday's] draft, so [Ainge] had a lot going on," said Stevens. "It was a simple, probably a feeler phone call, like, 'Are you interested?' Yeah, it's the Boston Celtics. It's hard to say that you wouldn't be, not only interested, but a little bit like, 'Hey, I'm going to wreck my car thinking about the fact that the Boston Celtics are calling and asking me to consider being their head coach.' It was a good conversation, but we left it as, 'Hey, we'll talk in a few days.'"
* After taking Gonzaga's Kelly Olynyk in the first round of Thursday's NBA draft, Ainge met with reporters and suggested the team had not made any further progress on its coaching search. He had been in contact again with Stevens, but with Boston finalizing a blockbuster swap with the Brooklyn Nets, the conversations didn't pick up steam until the weekend.
* With the back-and-forth between Ainge and Stevens continuing to gain speed, Ainge pitched the idea to Boston's ownership group and arranged for the one and only in-person meeting. Ainge, assistant general manager Mike Zarren, Pagliuca and co-owner Wyc Grousbeck -- with contract in hand -- flew discreetly to Indiana on Wednesday morning, landing at Indianapolis Executive Airport, a tiny business airport in Stevens' hometown of Zionsville, where the staff were blissfully unaware of the celebrity hoop brass that had arrived. The group piled into a waiting vehicle and zoomed to Stevens' residence to meet with his family. Ainge knew from the beginning that selling Stevens on the NBA wouldn't be easy. "I was aware it was going to be a challenge, just because he had been approached by NBA teams and by big-time college programs before," said Ainge. "And I knew that. So I knew it was going to be a challenge. It was probably going to be more of me selling him, than selling him on me. I knew it would be a challenge."
* Ainge believes the Celtics had one big factor working in their favor: Stevens had built up the Butler program to the point where he could feel confident leaving the school, even as it prepares for a move to the Big East. But he also had to sell Stevens on the idea of jumping to the pros, a move with a low success rate. Ainge reassured Stevens that, as general manager, he wasn't fearful of that prospect. "There are no guarantees that he'll be a successful coach, but he's a guy that I'm buying stock in," said Ainge. "In a big way."
* Zarren and Stevens' wife/agent, Tracy, had negotiated the parameters of a the six-year, $22 million deal he would soon sign. But Stevens was running a basketball camp on the Butler campus and the meeting ended before he was ready to sign the deal. "As we sat there and we were talking, I sensed that it was a really good fit, and I sensed that they were wanting this opportunity," said Ainge. "I don't think there's any magical thing that was said. It was just a feeling that they had." Ainge believes the six-year commitment, one that's rather unprecedented for a first-time NBA coach, made a strong sell.
* That meeting ended abruptly due to a plumbing issue at the Stevens' basketball camp that forced Tracy to go troubleshoot. "They were running a basketball camp at Butler and his wife had to leave the meeting early to go fix the toilets at the basketball camp," Ainge said with a laugh. "I sent her a quick text on her way out [that said], 'You don't have to do that with the Celtics, we have someone that does that.'"
* The Celtics' contingent returned to their plane and were optimistic they would soon have a deal. But ownership, so smitten by the meeting, implored Ainge to stay until a deal was secured. "Wyc and Pags were walking onto the plane, and Wyc and Pags say to me, 'You shouldn't fly back with us, you should stay,'" explained Ainge. "All of a sudden, they liked this guy so much, and [his] family, [so they said,] 'You gotta stay back. You're not flying back with us; you stay back until that contract is signed by him.'"
* A confident Ainge talked his way onto the plane. About an hour after the group arrived back at the team offices in Waltham on Wednesday, they received a fax copy of the signed contract, making the deal official. High-5s were thrown, but the team couldn't announce the deal immediately because Stevens wanted to inform his Butler players before they found out, particularly via social media.
* The Celtics quietly prepped a press release on the transaction, while Stevens alerted the Butler community. At 5:40 p.m. on Wednesday, the release went out via email and Twitter, shocking both the NBA and college worlds (maybe more for the fact that the two sides had kept everything so quiet).
* The Stevens family flew to Boston on Thursday and spent the day roaming the region. Stevens woke up early on Friday and immersed himself in film of his new team before the late-morning press conference. "I'm not sure [Stevens] has [digested the entire process], but he had the computer out this morning, watching film, and that was the biggest smile I've seen on his face throughout this process," said Tracy Stevens. "This is the level he gets to coach at, and he gets to coach these amazing players, and against amazing players."
* Stevens expected to fly home on Friday in order to honor a commitment as part of the local Connersville parade in Indiana. That should tell you a little something about his character. Work will resume soon after as Stevens is expected to fly to Orlando to observe the Celtics as they dive into a week of summer league play. But Ainge noted that Stevens is also eager to start meeting up with Boston players to build relationships and the two must finalize a staff that will include former Rivers assistants in Jay Larranaga and Jamie Young, who are both in Orlando to coach the summer squad.