ORLANDO -- The Boston Celtics would like to see Kelly Olynyk shoot more. Of course, that's a whole lot easier to say after his sweet-shooting pro debut at the Orlando Summer League on Sunday.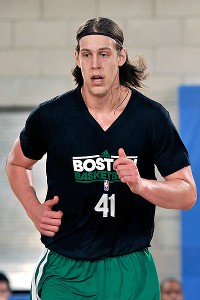 Fernando Medina/NBAE/Getty
Celtics rookie Kelly Olynyk at work Sunday at Orlando Summer League.In his first NBA action since being snagged by Boston with the 13th overall pick in last month's draft, Olynyk scored a game-high 25 points on 9-of-12 shooting, but the Celtics fell to the host Magic 95-88 during their summer opener at the Amway Center.
With the usual all-capitals disclaimer that -- IT'S ONLY SUMMER LEAGUE! -- Olynyk showcased a suitcase full of slick offensive moves and impressive NBA range while accounting for nearly a third of Boston's total field goals. A jumper two minutes in, followed quickly by a 3-pointer, got him off on the right foot. Olynyk had 17 points on 7-of-8 shooting before the intermission.
"Some shots fell early, which makes it easy for a player," Olynyk said. "Some teammates put me in a really good position to succeed, so I've got to thank them."
Olynyk turned in 27 inspired minutes and, while he still has strides to make on defense (he committed six fouls, but benefited from the breezy summer no-foul-out policy), about the only negative coaches could cite was that he was hesitant to shoot at times.
"I think Kelly is very, very skilled," summer league coach Jay Larranaga said. "He can shoot, he can pass, he can dribble. He plays defensively, he talks. Maybe one of his biggest strengths is how well he talks the game and stays connected to his teammates. He's got to not foul so much and he's got to shoot when he's open. He had some shots that he turned down; he's such an unselfish player. We need to keep encouraging him to shoot when he's open."
Head coach Brad Stevens, who observed Sunday's game from the sidelines, echoed those sentiments.
"I thought he made plays off a bounce, he shot it freely, which is really a positive thing," Stevens said. "I don't want him to be reluctant at all shooting the basketball. He can pass for his size. He's good at so many things that would be a tough matchup at a big position."
But it was unofficial assistant coach Jared Sullinger, the second-year forward, who implored Olynyk to not hesitate.
"Kelly's a great basketball player, as you can see," Sullinger said. "He has the inside game, outside game. I just feel like he has to be more aggressive. Especially in the summer league right now. Every time he touches, he should look to score and, the open shots, he's got to shoot them. I just think he needs to be more aggressive and be more assertive and let these guys know that he came to play."
Sullinger also offered some friendly advice on how to deal with the physicality at the NBA level. Olynyk got a taste of constant contact early on when he was aggressively backed down from the wing, eating an elbow that bloodied his lip in the process.
"You've definitely got to adapt to that stuff," Olynyk said. "I knew it was going to happen. I expected it. It didn't catch me off guard. You've just got to hold your guard, not back down."
Read on for more notes from the Celtics' summer opener:
* SMITH INJURES LEG: Injuries don't appear to be taking a summer vacation for the Celtics. Starting guard Nolan Smith suffered what the team termed a lower right leg injury in the opening minutes of Sunday's game and did not return. He is not expected to participate the rest of the week, a disappointing loss for a Boston team eager to get a look at the third-year pro who spent the past two seasons with the Trail Blazers.
"I was trying to get the ball back and it felt like I got kicked in the back of my calf," Smith said. "I told the doctors, they said they all know what that means. It hurt."
Added Smith: "Right now, I still have an MRI, but they said it might be a tear right below the calf. So it wasn't the Achilles."
* THE AINGE-STEVENS BOND: Stevens, who arrived in town on Saturday night, sat courtside with Boston's front office staff, including president of basketball operations Danny Ainge. When a reporter playfully asked how Stevens managed to process any of the action with Ainge yapping in his ear the whole time, Stevens gave a glimpse into the new coach-GM partnership. "We had a lot of similar thoughts and that has really been the case in all of our conversations for the last 10 days," Stevens said. "We've really exchanged a lot of ideas. ... He's a great guy to throw ideas at though. One of the things I've really enjoyed about him is he's an outside-the-box thinker and is not necessarily dead set on right or wrong ways, but maybe what the best way is for your particular team."
* COACH'S TAKE: Despite the loss, Larranaga said of his team, "I thought for the most part guys played unselfishly. They played hard, did what we asked of them. We knew coming in these summer situations that turnovers are a problem for us, and they were for us today. I thought we competed for the whole 40 minutes. I'm pretty proud of how they played." Larranaga had his father, Jim, the men's basketball coach at the University of Miami, watching from the baseline. ... Assistant coach Jamie Young showed some serious summer passion, picking up a fourth-quarter technical foul for barking at an official for a traveling call on Olynyk.