NEW YORK -- Paul Pierce felt like the writing was on the wall. The Boston Celtics were headed in a different direction, particularly after the departure of coach Doc Rivers, and Pierce had resigned himself to the fact that he would likely be traded from the only NBA team he'd ever known.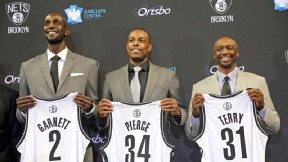 AP Photo/Mary Altaffer
Kevin Garnett, Paul Pierce, and Jason Terry hold up their new jerseys in Brooklyn.He heard the rumors about being waived by the Celtics and following Rivers to Los Angeles. He heard whispers about a deal that could have gotten him to Chicago. But then word came that Brooklyn was interested, and they wanted Kevin Garnett to come with him.
Pierce went into recruitment mode with a chance to bring a bit of familiarity to his next NBA destination, and he knew the Nets had an honest-to-goodness chance to compete for a title if they were able to lure away Boston's veteran core.
On Thursday, Pierce, Garnett and Jason Terry were introduced in a glitzy ceremony before a cluster of cheering season-ticket holders at the pristine Barclays Center in Brooklyn. Pierce, despite mentally preparing himself for the moment, spent much of the early portion of the ceremony looking ill at ease, uncertain how to receive the next chapter of his career.
"It's really starting to sink in, now that it is real," Pierce said at the podium. "I'm no longer a Boston Celtic. I'm a Brooklyn Net. That's what it is right now."
Pierce later detailed the process by which the Nets came calling, and how he phoned Garnett in hopes of convincing him to join him in Brooklyn.
"It was a situation where [the Celtics] were going to make a move, and once the deal with the Clippers didn't go through for [Garnett], it was like, the Celtics were trading me, Doc was leaving, so what was left for Kevin?" explained Pierce. "I talked to [new Nets coach] Jason Kidd, and he was warming me to the fact of coming to Brooklyn, then he started warming me to the fact that they were trying to get Kevin, too.
"That's when I called Kevin and asked him what he thought about coming to Brooklyn, he immediately said, 'Well, what pieces are they going to give up? Who is going to be left? Is it going to be possible for us to win a championship?' He was excited when I talked to him after warming him up, just to have the opportunity to come and win a championship and be alongside a young prospect like Brook Lopez, who he can try to take to the next level. And once I warmed him up to that, he was all in for it."
The Nets ultimately traded Gerald Wallace, Kris Humphries, Keith Bogans, MarShon Brooks and Kris Joseph to Boston, along with three first-round draft picks, in exchange for Pierce, Garnett, Terry, and DJ White. The Nets maintained All-Star-caliber talent in Deron Williams, Joe Johnson and Brook Lopez to pair with the Boston veterans.
Garnett, famous for his resistance to change, still had to be convinced of the switch.
"It was one long, long phone call," Pierce said with a laugh. "Probably like an hour-and-a-half, two hours. I just remember I was standing outside and it was 100 degrees, and I just remember after the phone call I was dripping sweat.
"I was like, 'Do you understand what's going on in Boston? [A potential trade to the] Clippers thing appears to be dead. So what do you think, big fella? I know you don't want to retire. I know you don't want to retire. You have too much in the tank, you love the game too much. Sometimes you just have to tell Kevin to sit back and think about it. He reacts to everything. Like his initial reaction to everything is, 'No.' [You say,] 'Kevin I got a $100 million,' [And he replies,] 'No.' Then he has to sit back and think about it and then once he warms up to it, he makes his decision, and that's about anything.
"I knew his initial reaction was going to be against it, but I knew this was going to be a long conversation, too."
For Garnett's part, he agreed with Pierce that a change might be necessary.
"I don't like change much. When I commit to something, I like to go all-out," he said. " It's unfortunate. Obviously, when I saw the Doc Rivers situation I knew that the writing was on the wall even before then. It was tough leaving Rondo and other things, but this is a new chapter with new things to embrace, and that's what I'm doing.
Pierce believes that Rivers felt the same way as his veteran players, that there was no desire to endure a rebuilding process and the opportunity to compete for another title was too good to pass up.
Pierce also said there are no hard feelings with Celtics president of basketball operations Danny Ainge or the team's ownership group. He even said that if he was in a similar position, he probably would make the same moves with the best interest of Boston's future in mind. Even if that didn't make the idea of being unable to finish his career in Boston any easier to digest.
Still, he was resigned to the fact.
"I thought the writing was on the wall," said Pierce. "You saw Doc was leaving, [Rajon] Rondo was hurt, probably not going to be back until probably December, January, who knows? ... If I was a GM and I looked at the situation, and one day I probably plan on being a GM if that's possible, I probably would have made the same decision. There's some sentimental things that go along with me and Danny being together for so long, [but] at the end of the day, he works for the Boston Celtics; he doesn't work for Paul Pierce. He works for a franchise that's going to be around a lot longer than me, and he has to make the best decisions that he can for that franchise. And, if I was in his position, I think moving forward, I would have done the same thing."