The Boston Celtics have hired former Butler guard Ronald Nored in a player development role, a source told ESPN.com's Jeff Goodman.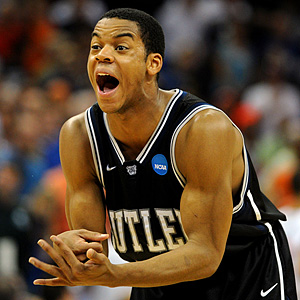 Chuck Cook/US Presswire
Former Butler guard Ronald Nored is joining the Celtics' staff.The 23-year-old Nored, a guard on Butler's two Final Four teams coached by new Celtics coach Brad Stevens, is also expected to have a role with the Maine Red Claws, Boston's D-League affiliate.
Despite his age, Nored is considered a rising star in the coaching ranks and spent his post-Butler days as an assistant at the University of South Alabama and coaching high school ball outside of Indianapolis.
Nored is the latest Butler import for Stevens, who already has already tabbed 23-year-old statistician Drew Cannon for an yet-undetermined analysis role and 36-year-old Micah Shrewsberry as an assistant coach. They join a staff that is also expected to include longtime NBA assistant Ron Adams and two holdovers from the Doc Rivers' regime in Jay Larranaga and Jamie Young.
Earlier this year, USA Today profiled Nored and his high school gig. Stevens told the paper, "I want my kids around him. I want him to be a part of their lives because of the kind of person he is. My advice to him was he can't get caught up in results, or the number of wins and losses. He's just got to get caught up in the growth of his team. When we've talked, he's done a wonderful job of recognizing and being aware of that."
Now, Nored will attempt to help Stevens apply that same philosophy at the NBA level.
Nored told USA Today, "[Coaching] is all I've wanted to do for a very long time, since I was a junior in high school. In college, people would say, `You want to play [professional] basketball after this? No, I don't want to play basketball. When my senior year is over, I want to coach."