The Boston Celtics traded former first-round pick Fab Melo and cash considerations to the Memphis Grizzlies Thursday in exchange for the nonguaranteed contract of Donte Greene.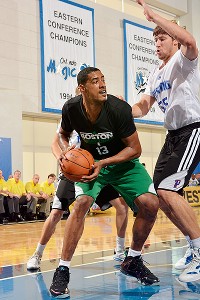 Fernando Medina/NBAE/Getty
Fab Melo at work at the Orlando Summer League last month.Greene is set to earn $1 million this season. If Boston doesn't envision a spot for the 6-foot-11 forward on its roster, the team could waive him (either immediately or after training camp) and could dip below the luxury tax line (Boston is roughly $0.7 million over the $71.8 million line at the moment; Melo was set to earn $1.3 million).
In moving Melo after just one season, the Celtics are acknowledging they misfired while using the No. 22 pick to secure the Syracuse product last summer. Boston had two first-round picks in that 2012 draft and snagged Jared Sullinger one pick earlier, then rolled the dice on Melo, an insanely raw Brazilian big man who toiled in the D-League for much of his rookie campaign.
With the Maine Red Claws, Melo averaged 9.8 points, 6 rebounds and a league-high 3.1 blocks in 26.2 minutes per game. He was named to the D-League All-Defensive first team and D-League All-Rookie first team. But he didn't show much in terms of development at the Orlando Summer League last month and clearly still needed time and reps to improve.
Boston's desire to move on might have been heightened if it doesn't believe it can otherwise shed salary as the team has expressed a strong desire to get below the tax this season, one that's likely to be a transition year.
The Celtics bolstered depth up front this offseason by drafting 7-footers Kelly Olynyk and Colton Iverson (who will play in Turkey this season). Boston also signed Brazlian center Vitor Faverani, who had been playing professionally in Spain, and projects as a top option in his first season if he shows he's ready for NBA competition.
That frontcourt logjam makes it unlikely that Greene, a former first-round pick (28th overall in 2008) who spent four seasons with Sacramento but hasn't played in the league since the 2011-12 season, would make the team.
Greene signed with the Grizzlies on April 17, but did not appear in any games for the team.
(Post updated from earlier report; Memphis Commercial Appeal first reported Grizzlies interest in Melo)