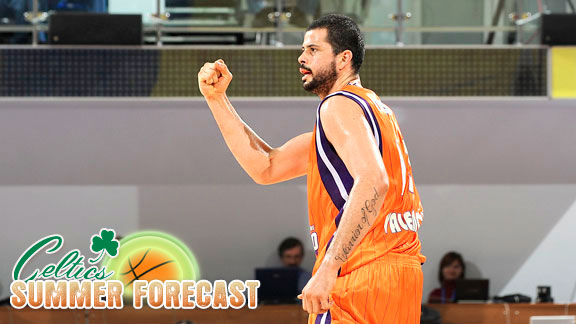 Rodolfo Molina/Getty Images
Could Vitor Faverani emerge as starting center in his first season in the NBA?Each weekday for a three-week span, our summer panel of prognosticators -- a motley crew featuring our friends in the Celtics blogging community -- will join forces to tell you how the 2013-14 season will play out for Boston. We'll gaze into our crystal balls and attempt to answer all your questions before this season's team even hits the floor together for the first time.
Today's Celtics Summer Forecast topic: Who starts at center?
SUMMER FORECAST 2013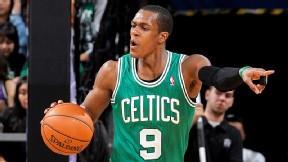 For three weeks in August, we'll break up the summer doldrums by trying to predict exactly how the 2013-14 season will play out for the Boston Celtics. A rundown and recap of the series:
The Celtics have no shortage of big men on their roster. The trouble is that nearly all of them project more at the power forward spot than at NBA center. Fortunately for Boston, the league has been shifting to smaller lineups and there are few dominant centers any more in this league (especially in the East), allowing the Celtics to sort of mix and match at the 4 and 5 spots. This is nothing new after Boston moved Kevin Garnett to center duties in each of the past two seasons.
In our panel vote, rookie Kelly Olynyk landed a team-best 40 percent of the vote to start at center, while Kris Humphries was next at 33.3 percent. Brandon Bass, Vitor Faverani, and Jared Sullinger all landed votes as well, but were distant finishers.
With all the new faces, it's likely that the center position won't be determined until training camp when coach Brad Stevens can mix and match his personnel and get a sense of who fits best together (remember, Stevens puts a high value on lineup combos that work well together). Boston's versatility will allow it to go small at times and put a Jeff Green/Gerald Wallace combo at the 3-4 spots, leaving a need for just one big (in that situation, maybe Humphries makes most sense given his rebounding talents).
While Celtics president of basketball operations Danny Ainge has tempered expectations on rookie Olynyk by suggesting that he's pegged as a complementary role player, his scorching summer league debut could eventually help him earn consideration at center in lineups where Bass or Sullinger play the 4. That allows Boston to mask Olynyk's rebounding deficiencies, while also giving them some intriguing options on the offensive end.
And don't count out Faverani, who has center size (6-foot-11, 260 pounds). The question is whether he's ready to handle the physical nature of NBA frontcourts and that will be pretty obvious early in camp or exhibition play.
Olynyk or Faverani may very well ascend to that starting role during the season, but the guess here is that Humphries is the starting center on opening night. You don't pay a player $12 million to sit on the bench. Boston would be well served if Humphries reestablished his value after a down year in Brooklyn, giving the Celtics a potential trade chip later in the season (contenders would be intrigued by a consistent double-double presence if Humphries can regain his form). Obviously, Boston's best interest is to give minutes to the younger players that will comprise its future core (Sullinger, Olynyk, Faverani), but spotlighting Humphries early could help the long-term future as well.
---
John Karalis, Red's Army (Jared Sullinger)
Eenie, meenie, miney, moe... catch a center by the toe... if he can't rebound, let him go... eenie, meenie, miney moe. Fab's gone (and wasn't good enough anyway) and Humph is too small. I love the idea of Sully and Olynyk together at the same time. I think they're going to be a lot of fun to watch out there on the same side of the court with Rajon Rondo. Faverani will probably get peppered in against bigger teams like Indiana or Brooklyn. It wouldn't shock me if he started (I picked him first, but changed my mind), but I just don't know enough about him right now to say for sure he'll start more often than not.
---
Kevin O'Connor, Celtics Blog (Kris Humphries)
Despite the fact that many fans dislike Kris Humphries for quite irrational reasons, there is no denying the fact that the man is a very good big man. In 2011, Kris Humphries was a virtual double-double every night, achieving one in 29 of his 62 games played. At only 6-9, Humphries doesn't have ideal height as a starting center, but his 7-foot wingspan and style of play allow him to play the position. As a banger in the paint, Humphries will spend the majority of his time crashing the offensive boards for putback dunk opportunities. Defensively, Humphries won't come close to making the impact that Kevin Garnett made the past six years, but he is still a viable help defender that can make hustle plays and block shots from behind.
---
Mike Dyer, Celtics Life (Kelly Olynyk)
My head says: Start Humphries and Bass, allow them to pile up decent numbers and raise their trade value. Deal them in January/February to teams that need bigs and then start Sullinger and Olynyk in the second half. After all, Humphries did average a double-double in both 2010-11 and 2011-12, and Bass is a rare power forward who can double as an on ball defender agains the likes of LeBron James and Carmelo Anthony. Both have value, but it's up to the Celtics to give them the playing time necessary to show that. My heart says: Screw you head, start the kids. This team is not going to be good, so allow Sully and K.O to give the fans something to cheer about. Both guys have legitimate skills, Sully as a banger and on the glass, Olynyk with combination of old-man post moves and ability to stretch the floor. If we're going to miss the playoffs for the first time since 2007, let's at least have some fun doing it. Bottom line: Going with my heart.
---
Michael Pina, CelticsHub (Kris Humphries)
Kris Humphries is sort of the default answer here. Kelly Olynyk might spend the most time at center next season, but his natural fit appears to be at power forward, so starting him at the five from day one might not be the most ideal option for developmental purposes.
---
Jared Weiss, CLNS Radio (Brandon Bass)
The biggest gap the Celtics currently have is a frontcourt defender. Kevin Garnett has been the de facto center for a couple years, but he hasn't played that role as a traditional pivot man. KG's major impact came as the hedger on the pick-and-roll, the most important component of Doc Rivers' defense. While Brad Stevens may take a different approach to covering the P&R, big men that know how to hedge and sit under picks are a coveted asset in the league. Bass improved his hedging down the stretch last season and is the only big on the roster that has shown he can pull it off consistently. Although Stevens might eventually like to see Kelly Olynyk at the four and Jared Sullinger at the five in the first unit, Sully's P&R defense last year was essentially collide into the ball handler and pray the refs swallow their whistles (they didn't). It certainly helps that Bass is the only Celtics' big with a proven midrange jumper, keeping lanes somewhat available for Rajon Rondo, Jeff Green and Gerald Wallace. Assuming the Celtics maintain their strategy of being a perimeter-oriented defense, Bass is the most viable option at the five until Olynyk or Vitor Faverani get used to the speed and physicality of the NBA.
---
Blasts from our bench
• Jeff Clark, Celtics Blog (Kelly Olynyk): It might be a little early to throw a rookie into a starting position (especially with questions about his defense) but he's a legit 7-footer and his outside game would look awfully good alongside my preferred power forward starter Jared Sullinger.
• Jay Ouellette, Red's Army (Kris Humphries): Humphries will be one of the guys getting "showcased" early in the season. He had a down year last year but didn't play as much. He has a favorable expiring contract to deal to a contender that could use another big, so giving him a month or two of heavy minutes at the 5 will help this cause.
• Jon Duke, Celtics Stuff Live (Kris Humphries): Humphries will start the season next to Jared Sullinger in the starting lineup as Brad Stevens is forced to go with the best forwards available where no centers on the roster show the capacity to be a top-8 rotation player at this point.
• Matt Rury, CLNS Radio (Kelly Olynyk): This is a scary question that I hadn't thought about until now. I am purely basing this on his play in the Summer League (which usually amounts to almost nothing) but Olynyk looked comfortable at the center position and I think he will fit well with Sullinger and Green in the front court. He should also open the floor up as another shooter to clear the lane for Rondo to drive and work his magic.
• KWAPT, Red's Army (Kelly Olynyk): Olynyk just shows too much promise at this point. He can run the floor, as well as spread it with his range, and Stevens will have him in the starting 5 come Opening Night, if you ask me.
• Jonathan Lemons, CLNS Radio (Kelly Olynyk): The Celtics aren't winning it all this year and Olynyk has looked great when on the floor this summer -- might as well get him the reps.
• Mark Vandeusen, Celtics Life (Brandon Bass): For two reasons: One, I think Brad Stevens is going to want to run a lot, and will follow the growing NBA trend of using two "bigs" in the frontcourt instead of a real center. I see an opening night starting five of Bass, Sully, Green, Bradley, and Rondo. The other reason for this is that he'll want to show the world that the Celtics are intent on playing hard and winning games; and going with a lineup that carries over from last season is a nice way to remind everybody you still have a talented roster. This may not last for very long however, especially if Olynyk impresses from the beginning.
• Bill Sy, Celtics Blog (Kelly Olynyk): "Now, your starting center from Brazil, Vitor Faverani!" Uh, no. "A 6'9 center from the University Of Minnesota, Kris Humphries!" Absolutely not. Without question, Kelly Olynyk is going to be the starting center for the Celtics. In year one of the rebuild, Stevens needs to find out which players can serve as part of the foundation for the franchise and Olynyk is his most skilled big man.
---
Your Turn: We hope you join the conversation. Vote in our poll and sound off in the comments with your prediction on who starts at center. Hop HERE to read the full Summer Forecast series.
---
(Chris Forsberg can be reached at espnforsberg@gmail.com or on Twitter @ESPNForsberg. Hop HERE to submit a question for his Celtics Mailbag.)