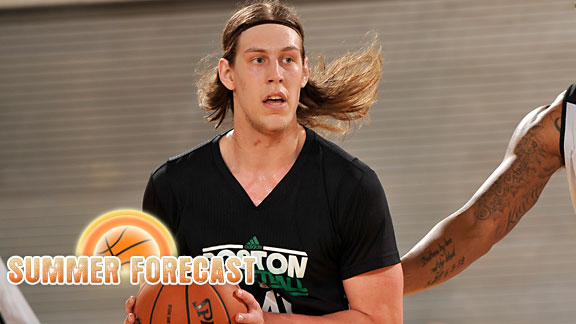 Fernando Medina/NBAE/Getty Images
Our panel has set some lofty expectations for Celtics rookie Kelly Olynyk.Each weekday for a three-week span, our summer panel of prognosticators -- a motley crew featuring our friends in the Celtics blogging community -- will join forces to tell you how the 2013-14 season will play out for Boston. We'll gaze into our crystal balls and attempt to answer all your questions before this season's team even hits the floor together for the first time.
Today's Celtics Summer Forecast topic: What are your expectations for Kelly Olynyk?
SUMMER FORECAST 2013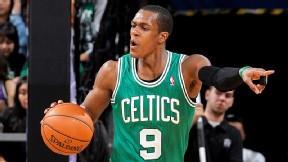 For three weeks in August, we'll break up the summer doldrums by trying to predict exactly how the 2013-14 season will play out for the Boston Celtics. A rundown and recap of the series:
Boston shuffled up three spots and snagged Olynyk at No. 13 in June's draft. Celtics president of basketball operations Danny Ainge promptly diminished expectations, going out of his way to suggest that he did not view Olynyk as a starter, but more of a complementary role player. What's more, Ainge suggested that 7-foot Olynyk probably couldn't play the center position at the NBA level.
Well, none of the bloggers in our summer panel seem to care what Ainge thinks. One day after Olynyk was pegged the favorite to emerge as the starting center for the Celtics this season, our panel overwhelming voted that Olynyk will earn All-Rookie team honors during the 2013-14 campaign. Given four options for Olynyk's potential contributions next season, a whopping 56.3 percent picked All-Rookie, while another 37.5 percent elected for a Jared Sullinger-like first-year impact (you'll remember Sullinger played big minutes, looked comfortable on the floor, and had ascended to a starter role before a back injury ended his season in February). In fact, only 6.3 percent of respondents picked Olynyk for either of the final two lesser options (Limited impact or D-League).
So much for tempering expectations.
Olynyk showcased some slick offensive skills at summer league and left some Celtics fans breathlessly making Kevin McHale comparisons. Are we putting too much stock in a five-game summer glimpse? Of course. But it's understandable that observers are intrigued by a 7-footer with the offensive repertoire that Olynyk displayed.
So what are more reasonable expectations? The guess here is that Olynyk carves out a consistent role off the bench, getting something like 25-28 minutes per game and seeing his numbers slowly climb as the season progresses (particularly if Boston unclogs the frontcourt with additional moves). If he proves he can carry over that summer success, there's a chance for those minutes to spike, maybe sharing the frontcourt at times with Sullinger (in that pairing, Sullinger is more likely the 5).
Olynyk is so smooth offensively that it's probably not out of the realm of possibility that, on a team that needs scoring, he could be a double-digit scorer by season's end (something that Boston's bench has desperately needed in recent seasons). Go ahead and put him on the McHale path and see if he can emerge as a starter down the road as Boston navigates this rebuilding process. We still have to see if he can play consistent NBA defense and improve his rebounding numbers. He'll get a bit more rope than he might have seen on Doc Rivers' veteran teams.
While this writer won't rule out the All-Rookie squad (the potential lack of competition for those 10 available spots will help his cause), we'll take the Ainge approach and suggest that if Olynyk can show the same sort of comfort level and basketball IQ that Sullinger did in his abbreviated glance last season, then Olynyk will have had an excellent rookie campaign.
---
Michael Pina, CelticsHub (All-Rookie)
Barring his health, Olynyk's minutes should be up there with every other rookie in the league next season. And with minutes, comes offensive opportunity, which brings numbers. Since basic box score statistics are still all we really look at when deciding All-Rookie teams, Olynyk should easily find himself on one.
---
Kevin O'Connor, CelticsBlog (All-Rookie)
Not every player is fortunate enough to receive 30 minutes per game during their rookie year, but there is a good chance Kelly Olynyk gets that much time on the court. Olynyk will likely struggle defensively, but will receive countless opportunities to excel with the ball in his hands. With a veteran-like presence on the post and a developing 3-point shot, Olynyk brings one of the most developed offensive skill sets to the NBA from the 2013 draft class. The product from Gonzaga is an easy candidate for the All-Rookie team, and is a potential contender Rookie of the Year.
---
Mike Dyer, Celtics Life (All Rookie)
Expectations? To be better than Dirk Nowitzki, shoot 100 percent from the floor, and lead the Celtics to 14 championships in the next 15 years (he will take 2019-20 off to attend a summit on -- and then solve -- global warming). OK, I may be going overboard, but after his summer league breakthrough (18 ppg, 7.8 rpg, 58 FG%), Olynyk is primed to have a big role on this year's team. The lack of true No. 1 scoring option should help the former Zag put up solid scoring numbers for Boston, and the lack of impact players in this rookie class will help him make the All-Rookie team this season. His ceiling isn't incredibly high (sorry to the folks who think he'll be Nowitzki) but he is going to be an impact player for this team. Stat line prediction: 12 points, 6.5 boards and 2 assists in just over 30 minutes per game.
---
Jon Duke, Celtics Stuff Live (All-Rookie)
I've joked that anything less than a Larry Bird-in-1980 impact for Olynyk is a disappointment due to his ridiculous performance in the Orlando Summer League, but honestly this crop of NBA rookies is underwhelming to begin with. I suspect minutes may be difficult to come by with veterans like Kris Humphries, Brandon Bass, Gerald Wallace, and even Sullinger ahead of him. Olynyk will be deserving of more time before long, thus necessitating deals to opening time for the rook.
---
Jared Weiss, CLNS Radio (Sullinger-like impact)
He shined at the summer league despite Danny Ainge's rather dampening remarks on draft night, but let's not forget that Justin Reed once took over the summer league nearly a decade ago. While he has a diverse and clever offensive skill set already, the difference in competition between the summer league and the actual league could be a rude awakening for Olynyk. Like Sullinger, he conveys himself as a fun, young guy with a great social media persona that will make him a fan favorite. But many of the jump hooks and high-post drives he was pulling off in Orlando are going to be sniffed out and pre-empted by most NBA defenders.
---
Blasts from our bench
• Tom Westerholm, CelticsHub (All-Rookie): All-Rookie selections from the past four years: Tyler Zeller, Wes Johnson, DeJuan Blair and Jonny Flynn. Sometimes, it's just not that hard to be one of the 10 best rookies in the NBA. I think Olynyk will be a very good NBA player, and I think his polished NBA game combined with Boston's rebuilding season will combine to inflate his numbers a little bit. He will deserve an All-Rookie selection. It's just not going to be that hard.
• John Karalis, Red's Army (All-Rookie): He's got skills. He opened a lot of eyes in Orlando. And while that's "just" summer league, the skills he displayed were instinctive things that go beyond "he just did that because the competition was bad." He made the bad competition look bad. Of course he has deficiencies he'll have to work on, but he'll do enough to make the All-Rookie team.
• Jeff Clark, Celtics Blog (All-Rookie): He was one of the top rookies at Summer League and he's got the kind of polished offensive game to make an immediate impact in the NBA. He also happens to be in a weak draft class that features a lot of long-term projects in the lottery.
• Matt Rury, CLNS Radio (Limited impact): Jared Sullinger had a bigger impact than the majority of people thought he would last year before his injury, and I fall into that category. I don't expect that type of a year from Olynyk, but I do expect the Celtics to ask for 20-25 minutes from him every night.
• Ryan DeGama, CelticsHub (Sullinger-like impact): Unlike rookies under Doc Rivers, Olynyk should be permitted to play through his defensive mistakes in this season's depressurized environment. He's sufficiently offensively skilled that he could make a quick name for himself around the league, or, in Causeway St. parlance, enhance his value as a tradable asset.
• Jay Ouellete, Red's Army (Sullinger-like impact): Like Sully, Olynyk first proved he could play at the Orlando Summer League. And like Sullinger, I think he'll have a similar impact.
• Mark Vandeusen, Celtics Life (Sullinger-like impact): Funny to use the phrase "Sullinger-like impact," because that is both what I am hoping for and afraid of. I expect Olynyk to have a lot of big moments that C's fans can get excited about, but this plantar fasciitis has me worried him could miss a fair amount time as well.
• Bill Sy, CelticsBlog (All-Rookie): The 2013 NBA Draft was littered with lottery wing players and there will be a logjam at 1, 2, and 3 for the All-Rookie team. However, there are few bigs to contend with at power forward and center. Both Alex Len and Nerlens Noel are coming off major surgery and Steven Adams is a 20-year-old rookie on a championship team. Of the other players picked ahead of Olynyk, only Cody Zeller projects as a starter for their respective teams. Every member of last year's All-Rookie team averaged 25+ minutes per game and I expect that and more from Olynyk next season. Chad Ford ranked him 6th as a potential Rookie of the Year candidate for a reason. He was the best player in the Orlando Summer League, beating guys bigger and faster than him with an array of skills with his back to the basket and beyond the 3-point line. Like any rookie, he'll hit a rough patch then a wall, but Olynyk has a diverse enough skill set where if something's not working, he'll find another way to contribute.
---
Your Turn: We hope you join the conversation. Vote in our poll and sound off in the comments with your expectations for Olynyk. Hop HERE to read the full Summer Forecast series.
---
(Chris Forsberg can be reached at espnforsberg@gmail.com or on Twitter @ESPNForsberg. Hop HERE to submit a question for his Celtics Mailbag.)