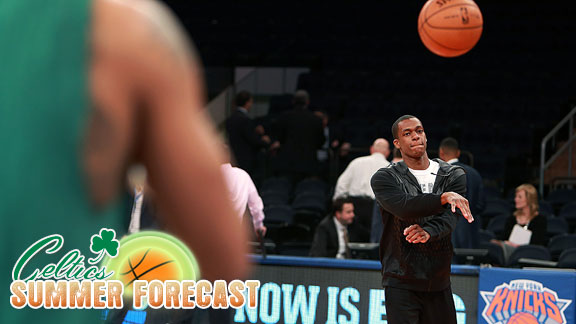 Jim Davis/Boston Globe/Getty Images
When will Rajon Rondo be back dishing passes in a Celtics uniform next season?Each weekday for a three-week span, our summer panel of prognosticators -- a motley crew featuring our friends in the Celtics blogging community -- will join forces to tell you how the 2013-14 season will play out for Boston. We'll gaze into our crystal balls and attempt to answer all your questions before this season's team even hits the floor together for the first time.
Today's Celtics Summer Forecast topic: When will Rajon Rondo return?
SUMMER FORECAST 2013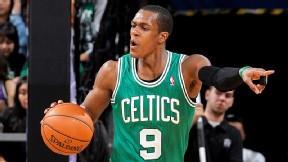 For three weeks in August, we'll break up the summer doldrums by trying to predict exactly how the 2013-14 season will play out for the Boston Celtics. A rundown and recap of the series:
For the purposes of this exercise, we asked our panel when will Rondo return, but it might as well have been when should Rondo return. After all, those are two distinct questions as Rondo and the Celtics set an aggressive opening night timeline for his return and Rondo is insanely motivated to show how fast he can bounce back.
But should he? For a team in transition, and one with an absolutely brutal November schedule that's heavy on back-to-backs, is there any reason to rush Rondo back to the floor?
Our panel doesn't think Rondo will be held down very long. In our poll, 35.3 percent of voters thought Rondo would be on the floor for opening night, while 52.9 percent believe he'll be back before Christmas. Only 11.8 percent believe Rondo will wait until after Christmas to return to action.
But back to that should part. When the Celtics visit the Toronto Raptors on Oct. 30 to open the 2013-14 season, Rondo will be roughly nine months removed from partially tearing his ACL in Atlanta, and a little more than eight months beyond the February surgery to repair the injury.
History tells us that anything less than nine months is still an aggressive timeline and, as Derrick Rose showed last season, there are simply no guarantees on length of recovery. It often revolves around when the player feels comfortable enough to dive back in, and you have to factor in the position Rondo plays.
Beyond the pride of a fast recovery, what's the value in rushing Rondo back if you're the Celtics? Boston plays a whopping 19 games in a 33-day span to start the season, including those six back-to-backs, all of which close on the road. If Boston were hoping for a fast start in order to remain competitive, it makes it a little bit more understandable why they'd accelerate Rondo.
But a team in transition? One with a new coach, new playbook, and a whole lot of new faces. There's little reason to slam the gas pedal. Take this slow, make sure Rondo is OK. Throw him back into the fray whenever it feels right and don't let the calendar dictate that decision.
The biggest hurdle in that: Rondo's pride. We all know that Rondo operates with a chip on his shoulder, and the ability to bounce back faster than most is clearly a goal. But even as soon-to-be captain of this organization, Rondo can lead this team in street clothes while working his way back to the floor.
The guess here? Rondo returns before Christmas. It wouldn't surprise us to see Rondo navigating the final stages of his rehab when training camp opens in late September. But Boston ought to follow the model it used with the likes of Avery Bradley last season (who was coming off double shoulder surgery). The team didn't allow lofty goals or aggressive timelines cause them to rush Bradley and risk re-aggravation (or confidence loss while not playing at 100 percent, which still might have occurred anyway given the lingering aftereffects).
For the Celtics, slower is better with Rondo's return.
---
John Karalis, Red's Army (Before Christmas)
We all know how stubborn Rondo is and how quickly he wants to come back. I'm sure his goal is to be back by opening night, but I think the team will take it slow. Maybe even slow enough to go into October at 2-12. I'm only half-kidding there. I'm staunchly anti-tanking, but I'm also staunchly anti-re-injury, too. I think he'll be ready some time in October or November.
---
Jay King, MassLive (Before Christmas)
If I had to guess, Rajon Rondo's daily activities include rehabbing from ACL surgery, reading every article suggesting he's a cancer, visualizing his next Connect Four win, stomping on an 11-year old in Connect Four, and, finally, using said articles suggesting he's a cancer as toilet paper (or passing them to somebody else to use as toilet paper, because, you know, assists). I imagine he wants nothing more than to return on opening night, notch a triple-double against the Toronto Raptors, direct a few cuss words at the media section, and then continue to carry the Celtics on his back toward a surprising playoff berth. But rushing him back just doesn't make sense -- not for him, or the Celtics. Preserving their lone All-Star's health should become a top priority because they aren't going to contend for a championship this season anyway. And if doing so causes Boston to lose a few extra games, well, that'd actually benefit the Celtics, who presumably wouldn't mind Rondo passing the basketball to Andrew Wiggins, Julius Randle or Jabari Parker come 2014. Because Rondo only partially tore his ACL, it's possible he's 100 percent by opening night. If he's not, the Celtics should keep him out until his knee's absolutely perfect.
---
Kevin O'Connor, CelticsBlog (Opening Night)
Considering Rajon Rondo's success on national television games and his spicy behind-the-back passes, it's obvious that he likes to make people go, "Wow!" If Rondo was able to return on opening night he would get that reaction from NBA fans across the world since it would be just about nine months since he suffered his torn-ACL. Even if Rondo doesn't return on Day 1, I would expect him to be back no later than the middle of November.
---
Mike Dyer, Celtics Life (Opening Night)
Opening night is Oct. 30, eight months and 16 days after Rondo underwent ACL reconstruction on Valentine's Day. While many folks have the Derrick Rose 18-month plan stuck in their heads, it's important to remember that Rose is the exception and not the rule when it comes to ACL's. Some recent examples of players who have made it back in under nine months: Iman Shumpert (8 months, 20 days), Al Jefferson (8 months, 20 days), and Kendrick Perkins (7 months, 10 days). Of course Rondo's style of play is built on speed and changing direction far more so than someone like Perk, whose style of play is simply being large and strong. With that said, this is the same Rondo who played 12 minutes on a torn ACL against the Hawks, so he's not a normal guy. While there has been a lot of talk about holding Rondo out until he's 100 percent, it's important to remember that he may very well be 100 percent on opening night. There is a chance that it may take him a little longer, but I for one would be surprised if he is not back by Thanksgiving.
---
Jon Duke, Celtics Stuff Live (After Christmas)
I wanted to answer, "As Long As Humanly Possible", but sadly that wasn't an option. Rondo does have something to prove this season, but those looking for him to establish himself as a star for the first time need to check themselves before they wreck themselves. A dumber line of logic, I have yet to read. Rondo is a star already, with or without Hall of Famers surrounding him on the court. What Rondo must now show is his ability to be the sole leader of this squad. I have no doubt he will establish himself in this regard.
---
Blasts from our bench
• Jeff Clark, CelticsBlog (Before Christmas): I expect Rondo to "target" a training camp return, but I think doctors and better judgement will force him to take the cautious and slow approach by waiting till he's 100 percent before getting back to full-contact action.
• Jay Ouellette, Red's Army (Before Christmas): I'm hedging a bit here because I think it will be right around Christmas (or it should be). For a season like this one, there is no need at all to rush him back so right around the holidays would be a perfect gift to C's fans that will more than likely get their fair share of coal in their game stockings for the first couple of months.
• Matt Rury, CLNS Radio (Before Christmas): I don't expect Rondo to take the Derrick Rose approach to his injury and get his mind right before he steps on the court. We've seen him play through injuries in the past, and he will likely play immediately upon being cleared by doctors. I just don't believe that will happen by opening night. Check in around Thanksgiving and you should see his name in the box score.
• Michael Pina, CelticsHub (Before Christmas): I wouldn't doubt opening night as a possibility, given the fact that Rajon Rondo is borderline alien and one of the toughest players in league history. But what's the point in playing him? It's the Derrick Rose situation, albeit in a less meaningful context. If he plays, risking further injury in the process, Boston will be better than if he sits. Boston doesn't necessarily want to be better than they have to be. He'll come back before Christmas, but there's no need to rush things.
• Jonathan Lemons, CLNS Radio (After Christmas): The C's know they aren't competing for a championship this year, so they'll be in no rush to bring Rondo back before they're certain he's fully healthy.
• Ryan DeGama, CelticsHub (Before Christmas): Boston's manic November schedule is a tank-friendly gift from the NBA. Rather than dump a recovering Rondo into the chaos of a new system with a new coach and new teammates, the C's can ease their PG back around Christmas and lose a batch of games in the process. Everybody wins!
• Mark Vandeusen, Celtics Life (Opening Night): I think Rondo desperately wants to prove all the doubters wrong. Time and time again you hear things like, "He's a great talent, but not a guy you'd like to build around." Now that he'll have the opportunity to be the undisputed leader and best player on the Celtics, I expect him to embrace the challenge and flourish in his new role. There's no better way to do that than to return opening night and show that this is his team.
• Bill Sy, CelticsBlog (Opening Night): Ainge isn't talking about tanking. Stevens isn't talking about tanking. The players aren't talking about tanking. We haven't heard a lot from Rondo this off season but my guess is, he's not talking about tanking either. With trade rumors dying down and all signs pointing to him being ready by training camp, I expect to see him in uniform Oct. 30 in Toronto. ACL tears are tricky, but by all accounts, his injury wasn't nearly as bad as Derrick Rose, and Rondo will want to avoid the drama that hung over the Bulls last season. He has a ring with the Big Three and on so many nights over the last three seasons, he's been the best Celtic on the floor, but this is his team now and he knows it. He's going to be motivated to prove all the doubters wrong and become the face of the franchise for the rest of his career. That mission will start as soon as possible. This is a guy that played 12 minutes of a meaningless regular-season game in Atlanta after tearing his ACL. With his legacy on the line and an opportunity to put his imprint on the future of the franchise, Rondo suits up opening night.
• Tom Westerholm, CelticsHub (Before Christmas): The Celtics play 19 games between Oct. 30 and Nov. 30. There are 12 games in December. Bringing Rondo back in November would be incredibly foolish. Keeping him out much longer, especially given that nearly ¼ of the Celtics' schedule will be completed by Dec. 3, might be difficult.
• Jared Weiss, CLNS Radio (Opening Night): Don't let Adrian Peterson cloud your judgment of a player returning from an ACL tear: it takes several months of game action to get back to your peak. Most athletes coming off a ligament repair play at ¾ speed for the first half of the season as they regain their conditioning and confidence in putting torque on their knee. Conveniently for Rondo, he has adapted to a more ground-based game over the past three years as he transformed from a drive-and-kick guard to a plotting Steve Nash-esque quarterback. This means less jumping and hard cuts but more quick stops and redirections. It also means a lot more MarShon Brooks and Avery Bradley handling the rock, as Rondo won't be able to play his usual 38-40 minutes per game before the All-Star break.
---
Your Turn: We hope you join the conversation. Vote in our poll and sound off in the comments with your prediction on when Rondo will return. Hop HERE to read the full Summer Forecast series.
---
(Chris Forsberg can be reached at espnforsberg@gmail.com or on Twitter @ESPNForsberg. Hop HERE to submit a question for his Celtics Mailbag.)