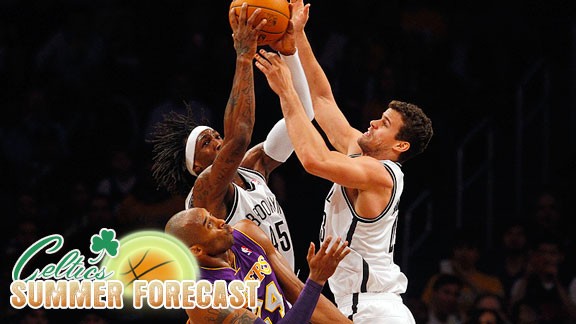 Jim McIsaac/Getty Images
Can Gerald Wallace and Kris Humphries exceed expectations in Boston?Each weekday for a three-week span, our summer panel of prognosticators -- a motley crew featuring our friends in the Celtics blogging community -- will join forces to tell you how the 2013-14 season will play out for Boston. We'll gaze into our crystal balls and attempt to answer all your questions before this season's team even hits the floor together for the first time.
Today's Celtics Summer Forecast topic: Who will be the biggest overachiever?
SUMMER FORECAST 2013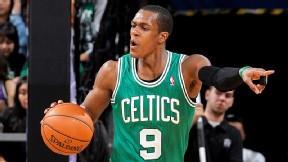 For three weeks in August, we'll break up the summer doldrums by trying to predict exactly how the 2013-14 season will play out for the Boston Celtics. A rundown and recap of the series:
For the first time in seven years, expectations will be lowered in Boston, and not just from the team perspective. After trading away two future Hall-of-Famers, Boston has removed its security blanket at each end of the floor and no one quite knows how members of Boston's young core will respond. Even All-Star point guard Rajon Rondo has diminished expectations while returning from ACL surgery.
A whopping 10 players received votes from our panel (including one for Fab Melo, which would have been stricken from the record even before he was dealt to Memphis). Gerald Wallace tops the overachiever vote at 21.1 percent, while Kris Humphries and Courtney Lee each landed at 15.8 percent.
One thing all three of those players have to overcome on the road to overachieving this season is their contracts. More money leads to loftier expectations, even if all three are coming off down years. Humphries will be the highest paid player on the team ($12 million), but that will be overlooked if he returns to the double-double form he showed previously with the Nets (and jacks his trade value up). Lee's contract is less than half of Humphries' ($5.2 million), but Lee plummeted from Doc Rivers' rotation last season and played sparingly in the postseason, a disappointment after Boston believed it had pulled off a summer coup by landing the young guard via offseason sign-and-trade.
The guess here? Both Humphries and Lee will have a chance to overachieve by getting back on track, but it's Wallace that will surprise most observers. Maybe it's simply the fact that he was absent when Boston introduced the players acquired from the Nets last month, but Wallace seems to be an afterthought given how we haven't heard from him this offseason. What's easy to forget after Wallace's forgettable season in Brooklyn last year is that "Crash" is a hard-nosed player who will give premium effort each second he's on the floor and, if his offensive game doesn't rebound, he's still a positive defensive influence.
Remember that Wallace was feisty enough to get under Kevin Garnett's skin last season. You hate that player when he's on the other team, but Boston loves an instigator in green. Wallace, with help from those intangibles, should be Boston's biggest overachiever this season.
---
Michael Pina, CelticsHub (Jeff Green)
There's really no doubt who this team's primary scorer will be most nights next season. Jeff Green is now an elder statesman, with a still-expanding offensive repertoire that will be called upon more than ever. Sometimes he won't be able to carry the load, because he isn't good enough for that type of responsibility. But next to Rondo, Green is this team's best player, and with a larger role and no veterans unnecessarily usurping his possessions, he'll have the chance to show what he's capable of doing.
---
Jay King, MassLive (Courtney Lee)
I almost went with Gerald Wallace, who's become The Walking Contract even though he's also just a few years removed from making the All-Star team. Wallace, still a good defender, was so bad offensively last season that basically anything he provides on that side of the court will count as exceeding expectations. But the choice here is Courtney Lee*. Widely hailed as one of last summer's top acquisitions, he failed to make any real impact during his first year in Boston, eventually falling out of Doc Rivers' rotation altogether. But Lee's just 27, should theoretically be entering his prime, and boasts a 38.4 percent career mark from behind the arc. If he can make a few tweaks defensively (opponents shot better than 40 percent on 3-pointers with Lee defending) and find more shots (his usage rate dropped considerably last year), he could be in the mix for a bounce-back season. It also shouldn't hurt that Jason Terry's now in Brooklyn, opening up some more minutes in the backcourt. (* This assumes that Lee stays with the team. The Celtics could still look to move one or more of their many shooting guards)
---
Mike Dyer, Celtics Life (Kris Humphries)
The expectations are so low for Humphries that I think he will surpass them by simply showing up every night, crashing the boards (something he is fantastic at and the Celtics are always lacking) and playing with a lot of energy. A lot of the stuff he is hated for (marrying a Kardashian, fighting Rondo, etc.) has nothing to do with the type of player he is. Before a disappointing season last year, Humphries averaged a double-double in both 2010-11 and 2011-12, and while he may not quite reach those numbers in the power forward timeshare here, he could average something like 8 and 8 for this team. Of course, he could be traded by the time training camp starts as well.
---
Kevin O'Connor, CelticsBlog (Gerald Wallace)
I don't buy the fact that Gerald Wallace suddenly aged 10 years this past season. I think his lack of success came from the absence of a defined role at certain points last season. Going back to the 2011-12 season, Wallace was still considered one of the best defenders at the small forward position in the NBA. Last year, he still had success defensively but his horrific year on offense overshadowed his continued success on the other end. Playing alongside Rajon Rondo, Wallace could improve offensively by playing in an up-tempo offense like he did with both Charlotte and Portland. The defense is still there for him, and I think he will exceed expectations with the energy, effort, and skill he brings off the bench.
---
Jared Weiss, CLNS Radio (Avery Bradley)
Avery Bradley models his game on the concept of overachieving. Last season was up-and-down, as his return revolutionized the stagnant and confused defense, but his midrange jumper and surprisingly deadly corner 3-point shooting were missing. The easy explanation is that he couldn't shoot all summer because it's hard to shoot with a sling on. The more tricky explanation is that he may have still been dealing with stiffness in his shoulders and there isn't much time for rehab and shooting work during the NBA season. With an entire offseason to rest his frequently banged up body and get 500 shots up a day, Bradley is in position to regain some of the offensive potential he showed his rookie season. Despite all the roster turnover, the Celtics are still suffering from a dearth of ball-handling scorers and Rajon Rondo will need more support than ever. With his next contract looming, Bradley is in prime position to break out as an NBA household name.
---
Blasts from our bench
• Jeff Clark, CelticsBlog (Kris Humphries): People are so focused on how bad Humphries was last year and how large his salary is and how many times he was on TMZ that they ignore the fact that, with playing time, he could be right back to averaging a double-double.
• Matt Rury, CLNS Radio (Gerald Wallace): This seems like an easy choice to me. Wallace is a veteran who has battled injuries and looks to have possibly hit a wall in his career. Most accounts of the KG/Pierce trade have Wallace included as an afterthought and I'm hoping that puts a chip on his shoulder. If his body holds up, "Crash" should be a key component to any success this team has.
• Ryan DeGama, CelticsHub (Vitor Faverani): Faverani has the offensive talent to claim minutes from the outset. He also appears big and athletic enough to hold his own on defense, assuming he can pick up the schemes. Which is where Brad Stevens feels like the perfect coach to get more out of Fav than many are currently expecting.
• Mark Vandeusen, Celtics Life (Courtney Lee): I'm way out on a limb with this one, but I think most people have pretty much written off Lee. There were brief moments last season when it looked like he and Bradley were an All-Star-caliber defensive backcourt. If the Celtics choose to run a lot this year (and I believe they will), I envision Lee as a key component in a three-guard rotation with Rondo and Bradley. Maybe he becomes the knockdown shooter the Celtics thought they were getting in 2012.
• Tom Westerholm, CelticsHub (Kris Humphries): It's easy to forget that Humphries, who played badly last season in limited minutes, is in a contract year. But he is, and he will have a lot of license to perform. Too solid of a performance, however, and the Celtics will almost certainly deal him. There's no room for players who cost the C's losses on the Tank Safari for Jabari.
• Jay Ouellette, Red's Army (Kelly Olynyk): Not much is expected from the rookie despite the fantastic summer league outing, but as I explained in the Sullinger comparison, I think he will surprise some people.
• Jonathan Lemons, CLNS Radio (MarShon Brooks): After two fairly disappointing seasons with the Nets, expectations for the sweet-shooting 24-year-old are not high, but a change of scenery might be just what he needs to demonstrate his impressive offensive talents.
• John Karalis, Red's Army (Courtney Lee): He was all over the map last year, but in a new system, and with something to prove, I think Lee will surprise a few people. Part of this might be because expectations are lowered after last season's postseason benching. But part of it fits the pattern. His season scoring averages have gone like this over his career: 8.4, 12.5, 8.3, 11.4, 7.8. He's due for 12-13 ppg scoring average, maybe more if things go the right way for him.
• Eric Blaisdell, Celtics Life (Gerald Wallace): I'm taking overachiever to mean a player who will produce more than fans expect. All everyone is talking about is Wallace's contract. The guy can still play. Just a few seasons ago Wallace averaged 18.2 ppg and 10 rpg. Yes, he had a bad season in Brooklyn last year, but at just 31 years old, he has plenty left in the tank. Average a double-double? Probably not, but having a versatile weapon like Wallace coming off the bench is a problem many teams would like to have, contract aside.
• Jon Duke, Celtics Stuff Live (Gerald Wallace): Overachieving can often be a reflection of poorly considered goals as opposed to outpacing a reasonable mark. That's why I'm casting my lot with Gerald Wallace. The first thing I did once the Pierce and Garnett deal happened (and I suspect many others did as well) was take a look at Wallace's contract situation, and the results were not pretty. But however bad Wallace's contract looks in retrospect, his reputation as a hardworking player should help him with the notoriously fickle Celtics fandom. Getting anything from Wallace on the court -- or even in trade -- will be a plus to this team. Despite a poor 2012-13 season, I suspect Wallace will enter this season with renewed vigor and a real desire to improve his lot, whether that's here or elsewhere.
• Bill Sy, CelticsBlog (Avery Bradley):There isn't a player that epitomizes Brad Stevens' do-more-with-less success than Avery Bradley. He reminds me so much of those gutty players like Gordon Hayward and Shelvin Mack that lead Butler to back-to-back championship games. Stevens loves guards that can play defense and Bradley is one of the best on-ball defenders in the game. There's also the return of Rajon Rondo. When Bradley succeeded Ray Allen in the starting lineup two years ago, the rumor is that it was at Rondo's request. After Doc Rivers made that move, Bradley went on to average 15 points per game and shot over 50 percent from the field. For most fans, expectations will be low for Bradley because he faltered last season as a point guard after Rondo's ACL tear, but with Rondo back, he'll move to his natural position at the 2. Couple that with the fact that Bradley will most likely enter next season as a restricted free agent, unless Danny Ainge can sign him to an extension this fall, and you've got all the makings of a second breakout season for Bradley. Stevens will give him every opportunity to prove that he should remain with the Celtics long term.
---
Your Turn: We hope you join the conversation. Vote in our poll and sound off in the comments with your prediction on who will be Boston's biggest overachiever. Hop HERE to read the full Summer Forecast series.
---
(Chris Forsberg can be reached at espnforsberg@gmail.com or on Twitter @ESPNForsberg. Hop HERE to submit a question for his Celtics Mailbag.)