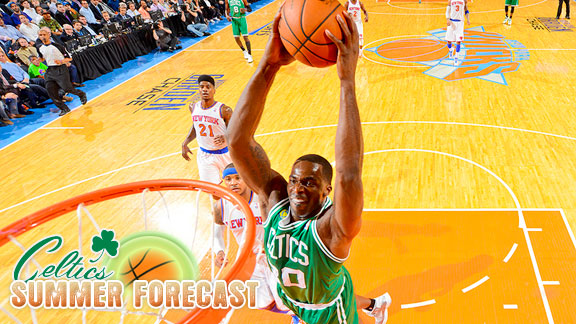 Jesse D. Garrabrant/NBAE/Getty Images
Will a crowded frontcourt prevent Brandon Bass from reaching his typical benchmarks?Each weekday for a three-week span, our summer panel of prognosticators -- a motley crew featuring our friends in the Celtics blogging community -- will join forces to tell you how the 2013-14 season will play out for Boston. We'll gaze into our crystal balls and attempt to answer all your questions before this season's team even hits the floor together for the first time.
Today's Celtics Summer Forecast topic: Who will be the biggest underachiever?
SUMMER FORECAST 2013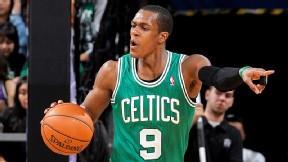 For three weeks in August, we'll break up the summer doldrums by trying to predict exactly how the 2013-14 season will play out for the Boston Celtics. A rundown and recap of the series:
Here's a sign of just how unpredictable the Celtics will be next season: One day after our panel picked 10 different potential overachievers for Boston next season, our prognosticators pegged 12 different potential underachievers. Yep, no one has really any idea what to expect from this team in transition or the players that will comprise the roster.
In voting from our panel, Jeff Green collected a team-high 20 percent of the vote, while Brandon Bass, Jared Sullinger, Courtney Lee, and MarShon Brooks each got 10 percent of the tally for underachiever.
The guess here? Green is the most likely to underachieve. Before the Jeff Green Fan Club jumps to his defense, let's keep in mind one thing here: Very few members of the Celtics have expectations this season, so it's going to be hard for guys to underperform. Even All-Star point guard Rajon Rondo will have the bar set a little lower as he works his way back from ACL surgery.
But Green finished the 2013-14 season strong, thriving in the playoffs against the New York Knicks, and -- fair or not -- some are setting that as the starting point for expectations next season. While a young roster thin on proven talent will give Green the opportunity to thrive and take the next step in his development, there is also a lot of pressure on him to start as strong as he finished.
So the guess here is that our panel isn't necessarily suggesting that Green will underachieve, just that he's the most likely to. A crowded field at the shooting guard and power forward positions will make it tough on others as well, but Green will be under the microscope more than any other player next season.
---
Bill Sy, CelticsBlog (Jared Sullinger)
I don't think there's a player that's going to respond better to negative press than Sullinger, so yeah, I'm going to say Sully. But seriously, a lot of his success last season came as the last option in the offense that included Paul Pierce and Kevin Garnett. He was a terror on the offensive boards and got a lot of buckets on put backs and kick out jumpers. This fall, if his back is healthy, he'll be featured more and I'm predicting a little bit of a sophomore slump with the added pressure. Can he be a 15 and 10 guy as one of the primary scorers on a rebuilding team? Yes, Sullinger has the skills to become a very good player in this league, but it may take a full season and another summer for him to mature.
---
Kevin O'Connor, CelticsBlog (Jeff Green)
Don't get me wrong, I think Jeff Green will have a very good season, but many fans expect him to be a guy that can carry the load night in and night out. I have read comments around the Internet suggesting that Green could average over 25 points per game but I don't see it. With around 15-to-16 shots per game, it's realistic that he could average a tick over 20, but that still would be underwhelming in a lot of fan's eyes. Again, this isn't a knock on Green, but he is one player I see with potential sky-high expectations on a team that really isn't anticipated to do much.
---
Ryan DeGama, CelticsHub (Brandon Bass)
To the extent that defenses would ever worry about keying in on Bass, with none of the former big three around to create for space for him, they now can. Bass' limitations as a core player could come into sharp focus and his playing time could actually see a hit if the C's invest heavy minutes in Sullinger, Olynyk and Faverani. And this is all if the C's don't find a deal for Bass first. You know they'll be trying.
---
Mike Dyer, CelticsLife (Courtney Lee)
I know a lot of people are expecting a bounce-back season from Lee this year, but I just don't see it. For a guy making more than $5 million you'd expect Lee to have at least one skill that was better than "pretty good" by NBA standards. But he doesn't. He's a good 3-point shooter (career 38%, last season 37%) but he's not outstanding. He doesn't distribute the ball particularly well (1.5 assists per game for his career) meaning it's difficult to play him without a guy like Rondo on the floor next to him. And defensively, despite a pretty good reputation — he's just not that good. According to Synergy Sports he allowed 0.87 points-per-possession last season, ranking 195th in the league, and that was actually an improvement from the 0.88 PPP he allowed in 2011-12 (282nd in the NBA). While I think Lee will be an adequate backup guard, I just don't see him ever approaching the production necessary to validate the contract he got last summer. The skill-set just isn't there.
---
Jon Duke, Celtics Stuff Live (Avery Bradley)
Who wouldn't love what Avery Bradley brings? His defensive abilities are without few peers and his style should fit in well with Brad Stevens' hard-nosed coaching style. However, Bradley will be forced to carry a greater share of the offensive burden and he has yet to show he is up to the task. Courtney Lee's poor adjustment to Boston may have him marked down for expectations for the coming year, but it is entirely conceivable Bradley loses his starting role to Lee at some point in the season.
---
Blasts from our bench
• Jeff Clark, CelticsBlog (Jeff Green): I suppose it depends on what you define as "expectations." I've seen some project Jeff Green as an All Star 20 points per game scorer. He's got that kind of potential, but he might only be capable (over the long term) of being a 2nd or 3rd option guy. If so, that's going to disappoint a lot of people.
• Mark Vandeusen, Celtics Life (MarShon Brooks): I'd like to say Gerald Wallace or Kris Humphries, but it's hard to underachieve when you have literally zero expectations. Of the 4 former Nets, Brooks is the only one people in Boston really seem to have anything positive to say about. While he probably has the most long-term potential/upside, I think this year he ends up buried on the bench at the 2-guard spot behind Bradley, Lee, and Crawford.
• Matt Rury, CLNS Radio (Kris Humphries): Do we see a pattern here? I don't like Kris Humphries' game. Really though, I don't expect anybody on this team to underachieve. I think Brad Stevens is going to find a way to get them motivated and hungry to win. Jared Sullinger has already made comments about Celtic Pride and if that type of attitude sticks with the rest of the team, there should be nobody that can be considered an underachiever.
• Tom Westerholm, CelticsHub (Jared Sullinger): Jared Sullinger is a very talented rebounder, and I certainly believe he can become a competent starter in the NBA. But with big expectations placed on him in his second year and coming off a major back surgery, he seems like a prime candidate for the sophomore slump. I think he'll shake off the sophomore slump, but it may make him underachieve -- or at least seem to do so -- this season.
• Eric Blaisdell, Celtics Life (Kelly Olynyk): Full disclosure: I wanted the Celtics to draft German point guard Dennis Schroeder in the worst way. A ready-made Rondo replacement without the attitude issues? What's not to like? That being said, I like Olynyk's game. He can score and has a good motor. I'm just not sold on Olynyk having a breakout season going against players every night who are just as talented and probably more athletic than he is. Calling him an underachiever has more to do with fans' expectations after a great Summer League performance and less of a knock on Olynyk. He'll be a decent contributor off the bench, but he has "role player" written all over him. And that's OK.
• Jay Ouellette, Red's Army (Gerald Wallace): Simply because people will use his paycheck against him. For what he's getting paid, it's a tall order to match that type of production. Now, it's not his fault someone offered him that insane contract, but it is insane to expect him to achieve up to those expectations.
• Jonathan Lemons, CLNS Radio (Jeff Green): This is what Jeff Green does.
• Jared Weiss, CLNS Radio (Jordan Crawford): Jordan Crawford came to Boston with a lot of baggage and a lot of potential. His role was very clear: a semi-competent ball handler for 10 minutes a night. The results were pretty mixed, but in the end, not satisfactory. Crawford looked like he was trying to figure out how to work with the offense and hustle on defense, but he appears to be someone that struggles to fit into a team concept. He can light it up on a non-competitive team, but he has a negative net impact. Stevens will give most of the backup guard minutes to Courtney Lee and MarShon Brooks, leaving very little playing time for Crawford. Jordan has a bad track record of handling similar situations and didn't seem to have too positive of a locker room personality last season.
• Mike Saver, Celtics Life (Rajon Rondo): This would've been easier if I could still say Fab Melo. Instead, I'll go with another obvious choice: Rajon Rondo. I'm a big fan of the point guard but one thing has been abundantly clear in his career as a Celtic. He can turn it on at any moment and become one of the most entertaining players in the league to watch, but he can also turn it off. You've heard it before. There's "National TV Rondo" and there's "Monday Night at Detroit Rondo". There's not going to be a whole lot of opportunities for the former to come out this season. I'm always interested to see how players who have been so used to winning year in year out react when they're suddenly on a bottom feeder. Most of the time, they don't take it too well. Will Rondo be the best player on the team? Absolutely. But a losing situation, his recovery from injury and lack of talent around him will cause the star point guard to fall short of the great expectations we've come to have of him.
---
Your Turn: We hope you join the conversation. Sound off in the comments with your prediction for Boston's biggest underachiever. Hop HERE to read the full Summer Forecast series.
---
(Chris Forsberg can be reached at espnforsberg@gmail.com or on Twitter @ESPNForsberg. Hop HERE to submit a question for his Celtics Mailbag.)