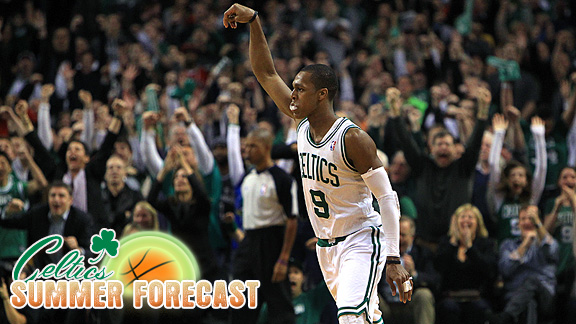 Barry Chin/The Boston Globe/Getty Images
A healthy Rajon Rondo is our panel's favorite for team MVP.Each weekday for a three-week span, our summer panel of prognosticators -- a motley crew featuring our friends in the Celtics blogging community -- will join forces to tell you how the 2013-14 season will play out for Boston. We'll gaze into our crystal balls and attempt to answer all your questions before this season's team even hits the floor together for the first time.
Today's Celtics Summer Forecast topic: Who will emerge as team MVP?
SUMMER FORECAST 2013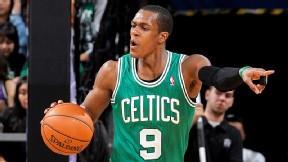 For three weeks in August, we'll break up the summer doldrums by trying to predict exactly how the 2013-14 season will play out for the Boston Celtics. A rundown and recap of the series:
Take Rajon Rondo's health out of the equation and this question seems like a bit of a slam dunk. Rondo is the most talented player on this Celtics team and, even in a transition year, it's fair to say that much of Boston's success (whether that's 30 wins or a push for the playoffs) will be dictated by (1) when Rondo is able to play and (2) how well he plays coming back from ACL rehab.
In our panel vote, Rondo received a whopping 65 percent of the MVP vote, while Jeff Green (20 percent) and Jared Sullinger (10 percent) rounded out the top three. Avery Bradley also landed in the voting.
But our panel stressed that if Rondo isn't able to get back on the court early in the season, it would hinder his MVP chances. Clearly, his health is far more important to the team, particularly in the long term. But an extended Rondo absence does make the team MVP race a bit more intriguing. Will Green maintain his success from the end of last season? Can a healthy Sullinger show again that he should have been a lottery pick? With a chance to drive up the value of his next contract, can Avery Bradley (and two healthy shoulders) emerge as a two-way force spearheaded by his game-changing on-ball defense? Might one of the Brooklyn imports like Kris Humphries or Gerald Wallace find themselves rejuvenated in Boston and lead a young team?
The guess here? Rondo is the MVP if he's on the court for at least half the season. Boston's early schedule is brutal and -- even if Rondo is around for it -- the Celtics are likely to endure some serious lumps before Christmas. Rondo might aid his MVP chances just being a spectator as Boston's lack of battle-tested ball-handlers will have fans salivating for his return.
But my MVP vote comes down to this: This is a monster year for Rondo. Gone is the safety net of Kevin Garnett and Paul Pierce. Rondo must show he can lead this team, utilizing his playmaking abilities to make those around him better, while also increasing his own scoring output and improving his defensive consistency. Pundits are writing off his team and many will diminish their expectations for Rondo himself because of his injury. These are exactly the type of situations that Rondo has thrived upon in the past. With low standards, Rondo has the ability to exceed all expectations for himself and the team by being the team MVP on the court (and off).
---
Michael Pina, CelticsHub (Jared Sullinger)
Last year he was my favorite player on the team, an offensive rebounding machine who played like a gravitationally challenged, more polished Kenneth Faried. This year he'll have more minutes and more opportunity. He won't be the team's best player, but he'll be the most consistent.
---
John Karalis, Red's Army (Rajon Rondo)
He's the star player. If this team is going to have any success, Rondo needs to play at a star level (actually, a superstar level, but let's start slow here). And he knows it. Don't think Rondo isn't aware that his stock will rise sharply if he can lead this ragtag bunch of supposed "tankers" to a better-than-expected record. It's all on him. Those are situations where he usually steps up.
---
Kevin O'Connor, CelticsBlog (Rajon Rondo)
This is the year that Rajon Rondo proves that there is no doubt he is a top point guard in the NBA. When the Celtics won the championship in 2008, fans said that Rondo wouldn't be anything special without the Big 3. But since his 2010 playoff run, Rondo has put the team on his shoulders and that became even more apparent during the team's 2012 playoff run that ultimately ended in a Game 7 loss against the Miami Heat. Rondo won't score over 25 points per game, but I think he will have his highest output scoring, and will prove that he can average over 10 assists no matter who he is passing the ball to. Without Rondo, I believe that this roster is guaranteed a top-5 pick; with Rondo, they could make a run at a playoff spot.
---
Jonathan Lemons, CLNS Radio (Avery Bradley)
Kevin Garnett was the unquestioned leader of the defense but Avery Bradley's return last season sparked a dramatic improvement in Boston's D. His defense will be more of the same this year, but with two healthy shoulders, he should be able to knock down many of the corner-3s that rattled out last year.
---
Mike Dyer, Celtics Life (Jeff Green)
During the last 45 games of the 2012-13 season (including the playoff series against the Knicks), Jeff Green became the player that all Celtics fans wanted him to become. He averaged 17 points and 4.8 rebounds per game while shooting 49 percent from the field and 43 percent from deep during the period between Jan. 25 (interestingly enough, the game against the Hawks that Rondo got hurt in) until the end of the season. Now the challenge for Green will be to maintain that level of production while becoming "the man" on offense. Rondo has never been a dominant scorer and, with Pierce and Garnett gone, opposing defenses will be locked in on Green. Personally, I think he is up for the challenge as his combination of explosive finishing skills and his ability to shoot give him a variety of ways to fill up the scoring column. One of the biggest gripes with Green since he entered the league is his consistency, but he is now 18 months removed from heart surgery and has a chance to build upon the momentum that he had at the end of last season. I think Green goes for 18 points and 5 rebounds per game this season, more than earning his $9 million salary.
---
Jay King, MassLive (Rajon Rondo)
If Rondo's not healthy by opening night (or close enough that he misses any time), the Celtics should be every bit as bad as their biggest critics predict. I'm talking, 'Whoa, they might even be worse than the Bobcats' bad. Think about it: The Celtics' best scorer is Jeff Green, who's never averaged more than 16.6 points per 36 minutes. Their offense has been one of the NBA's worst for the past two seasons ... and lost two Hall of Famers, plus Jason Terry, who wasn't nearly as bad off the bench as most fans seem to believe. The Celtics don't have any obvious rim protectors, claim only one backup point guard behind Rondo (Phil Pressey, an undrafted point guard), and will answer to a new coach, Brad Stevens, who hasn't spent a single second in the NBA. I wouldn't be at all surprised if Stevens develops into a stud (he seems to possess the right mix of intelligence and likability), but asking him to mask so many flaws during his first year on the job could be like proposing to a woman on the first date ... too much, too soon. But let's say Rondo returns. Then suddenly, my thoughts turn from, 'Ahh, the Bobcats!' to 'Hmm, Rondo-Bradley-Green-Sullinger-Olynyk is a really interesting lineup and Bass-Wallace-Lee-Humphries-Bogans-Brooks definitely isn't the NBA's worst bench. This might even be fun.' Rondo won't mask all of Boston's flaws but he's the team's only All-Star and -- assuming a reasonably full slate of health from Day 1 -- he's capable of carrying the young Celtics to a decent season. So, to recap, the way I see it: Either the Celtics drop a bundle of games because Rondo's out for an extended period of time, or they finish better than expected because he spends most of the year running the show. Either way, we should all learn his value.
---
Blasts from our bench
• Jeff Clark, CelticsBlog (Rajon Rondo): He better be the MVP. That is all.
• Ryan DeGama, CelticsHub (Rajon Rondo): If it's not Rondo, something's gone terribly wrong. He's far and away the best player on this team, although it's unclear whether he has the ability to knit a mix of expensive, unwanted veterans and raw youngsters into cohesive whole cloth. This is going to be a trying year for Rondo, who wilted last season when handed the reins to the team. And that was with Paul Pierce and Kevin Garnett to keep him motivated.
• Jon Duke, Celtics Stuff Live (Jeff Green): I've long been a Jeff Green fan and though those expecting him to easily fill the shoes of Paul Pierce as the team's preeminent scorer will be disappointed, Green will carry this team from Game 1 to 82. A prolonged absence for Rondo would disqualify him from consideration for me, but Green will maintain the honor and respect the Celtics names deserves though the team's dismal start. Green won't be a 20-point scorer, but he'll establish himself as a consistent, multi-dimensional threat.
• Matt Rury, CLNS Radio (Jeff Green): Jeff Green has to score. This is the year that he quiets many of his doubters. Expectations may be high, but Green should live up to them. He is going to be looked to as the No. 1 scoring option and some consider him to be the centerpiece of the Celtics' future. There is no better time to start the future than the present.
• Mark Vandeusen, Celtics Life (Rajon Rondo): This is a no brainer. If you're among those who believe the Celtics will battle for a playoff spot (and I am), you know there's absolutely no way this can happen if Rondo isn't the MVP.
• Jay Ouellette, Red's Army (Rajon Rondo): To even pick a team MVP on a team that's expected to be in the lottery is kind of silly, but I'm not sure there is even a debate here. Even if you factor in the missed games, he's the most valuable. In fact, I think we learned a little something when he was not there for the playoffs just how valuable he is. And that was on a team with Paul Pierce and Kevin Garnett.
• Tom Westerholm, CelticsHub (Jeff Green): I'm making two assumptions with this pick: First, I don't believe Rajon Rondo will be back to full health until the 2014-15 season. Second, I believe Jeff Green will play like he did in the second half of last season, not the first. Green's 3-point shooting was fantastic, and he was much too quick for the power forwards who often guarded him. It remains to be seen how Paul Pierce's departure affects Green, but if Rondo isn't fully healthy, Green may become MVP almost by default.
• Eric Blaisdell, Celtics Life (Rajon Rondo): Depending on when Rondo comes back from his knee injury and, if he is 100 percent upon his return, this question is a no-brainer. Rondo will be far-and-away the most talented and most accomplished player on the roster. Sure, Jeff Green, Avery Bradley, Jared Sullinger and the rest will shoulder more of the load, but there isn't a single player on the team that you can look at and say, "He could be just as good or better than Rondo." No question about it, this is Rondo's team now.
• Mike Saver, Celtics Life (Rajon Rondo): While I think Rondo will fall short of the lofty expectations we all have for him this year, he's still undoubtedly the best player on the team and the only player that has a realistic chance of sniffing the All-Star game. There are plenty of concerns, of course. He's coming back from surgery and the pass-first point guard just saw his two best targets get shipped to Brooklyn. Still, the fate of the Celtics season depends entirely on how well Rajon Rondo plays. There's no denying that. He's just that talented. Some even think he can be good enough to mimic Adrian Peterson's story and drag his terrible team to the playoffs. If he can do that, he might be in talks for the league MVP, nevermind the team MVP.
• Bill Sy, CelticsBlog (Jared Sullinger): Even though I picked him to be the biggest underachiever next season, I think he'll emerge as the locker room leader. Next year is going to be tough, especially on vets like Rajon Rondo and Jeff Green, who have both reached their own levels of relative success, and it's going to take a calming voice in the clubhouse to keep everybody's chins up. Sullinger has already exhibited leadership qualities with the summer league team in Orlando and has been very vocal in the media about Celtic Pride (capital C, capital P) and not tanking. We'll miss Kevin Garnett next season, but he lit a fire in Sullinger before he left, and hopefully, it'll burn in Boston for years to come. Look for Sullinger leading the team in a "bar fight" "with grit and balls."
• KWAPT, Red's Army (Rajon Rondo): He has so much to prove and is chomping at the bit to show he can lead this team. This injury, the loss of Doc, Paul & KG have forced him to look inwards and reassess. I feel like he's going to deliver big time this season. Granted, it may be in a losing effort on many nights, but it's his time to shine, and shine he will.
• Jared Weiss, CLNS Radio (Rajon Rondo): He may have a slow start to the season as the team's leader, but the Celtics are still Rondo's team (for better or worse) and he will still be its best player. Jeff Green will make a run at team MVP, but his impact is much more limited than Rondo's. Expect Rondo to be back to dominating games by Christmas, but the big question is how much he will dominate. It is hard to gauge whether he really would have turned into a superstar last year since he got hurt just a few weeks after Avery Bradley's return transformed the team. The high-tempo offense concept failed as much for the fact that Rondo was confusingly inconsistent as the fact that Paul Pierce and Kevin Garnett couldn't keep up. But this new roster is built to run and has a new coach to bring a fresh identity to the offense. Last year's team looked like Doc Rivers' midrange focused half-court system was resisting change forced from above. This year's team is fresh enough to carve a new system based entirely on Rondo, rather than switching between Rondo and Pierce. The big question for Rondo is whether he will take 15 shots a game. He has hovered around 11 for the last two seasons, but Jeff Green is the only other player likely to see double-digit shots per game. Rondo's usage rate should increase even more and this season will be the defining moment when we see if his efficiency can improve with it.
---
Your Turn: We hope you join the conversation. Vote in our poll and sound off in the comments with your prediction on who will emerge at team MVP. Hop HERE to read the full Summer Forecast series.
---
(Chris Forsberg can be reached at espnforsberg@gmail.com or on Twitter @ESPNForsberg. Hop HERE to submit a question for his Celtics Mailbag.)