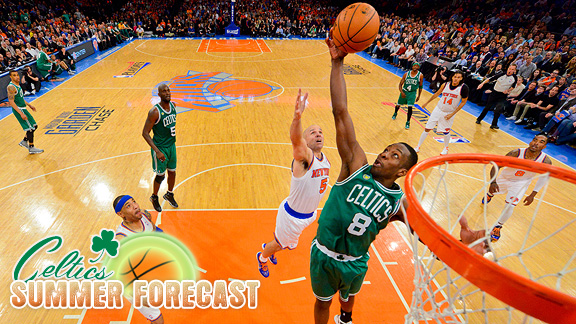 Jesse D. Garrabrant/NBAE/Getty Images
After finishing the 2012-13 season strong, what lies ahead for Jeff Green?Each weekday for a three-week span, our summer panel of prognosticators -- a motley crew featuring our friends in the Celtics blogging community -- will join forces to tell you how the 2013-14 season will play out for Boston. We'll gaze into our crystal balls and attempt to answer all your questions before this season's team even hits the floor together for the first time.
Today's Celtics Summer Forecast topic: What are your expectations for Jeff Green?
SUMMER FORECAST 2013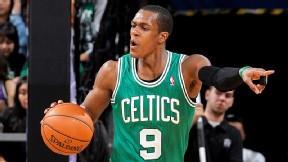 For three weeks in August, we'll break up the summer doldrums by trying to predict exactly how the 2013-14 season will play out for the Boston Celtics. A rundown and recap of the series:
Through the first 5 ½ seasons in the NBA, Jeff Green's per-36 minute stat lines were so staggeringly static, it left many observers wondering if there simply wasn't another level to his game. Then Green found that elusive gear late in the 2013-14 campaign and Celtics fans have spent much of the offseason pondering if he can maintain that sort of production, or whether it was a fleeting glance.
Just how good was Green late last season? Over the final 22 games -- 16 regular-season tilts starting with a monster offensive outburst against Miami and six postseason games against the Knicks -- he averaged a robust 1.039 points per play, according to Synergy Sports data. That's a number that would rank him among the 25 most efficient scorers in the league.
Green showed the potential to be Boston's go-to scoring option with Paul Pierce and Kevin Garnett on the floor. Now, without that security blanket and the possibility that rehabbing point guard Rajon Rondo won't be ready for the start of the year, Green must prove now he can carry the offensive load without those other weapons around him to relieve some of the pressure.
For his part, Green welcomes the heightened expectations and believes there's yet another level to his game.
"I look at the end of last year as being the point in the season where I think things kind of turned the corner for me," Green said earlier this summer. "I feel like this year is going to be another level that I can take my game to after heart surgery. I'm just taking it one day at a time, just trying to get better. It's been a long road, as you guys know. I'm looking forward to what's to come this year and what I can do on the court."
Added Green: "[Last season] kind of set the bar for me and what I can do and what I have do in the future," Green said earlier this summer. "I think I've been heavily prepared by Doc [Rivers], right before he left, mentally [prepared] by KG before he left. I think I'm ready for that next step."
Our panel seems split. Many responders believe Green can take another step as the offensive focal point, while others need to see him sustain that production before they buy in. It's fair to assume that Green will be one of the most scrutinized players on the Celtics' roster next season, and his ability to carry the offense will constantly be under the microscope (particularly if Rondo isn't ready at the start of the season).
The projection here? Green will likely have to substitute quality for quantity this season. Without a bunch of All-Stars on the court with him, Green won't have so many open lanes to navigate or clean looks for jumpers. But the Celtics will lean hard on him to produce points and Green will get every opportunity to prove himself as the star scorer.
---
Ryan DeGama, CelticsHub
Call me a cynic but I don't believe Jeff Green's second-half breakout last season portends anything more than what we've seen from him over the last six years: a number of breathtaking plays and impressive quarters spread across a tableau of overall mediocrity (particularly when you consider his weak rebounding). On the upside, I think he'll look superficially better to rival GMs, with a scoring average somewhere around 18 points per game.
---
John Karalis, Red's Army
I'm setting my expectations a little high on Green. He had a monster run at the end of last March (including that 43 point outburst against Miami). He had a pretty good playoff run. And now, with Paul Pierce gone, it's time for him to step up. He's a full season removed from surgery, and doctors have said it would take that full season for him to truly get to 100 percent. He suffered no setbacks because of it, which will only boost his confidence. And now he's one of the main weapons on a young team. It's going to be interesting to see how he'll do when defenses key in on him. But if Kelly Olynyk and Jared Sullinger can provide some space with their ability to hit midrange (or longer) jumpers, he might get the lanes he needs to get his game going.
---
Jeff Clark, CelticsBlog
I expect Jeff Green to take the progress he made last year and stretch it out over a full season. That means being a more consistent scorer and a better defender and developing his versatile game into coach Brad Stevens' game plan. I'd rather not put any additional expectations on him, though they may be unavoidable.
---
Mike Dyer, Celtics Life
Green is my pick for team MVP, so needless to say my expectations for him are quite high. In terms of raw offensive scoring skills, it's difficult for me to name more than 10 guys with a better inside-out game than Green, and now that he is entering his second full season in Boston and Paul Pierce is no longer around, it's time for him to make the proverbial leap. Green stepped up in a big way after Rajon Rondo went down, averaging 17 points and 4.8 boards over the last 45 games of the season (including playoffs), and for the entire season his per-36 minute rates of 16.6 points and 5.1 rebounds combined with his overall efficiency (47 FG%, 39 3PT%, 15 PER) show what he is capable of when given starter minutes. Green also took steps defensively last season allowing only 0.81 points per play, according to Synergy Sports, down from the 0.85 ppp he allowed in 2010-11, and way down from the 0.91 ppp he gave up in 2009-10. During the summer of 2012, Danny Ainge paid Jeff Green starter's money, and during the second half of last season Green slowly quieted down those who said that was a terrible decision. I expect Green to take another step this season and, once and for all, shut up those who think the Green-for-Perk deal was a mistake, when in reality it was one of Ainge's better moves. Statistical prediction: 18 points, 5 rebounds and 1+ steal and block in 35 minutes per game.
---
Jared Weiss, CLNS Radio
Let's say 20 points per game. That's the benchmark for Uncle Jeff this year. Green averaged 17.3 points on 12.9 attempts in 33.5 minutes per game after the All-Star break last season, then went on to score 20.3 a night in the Knicks series on 14.2 shots in 43.2 minutes per game. It is unclear whether Green will be able to play 36-38 minutes per night based on his comments about having conditioning issues last season, but his deep shooting improved dramatically in the second half of last season and his confidence to go to the rim consistently became apparent after his breakout performance against the Heat in March. Green needs time in the game to develop a rhythm and figure out how to attack the offense, something he couldn't do well coming off the bench in more limited minutes. But as the go-to scorer in the new offense, Green will have free reign to shoot as much as he can. If he can start driving left more frequently and learn to jump on a layup from within 100 feet of the basket, Green is looking at a remote shot at an All-Star selection.
---
Blasts from our bench
• Michael Pina, CelticsHub: Jeff Green should see a boost in his overall numbers, but the efficiency will wane. He still won't be an All-Star, or someone consistently capable of carrying a team, but Green should provide jolts of excitement in what is otherwise expected to be a drab season.
• Jon Duke, Celtics Stuff Live: Jeff Green has the capabilities to be an All-Star player and though I don't see him reaching those levels with him in the role of the team's top scorer, he has that potential. A normal offseason and another year away from heart surgery will allow Green to focus on stabilizing his effort and production, which this young team will desperately need.
• Matt Rury, CLNS Radio: Green needs to step up as the main player for the Celtics. He is the top scorer on this team and his athletic ability needs to kick in to boost his defense and rebounding production. This is finally the season that he steps up and becomes the player that the Celtics signed him to be.
• Eric Blaisdell, Celtics Life: It's put up or shut up time for Green. He is Boston's best option at small forward. No more Kevin Durant or Paul Pierce ahead of him on the depth chart. He's also entering this season fully healthy after recovering from heart surgery. This season will be Green's best and first real opportunity to show what kind of player he truly is. Scoring 20+ points per game is not out of the realm of possibility for Green, as he has all the talent in the world to be the team's No. 1 scoring option. Whether he can do it or not is another story, as most of his career he's been labeled an immense talent who has never quite lived up to his skills. I expect a decent year for Green as he adjusts to being the team's go-to guy with 18 points, seven rebounds and three assists in 30+ minutes per game. Anything less and the team may need to look in another direction for a wing. For better or worse, the "Who is Jeff Green really?" question will be answered.
• Kevin O'Connor, CelticsBlog: I predict that Jeff Green will average close to 20.2 points, 6.5 rebounds, and 1.8 assists per game. I don't think he will make it to the All-Star game, but he will prove to be a valuable contributor on a potential contender in the future.
• Mark Vandeusen, Celtics Life: I think Green will lead the team in scoring, probably averaging 17-18 points per game. It will be interesting to see if he takes over the Paul Pierce last-shot role. With Rondo as the veteran leader and primary ball-handler/distributor, I expect the C's to have a fairly balanced offense overall, and that may actually keep Green from really busting out the way some people might expect.
• Bill Sy, CelticsBlog: Celtics fans look over the East landscape and they a conference dominated by small forwards like LeBron James, Carmelo Anthony, Paul George, Luol Deng, and yes, Paul Pierce in Brooklyn. Can Jeff Green join that elite class? My gut tells me no. Next season, people are going to expect Green to make that next leap in his development. That means being a No. 1 option on a team that's going to struggle to score all year, but that's just not his game. Green excelled in the second half of last year working off of Pierce and Garnett, either slashing into the lane or drifting to the corner for a 3. Paul and KG are gone now, but Green will be aided by the return of Rajon Rondo and the floor spacing provided by shooting bigs Jared Sullinger and Kelly Olynyk. He'll be a steady No. 2 who will electrify the crowd with the occasional throwdown, but don't expect him to be The Man in 2014. However, I do expect Green to up the ante on defense. With a lot of the firepower at the 3 spot in the East, every night is going to be a challenge, but JG should be a candidate for the All-Defensive Team.
• Jay Ouellette, Red's Army: Since Green had somewhat of a breakout second half of the season last year (when he was a year removed from major heart surgery) my expectations are for him to play more like he did in the second half than in the first, which was wildly inconsistent. He's the clear No. 1 scoring option now that Pierce and KG are gone, so he just has to be a consistent scoring threat at the very least.
• Mike Saver, Celtics Life: I don't expect anything different from last year. He's not going to be an All-Star, but he's not going to be bad either. Classic Jeff. I think Jeff Green is going to be very fun to watch. He'll be catching alley-oops from Rondo galore, he'll also undoubtedly have some games like he had against the Heat last year where he'll go off for 40+, but I absolutely wouldn't expect him to do that consistently. I think the Jeff Green you got last year is close to the best Jeff Green you're going to get.
• KWAPT, Red's Army: I expect him to try a little too hard at first, but once he settles in, I look for him to have a solid year as Boston's starting small forward.
---
Your Turn: We hope you join the conversation. Vote in our poll and sound off in the comments with your expectations for Jeff Green this season. Hop HERE to read the full Summer Forecast series.
---
(Chris Forsberg can be reached at espnforsberg@gmail.com or on Twitter @ESPNForsberg. Hop HERE to submit a question for his Celtics Mailbag.)