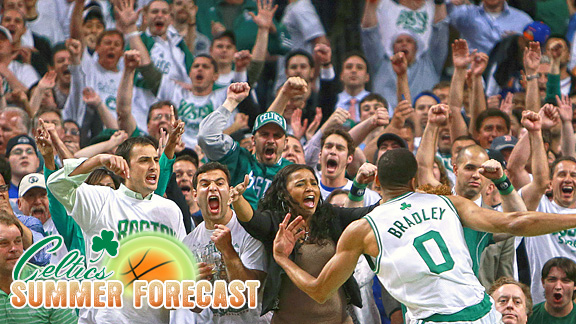 Jim Davis/The Boston Globe/Getty Images
Will Avery Bradley have fans fired up again during the 2013-14 season?Each weekday for a three-week span, our summer panel of prognosticators -- a motley crew featuring our friends in the Celtics blogging community -- will join forces to tell you how the 2013-14 season will play out for Boston. We'll gaze into our crystal balls and attempt to answer all your questions before this season's team even hits the floor together for the first time.
Today's Celtics Summer Forecast topic: What are your expectations for Avery Bradley?
SUMMER FORECAST 2013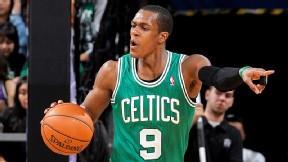 For three weeks in August, we'll break up the summer doldrums by trying to predict exactly how the 2013-14 season will play out for the Boston Celtics. A rundown and recap of the series:
Bradley is coming off a 2012-13 season that featured all sorts of peaks and valleys. He missed the first 30 games while rehabbing from double shoulder surgery, provided a defensive jolt that inspired some of Boston's best basketball upon his return, struggled when backcourt mate Rajon Rondo was lost for the season forcing him into increased ball-handling duties, and lost confidence in his offensive game while his body broke down again late in the season (then his defense slipped as he was routinely torched by New York's Raymond Felton in the playoffs).
Bradley landed on the All-Defensive second team and with good reason. According to individual defensive statistics logged by Synergy Sports, Bradley limited opponents to 0.697 points per play, the lowest mark in the league among those with at least 475 total defensive possessions. Opponents shot just 30.8 percent against Bradley and scored just 31.8 percent of the time, also a league low based on at least 475 possessions.
But Bradley struggled just as mightily offensively. Of all players with at least his 574 total offensive possessions, Bradley ranked 183rd out of 187 in points per possession, according to Synergy data.
On Tuesday, a beefed-up Bradley detailed how he hopes his first uninterrupted offseason of his pro career will bring more consistency to his game next season. Our panel seems to agree that a healthy Bradley should (1) See his offensive numbers recover a bit and (2) Have a chance to be an All-Defensive first-teamer.
But a healthy Bradley will also find increased expectations this season, particularly as he approaches his next contract. Bradley must prove that he can be consistent enough offensively for the Celtics to commit to him as their long-term starting shooting guard, while he must prove that his playoff struggles were an aberration.
The guess here? With the departure of Kevin Garnett, it's on Bradley to sort of set the defensive intensity for these new-look Celtics and he must continue to be an on-ball pest. Offensively, he needs to show consistency, and we'll find out if full health is enough to bring that on. If Boston struggles as a team, it could diminish his chances for All-Defensive first team, but he should be in the mix at the guard position, particularly if Rondo gets back on the court and allows Bradley to settle in at the off-ball spot.
With the team in need of increased scoring, Bradley needs to be a double-digit scorer, even if the majority of points comes off cuts and open 3-point looks (though the increased bulk could help him with finishing around the basket). The bottom line for Bradley is consistency and that's the greatest expectation for him this season.
---
Tom Westerholm, CelticsHub
I talked to Bradley's trainer, Chris Hyppa, this summer. He said Bradley's goal for the summer was to improve enough to become an All-Star. While that might be out of the question, I think Bradley's game could take a big step with a couple of simple offensive improvements. Players can improve their jump shots, and a one-dribble pull-up would do wonders for Bradley's game.
---
John Karalis, Red's Army
I'm pretty excited to see a full (or almost full) season of the Rajon Rondo/Bradley back court. I think Bradley will come off his first healthy offseason with some improvements in his game. And I think pairing him up with Rondo and moving him off the ball will put him in a very comfortable spot offensively. I think he can get back to being the defensive menace he's been known to be, and he'll go back to hitting more of his open jumpers. Entering restricted free agency is a nice little incentive too, so I'm expecting a nice season out of Bradley.
---
Mike Dyer, Celtics Life
If the NBA awards voters wake up and vote for the right guy, Bradley will join Tony Allen on the NBA All-Defensive first team. Unfortunately for Bradley, the voters still look at raw steal numbers over actual defensive production (as in how many points you give up), which allowed Chris Paul to sneak on the team last year when Bradley was more deserving. In 2012-13, Bradley was among the best defensive players in the league, according to Synergy Sports. Considering he was coming off of double shoulder surgery, it's completely realistic to imagine the now fourth-year guard will get even better defensively this season. Which has to be terrifying for opposing guards. The question with Bradley remains: can his offensive production ever come close to matching his defensive production? Down the stretch in 2011-12 it appeared that he was making strides offensively, but he regressed badly last season shooting just 40 percent from the floor and putting up a ghastly 9.6 PER. I'd like to believe that he can be closer to the guy we saw two years ago, but his overall track record offensively is really poor dating all the way back to his time at Texas, so for now my expectations are that he is a slightly better overall player than we saw last season but that he still struggles mightily at times on the offensive end. Statistical prediction: 11 points, 2.5 assists, 2 steals in 32 minutes per game.
---
Kevin O'Connor, CelticsBlog
After recovering from double shoulder surgery for over a year, I think Avery Bradley's shooting numbers should return to his form in 2011. Without having to handle much of the ball-handling duties, Bradley will also get the chance to expound the majority of his energy on the defensive end. After being named to the All-Defensive second team last year, I think he will be on the first team this season.
---
Bill Sy, CelticsBlog
Whenever I think about Avery Bradley at his best, I think about how well he played with Rondo for that stretch run late in 2012. And whenever I think about how well they played together as a duo, I think about Joe Dumars and Isiah Thomas. You've got the brash point guard and born leader at one spot and the quiet, soft-spoken professional at the other. That's who I want Avery Bradley to be: Joe Dumars. With Rondo back in the fold, we're going to see more consistent play from No. 0. He was uncomfortable playing the point in Rondo's absence and his play fluctuated. He'll always bring the tenacity on defense, but offensively, he's best cutting behind defenses and spotting up for jumpers. If he can get steady minutes, Bradley fans can expect 12-14 points per game and cracking the first team All-Defensive list.
---
Blasts from our bench
• Jeff Clark, CelticsBlog: I expect him to be one of the best defenders in the game and I am really hoping that he develops his corner 3-point shooting and gets back to making smart, sneaky backdoor cuts that lead to easy buckets. Hopefully removing the part time point guard duties from his plate will help him to focus more on what he does well on offense.
• Michael Pina, CelticsHub: On the defensive end, I expect Bradley to taper off a bit, not because he isn't special, but because the team is thin in the backcourt, and they really can't afford him to get into regular foul trouble, which his aggressive playing style allows. Offensively he can't be much worse; if Bradley can improve his effectiveness around the rim his overall value increases dramatically.
• Jon Duke, Celtics Stuff Live: Bradley's defense will make him an early favorite for Brad Stevens, but his up-and-down offense will force Stevens to look at Courtney Lee in a larger role. Bradley is entering a crucial year in his career, with the potential of a lucrative contract extension next summer and his first year bearing a much greater offensive load. The pressure will be immense for the even-keeled Bradley.
• Matt Rury, CLNS Radio: Bradley will be healthy and strong for the first time since his shoulder injuries. I expect him to be let loose by Brad Stevens and in turn he will continue his lockdown wing defense on the best guards in the league. His offense will still be a question mark but the value be brings on defense will be unmatched yet again.
• Ryan DeGama, CelticsHub: Bradley struggled through an ill-fitting expanded role last season that hampered his offensive development and even undercut his defense, but I expect him to rebound this year and finish the season as Boston's starting shooting guard. With any luck, we'll see his offensive game edge up a notch or two as well.
• Mark Vandeusen, Celtics Life: Celtics fans have yet to see a full season of Avery Bradley and Rajon Rondo together in the backcourt. Last year Bradley's game suffered dramatically when he was forced to takeover ball-handling duties when Rondo went down. Rondo's presence on the floor alone also makes Bradley better -- a lot better. When both of them are healthy I expect to see many more of those great back cuts and wide open layups we were treated to back in late 2012 when Bradley first stole Ray Allen's job.
• Jay Ouellette, Red's Army: I fully expect AB to maintain the defensive force that he is. What I want from him is to prove he can actually stay on the court. This is a huge year for Bradley as he's due for an extension soon and it's up to him to prove that the C's will keep him for the long run or use him as a chip in a big trade.
• Eric Blaisdell, Celtics Life: This upcoming season is a big one for Bradley. The last we saw of him, Bradley was getting worked over by Raymond Felton, of all people. Whether it was having to take over the point guard duties when Rondo went down or if he was still recovering from his shoulder surgeries, Bradley did not have a great year. Expect Bradley to round into his All-NBA caliber play on the defensive end of the floor as he should be fully healthy, as well as having Rondo back to take over as floor general. The real question is what can Bradley do on offense? He showed flashes of brilliance last season, but Bradley needs to be a more legitimate threat with a consistent jumper if he is to be penciled in as a team's starting two-guard for the foreseeable future. Bradley doesn't need to score 20+ for the season to be a success, but around 15 points per game would be nice. That's not a giant leap for a guy who averages 12 points per game (per 36 minutes) for his career. At 22 years old, there is no sense of urgency yet for Bradley as he still has time to develop. But he will be a restricted free agent at the end of the season and how he gets paid will be tied to how well he plays in 2013-14. Other teams will surely offer Bradley a serious salary boost over the $3.5 million qualifying offer Boston can make based solely on his potential and defense. It will be up to Boston to decide if they want to double-down and match the offer or let their pit bull go and rebuild in a new direction.
• Mike Saver, Celtics Life: I think the book on Bradley is that he's really just a great defensive player that won't do much on offense. I'm not sure this is entirely true though. Bradley has shown flashes of some great offense, he's just been wildly inconsistent. We've seen very little of the Rondo-Bradley combo that was so impressive that it forced Ray Allen to the bench. The team as a whole was hurt when Rondo went down last year, but perhaps no player was affected more than Bradley. With a healthy Rondo at the end of the 2011-12 season, Bradley's coming out party was highlighted by a stretch where he was shooting 76.9 percent from 3-point land. Compare that to the end of last year when he was forced into being a ball handler while doing nothing offensively and getting abused by plump Ray Felton. I think Rondo's importance is clear. With an actual point guard back on the team, Bradley won't have to worry about pretending to be one.
• KWAPT, Red's Army: Bradley really needs to step it up. He was kind of lost in the shuffle last season and really never got back to where he was comfortable. He looked discombobulated emotionally, and unsure of what his role was. This group of guys (Bradley, Lee, Green, Rondo) are very tight. I'm sure they'll get together at camp, along with coach Brad Stevens, and really get clear on what he needs to do this year: Which is be that stopper on defense and create havoc on offense with Rondo through movement/cuts to the basket.
• Jared Weiss, CLNS Radio: The most surprising moment of Bradley's season wasn't his general inability to get anything going offensively, but when he got torched multiple times by Ray Felton in the playoffs. He set the tone for the team defensively most of the season, but the entire team's identity was completely lost in that series. Bradley rehabbed from double shoulder surgery the entire offseason and first two months of the year, so it was no surprise to see how rusty his shooting was. But it was also no surprise to see how in-shape he was out the gate and how relentless he was defensively. Bradley is a worker that commits to improving his game and doesn't make excuses. He also doesn't shy away from a challenge. While he will no longer have to handle the ball for extended minutes with Rondo back, he will still have to play a bigger role in the offense.
---
Your Turn: We hope you join the conversation. Vote in our poll and sound off in the comments with your expectations for Bradley. Hop HERE to read the full Summer Forecast series.
---
(Chris Forsberg can be reached at espnforsberg@gmail.com or on Twitter @ESPNForsberg. Hop HERE to submit a question for his Celtics Mailbag.)