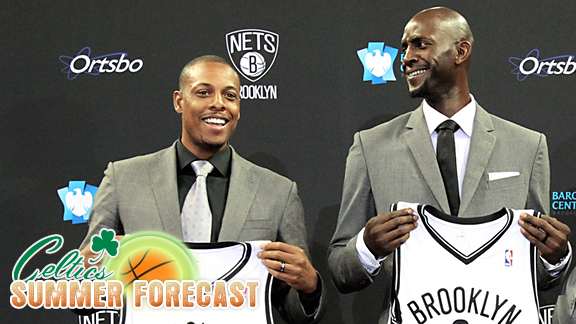 Nathaniel S. Butler/NBAE/Getty Images
Biggest game of the year? When these two return to Boston in January.Each weekday for a three-week span, our summer panel of prognosticators -- a motley crew featuring our friends in the Celtics blogging community -- will join forces to tell you how the 2013-14 season will play out for Boston. We'll gaze into our crystal balls and attempt to answer all your questions before this season's team even hits the floor together for the first time.
Today's Celtics Summer Forecast topic: What is the most intriguing game of the season?
SUMMER FORECAST 2013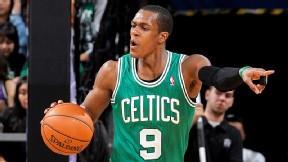 For three weeks in August, we'll break up the summer doldrums by trying to predict exactly how the 2013-14 season will play out for the Boston Celtics. A rundown and recap of the series:
Let's be honest here, this was the easiest question of the forecast. When the Brooklyn Nets visit on Sunday, Jan. 26, it will be Boston's Super Bowl (even if it's the bye week before the big gridiron game). The return of Paul Pierce and Kevin Garnett will undoubtedly be one of the biggest stories of the 2013-14 season. It's going to be an insanely emotional night at TD Garden and, even if Tom Brady and the Patriots are trekking to New York around the same time, hoops will dominate the Boston sports world that night (and maybe that night only next season).
When we polled our panel, the only question was whether the Celtics-Nets game would be a unanimous decision. Just about everyone agreed that it doesn't get any bigger than Jan. 26, but some in our blogger crew did a nice job trying to highlight some less-obvious dates on the calendar. And since you'll be reading plenty about Jan. 26 from our panel, allow us to use this space to highlight three other games that pique our interest next season:
• Jan. 5 at Oklahoma City: The Thunder actually serve as the appetizer for the big Nets visit with a tilt in Boston on Jan. 24, and yet a rare Kevin Durant appearance here will be completely overshadowed by the Pierce/KG return two nights later. With Jeff Green set to be thrust into a blazing green spotlight this season, the Jan. 5 visit to Oklahoma City intrigues us because it's a chance for Green to show the team that traded him away what he's fully capable of in a starring role. Oh, and Rajon Rondo vs. Russell Westbrook is always fun, too.
• Feb.21 at Los Angeles Lakers: The trade deadline is Feb. 20 and Boston spends an offday trekking from Phoenix to Los Angeles. Every meeting with the Lakers is a big deal -- even if both teams are projected to struggle this season -- but the curiosity of how Boston's post-deadline roster will look adds a dash of spice to this rivalry game.
• Dec. 8 at New York Knicks: The Celtics have an overhauled roster that sort of diminishes this playoff rematch. But while everyone's all hyped for the other Empire State rival, here's why the Knicks game is interesting to us: Avery Bradley vs. Raymond Felton. After getting dominated in the playoffs, Bradley (and two healthy shoulders) gets a chance to redeem himself and -- if Rajon Rondo is sidelined at the start of the season while rehabbing from the ACL tear -- this could be around the time the All-Star point guard makes a return as Boston's schedule calms down from a hectic November.
Again, there are more obvious dates that you'll read about below (like opening night or Doc Rivers' Boston return in December), but those are just a few that should generate some additional buzz.
---
John Karalis, Red's Army (Jan. 26 vs. Nets)
Most intriguing game? Wednesday, Feb. 5 at Philadelphia. It'll be a nice test in the midst of the doldrums of February to see if this team has jelled properly. And if you believe that, then email me. I know a Nigerian Prince who needs some help moving money around. Is there any game to look forward to other than January 26 when Paul Pierce, Kevin Garnett, and the Brooklyn Nets come to town? No explanation necessary. That's the only game on the schedule that really means anything this season. Everything else is about player development, team chemistry, yadda yadda yadda. Even Doc's return is going to be a mixed bag. But that Brooklyn game? I just hope that instead of T-shirts, the Celtics hand out commemorative boxes of Kleenex. Everyone's going to need them that night.
---
Mike Dyer, Celtics Life (Dec. 11 vs. Clippers)
I'd be lying if I said anything but Jan. 26th when the Nets come to town, but for the sake of being different I'll also note Dec. 11th when Doc Rivers and the Clippers visit the Garden. After all, we already know the type of reaction Pierce and KG are in for. Doc on the other hand, well that could be interesting. I'd like to believe that the Garden crowd will give Rivers the standing ovation he badly deserves, but the way he left has many fans upset. Personally, I wish Rivers had "owned" leaving more than he has so far. If he was simply more up front about not wanting to be part of the rebuild, people would have accepted his departure a little easier than they did at the time. At the end of the day, Rivers gave this team and this city nine great years and helped put a banner in the rafters, and he deserves to be honored for that. Hopefully most of the fans in attendance on Dec. 11 agree.
---
Kevin O'Connor, CelticsBlog (Oct. 30 vs. Raptors)
I am most looking forward to Opening Night against the Toronto Raptors. I know, in the grand scheme of things this game is insignificant, but it officially marks the beginning of a new era in Boston Celtics history. To me, that reigns supreme over anything else.
---
Matt Rury, CLNS Radio (March 16 vs. Pelicans)
At this point, I still can't stomach the fact that Paul Pierce is in Brooklyn. While the return of No. 34 may end up being my favorite game of the year, I'm planning a trip to New Orleans to see the Celtics take on the Pelicans. Until I accept reality, we'll go with that.
---
Mike Saver, Celtics Life (Jan. 17 vs. Lakers)
Lakers vs. Celtics. The historic rivalry. What could be better? It's actually better that neither team is expected to be very good. That way it'll be evenly matched. Kobe vs. Rondo! We've even got our own lanky awkward dude now! Can't wait. Plus, why would I want to see the matchups I used to look forward to? Heat vs. Celtics? No thanks. I'd rather not spend two hours watching what's left of my favorite team get crushed by the two-time champions we never defeated. I'll still watch, of course, but by no means am I looking forward to it.
---
Eric Blaisdell, Celtics Life (Dec. 11 vs. Clippers)
It has to be the home game against the Clippers on Dec. 11. Yes, the games against the Nets will be huge and heartfelt as KG and Pierce play against their old team, but that trade was business. The Doc Rivers fiasco is personal. It's been well documented that Doc said himself that he wanted to be the Jerry Sloan of the Celtics only to turn his back on the franchise when they needed him most. Did Boston's ownership really not want to pay Rivers $7 million per year and initiate his ouster? That rumor just doesn't seem likely as Boston had one of the best coaches in the game and he was signed to an extension with full knowledge that this team would be rebuilding at some point during his tenure. Doc wanted out, went back on his word, and deserves any and all criticism he gets for it. How great would it be if the team he left because they weren't good enough ended up beating his new "championship caliber" team? It'll send a nice little message like, 'Have a nice flight back to L.A., we'll be just fine without you.'
---
Bill Sy, CelticsBlog (Sept. 12 vs. ?????)
On Sept. 12, it's Danny vs. the 29 other general managers. It's the first day that he can include many of the former Nets (like Gerald Wallace and Kris Humphries) in a trade. Sure, it's a mind game and not a visit to Staples Center, or the return of Pierce and Garnett, but it's a game nonetheless. Ideally, Ainge had something else in place when he cut the deal with Billy King in June and we'll find out about it then. If not, he's got his work cut out for him. Wallace had a miserable season last year and has an even more miserable contract over the next three years, but everybody knows what kind of player Crash is. In a league littered with premier small forwards, Wallace could be a nice complementary piece for teams in need of a bruising defensive 3. Think Ron Artest for the Lakers or Shane Battier in Miami. Houston maybe? Chicago? Ainge has already had a busy summer, but you can bet he'll be working his cell phone (and any Jedi mind trick he has up his sleeve) on Sept. 12. Watching Rajon Rondo go up against the Los Angeles Clippers (Chris Paul and Doc Rivers) should be a blast. Hopefully everyone's healthy for that one.
---
Blasts from our bench
• Jeff Clark, CelticsBlog (Jan. 26 vs. Nets): The first Nets game in Boston. I can't wait to hear the fans' reaction to Pierce and Garnett in introductions. It will be very odd to see them in black and white, but the fans didn't get a great chance to say thanks and goodbye, so this will be the emotional release. Expect a lot of glistening eyes that night.
• Mark Vandeusen, Celtics Life (Jan. 26 vs. Nets): I've been a season ticket holder since Game 1 of the new Big Three era, and the second that Pierce and Garnett were traded all I could think about was how emotional it will be to be in the building on the night they come back. Honestly, the game itself won't even matter that much, just the starting lineup announcements and the tribute videos on the big screen. I get goosebumps now just thinking about it.
• Jon Duke, Celtics Stuff Live (Jan. 26 vs. Nets): The return of Garnett and Pierce to Boston will be incredibly emotional, not just for the fans, but likely for KG and Pierce as well. If Celtics fans have not already adopted the Nets as their second team, they certainly will after that point. Comments by Pierce indicate that the desire for a trade was a mutual decision and should lessen the pressure from those who lament the cold and calculating move by Trader Danny. Like those who hated the Kendrick Perkins-Jeff Green trade in 2011, those disgruntled folks will be hard to find once KG and Pierce retire and those unprotected draft picks begin to pay dividends for Boston.
• Tom Westerholm, CelticsHub (Jan. 26 vs. Brooklyn): The only real game to look forward to individually this season is Brooklyn on Jan. 26, right? Has there ever been a more conflicted fanbase than Boston will be that night? And how will Pierce and Garnett react to being cheered enthusiastically, honored pregame, and generally fawned over -- before trying to beat their old team? Other than that, tankapalooza. It might be a long year.
• Jay Ouellette, Red's Army (Jan. 26 vs. Nets): This is probably the easiest question of the Summer Forecast series. Sunday, Jan. 26 when Pierce and KG return to the Garden. As a season ticket holder, it's going to be incredibly strange and emotional to see that duo back, and not as members of the Celtics. I'm typically an even-keeled guy, but once they start playing that tribute video, all bets are off.
• Tim MacLean, Celtics Spot (Jan. 26 vs. Nets): The most intriguing game on the Celtics 2013-14 regular-season schedule is undoubtedly the matchup with the Nets. Entering the contest, emotions will be running high both on the floor and in the stands as Paul Pierce and Kevin Garnett return to Boston for the first time since being traded to Brooklyn earlier this summer. I fully expect to see tears streaming down Pierce's cheeks, similar to the ones we saw during the ring presentation on opening night in 2008. And, although he's not much of a crier, I would expect KG to get a little misty as he pounds his chest and points to the crowd upon being introduced. However, when it comes time to get down to business, the Celtics will be looking to prove they're capable of achieving success in the post-KG/Pierce era, while Brooklyn's newest duo will look to dazzle the TD Garden once more.
• KWAPT, Red's Army (Jan. 26 vs. Nets): The return of The Truth and Ticket. TD Garden better put out boxes of green Kleenex on each seat. There will not be a dry eye in the house, and will be the most emotional night at a Celtics home game in ages. I have been trying to picture the moment in my mind, and it all just seems so surreal.
• Jared Weiss, CLNS Radio (Jan. 26 vs. Nets): There is no other answer. Remember how emotional the Kendrick Perkins and Ray Allen return games were? This is the Super Bowl of Jumbotron montages. Just to get in one outside the box answer: The last game of the season will be at home against the Wizards. Considering how top-heavy the East will be this year, the Celtics could be at 36 wins and still have a shot at the eighth seed by beating the Wiz and Cavs in the last week of the season.
---
Your Turn: We hope you join the conversation. Sound off in the comments with what game you're most excited to see this season. Hop HERE to read the full Summer Forecast series.
---
(Chris Forsberg can be reached at espnforsberg@gmail.com or on Twitter @ESPNForsberg. Hop HERE to submit a question for his Celtics Mailbag.)