Former Boston Celtics coach Doc Rivers is the latest to offer a non-definitive, yet optimistic outlook on when rehabbing point guard Rajon Rondo will be back on the floor.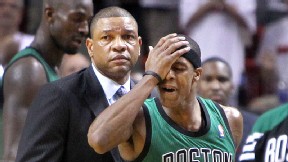 Barry Chin/The Boston Globe via Getty Images
Former Celtics coach Doc Rivers said Rajon Rondo is working hard to return after ACL surgery.Rivers appeared on Boston sports radio WEEI (93.7 FM) on Thursday to promote a Hoop Dreams event at TD Garden to benefit Action for Boston Community Development (ABCD) and was asked if he's communicated with Rondo while he recovers from a torn ACL and whether he knows when he'll be back.
"I have [spoken to him]. I don't know that answer. I really don't," said Rivers. "I talked to all the players. [Jared Sullinger] and Jeff Green and Courtney Lee, but with Rondo I don't know. I know he's working hard, and that's one of things he told me: He's never worked harder in his life. I don't know if you guys have ever had that injury; I have. You have to work that hard to come back. That's a hard injury, not to come back from, it's just a hard injury to do the rehab. When he comes back, he'll be 100 percent. It's just going to take time."
Sullinger suggested recently that Rondo might not return until December, echoing what former Celtics captain Paul Pierce had hinted at over the summer. New Celtics coach Brad Stevens said recently he wasn't sure where Sullinger got the December timeline, noting, "I have never heard a timeline from [Rondo] and the latest that I've heard from our medical staff is that he's progressing really well."
Rondo underwent surgery to repair a partially torn ACL in mid-February. The Celtics set an aggressive timeline with hopes that he might be ready for opening night in late October. Rondo was expected back in Boston soon with the start of training camp at the end of the month.