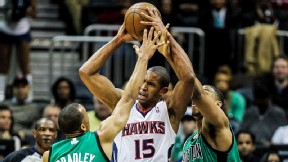 Daniel Shirey/USA TODAY Sports
Avery Bradley and Jared Sullinger apply suffocating defense last season against the Hawks.Training camp begins at the end of the month for the Boston Celtics and each weekday leading up to the formal start of the 2013-14 campaign, we'll dive into our Celtics Mailbag and tackle a camp-related question:
Q: With Kevin Garnett and Paul Pierce off to Brooklyn, what can we expect from Boston's defense next season? -- Gabriel (Louisville, Ky.)
A: In projecting the NBA's top potential risers and fallers for the upcoming 2013-14 season, ESPN Insider suggested that Boston is projected to have a league-worst defense. That was staggering to me. It's no secret how important Garnett was to Boston's defensive success over the past six seasons, but the idea that Boston would plummet straight to the bottom of the sea -- plunging straight past the Bobcats and Kings along the way -- seemed improbable.
Sure, the Celtics vaulted from No. 20 in points allowed per play to No. 1 during Garnett's first season in Boston, according to defensive data logged by Synergy Sports. But what does Garnett's departure do to a team? For that, we examined what happened in Minnesota. The Timberwolves ranked 18th in the points allowed per play (0.943) during the 2006-07 season despite the fact that Garnett allowed a mere 0.775 points per play individually (let's put it this way: the next best rotation player was Trenton Haskell at 0.893 ppp). After Garnett got traded to Boston, the Wolves slipped to No. 27 during the 2007-08 season at 0.971 points per play. That's bad -- especially when you consider that Antoine Walker was the team's best rotation-caliber defender at 0.877 ppp -- but proved that even a terrible defense wouldn't fall completely off the map without Garnett.
What seems prudent to remember for Boston is that the team returns some very capable defenders, including All-Defensive second-teamer Avery Bradley in the backcourt. Sparked in part by Bradley's return in January last season, Boston surged to fifth in the league in points allowed per play (0.897) for the 2012-13 season.
Injuries complicated matters last year, but this was Boston's top five-man lineup in terms of minutes played during the regular season, with individual points allowed per play and percentile amongst all NBA players:
Avery Bradley -- 0.697 ppp (95th)
Courtney Lee -- 0.858 ppp (53rd)
Paul Pierce -- 0.78 ppp (85th)
Brandon Bass -- 0.756 ppp (91st)
Kevin Garnett -- 0.765 ppp (88th)
By season's end, the Celtics had slid Jeff Green into the starting lineup and his defensive boost (0.79 ppp, 82nd percentile) only strengthened that side of the ball. As we noted at the start of this series on Monday, it's impossible to project what Boston's starting 5 will look like, but here's one way the unit could look early in the season (at least after Rajon Rondo's return) with defensive stats from last season:
Rajon Rondo -- 0.777 ppp (86th)
Avery Bradley -- 0.697 ppp (95th)
Gerald Wallace -- 0.853 ppp (56th)
Jeff Green -- 0.79 ppp (82nd)
Kris Humphries -- 0.825 ppp (70th)
Yes, Wallace's numbers from last season are an eyesore and Pierce never got enough credit for how crafty of a defender he could be. But we also know that Wallace is a gritty defender who is going to make things tough on opposing wings. The real question is just how big of a drop off will Boston experience in going from Garnett to the likes of Humphries?
Keep in mind that Boston still has two excellent defensive big men on its roster in Brandon Bass (0.756 ppp, 91st percentile) and Jared Sullinger (0.708, 95th). Bass saved his best defensive play for undersized players, but is tough enough to grind with those bigger than him; Sullinger is going to have to prove himself again coming off back surgery.
Boston certainly doesn't have that game-changing defender on the back line any more and that will likely put the emphasis on a Bradley-led backcourt to set the tone. Bradley had a tough postseason, but entrenched himself as one of the league's best on-ball defenders last season (even while recovering from double shoulder surgery). If his presence can extract the best out of Rondo (who played some of his best defensive ball in recent seasons with Bradley alongside), then Boston's defense has potential to feed off that tandem.
The Celtics will have to install a new defensive system under first-year coach Brad Stevens, but if the goal is an aggressive man-to-man unit, they've got the parts that can make that work, even without the Garnett security blanket.
Who will step up and be the voice of the defense? Who will hold players as accountable as Garnett did (and back that up with their individual play?) These are still to be answered. In the NBA, individual defense is important, but ultimately a team's success is predicated on five guys working in unison and part of the challenge for Stevens is getting all of his new faces on the same page.
The guess here is that there's enough defensive ability to keep Boston out of the basement this season. Just how far from the floor will depend on how much the players left behind step up to fill Garnett's awfully big shoes.
---
(Chris Forsberg can be reached at espnforsberg@gmail.com or on Twitter @ESPNForsberg. Hop HERE to submit a question for his Celtics Mailbag.)