Training camp begins at the end of the month for the Boston Celtics and each weekday leading up to the formal start of the 2013-14 campaign, we'll dive into our Celtics Mailbag and tackle a camp-related question: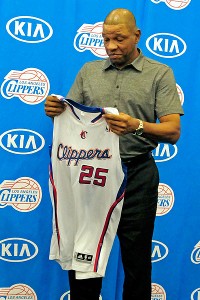 Jayne Kamin-Oncea/USA TODAY
Doc Rivers is the new head coach of the Los Angeles Clippers.Q: I'm still angry at Doc Rivers. Just so you know. Ruined my summer. -- Roland (Boston)
A: Sometimes in order to move forward, you have to let go of the past. Maybe no sentiment was stressed more often by former Celtics coach Doc Rivers during his near-decade-long tenure than when -- borrowing from Detroit Pistons coach Chuck Daly -- he'd implore his players to, "Get past mad."
The idea is that no good can come from lamenting what's happened; that you can't change the past, only the future. It goes for fans as well. So much like we did when Celtics fans decried Ray Allen's defection to the rival Miami Heat last summer, we'll stress again: It's best if everyone just moves on ... and as quickly as possible.
Wait, you're wondering, why are we dredging this up now? Rivers returned to his old office building on Wednesday night as part of the third annual Hoops Dream fundraiser for Action for Boston Community Development at TD Garden. For Rivers, it had to be slightly jarring to be an outsider in an arena where he spent countless hours over the past nine years.
Appearing on Boston sports radio 98.5 the SportsHub earlier in the day to promote the event, Rivers did showcase his familiar humor by quipping, "It's fun being back here in Boston. I lost some money on the golf course, so things are back to normal."
Well, not exactly normal. Rivers was a beloved figure in this town, which left some blindsided by his departure. Some fans have seemingly struggled to rationalize his departure and are still hurt by the notion that he didn't follow through on a promise to aid Boston's rebuilding process.
On Wednesday night, the reception for the new Los Angeles Clippers coach was likely cordial. Corporate sponsors anted up $10,000 for their teams to play on the fabled parquet and rub elbows with Rivers, who was scheduled to hold a question-and-answer session with legendary sportswriter Bob Ryan as part of the event.
But there are Celtics fans who are still bitter at Rivers for electing to pursue the Clippers job out west and chase another title rather than see out the five-year, $35 million contract he signed two summers ago. Before the new season starts, it's best for those fans to get past mad.
A he-said, he-said battle played out in July as Celtics president of basketball operations Danny Ainge and Rivers both offered their explanations as to how Rivers, released from the final three years of his Boston contract, landed in Los Angeles in exchange for a future first-round draft pick. Rivers clearly remains sensitive to the suggestion that he skipped town and has gone out of his way to stress it was a mutual decision. There's a lot of truth to that, but the bottom line is that if Rivers still wanted to be coaching the Celtics, he probably would be.
That's old news, though. The Celtics used Rivers' departure as the impetus to start an overdue roster overhaul, installed fresh-faced Brad Stevens as their new coach on a lengthy six-year deal, and are hoping to use the assets they've collected this summer to accelerate through a rebuilding process that Rivers clearly didn't desire to endure.
As camp nears, Celtics fans ought to embrace the uncertainty and freshness that looms. Sure, it won't be easy. Not while watching Rivers and the highlight-heavy Clippers dance atop the West, or Kevin Garnett and Paul Pierce push Brooklyn to a legit contender in the East. If Boston endures the lumps that many believe the team will take this season, some fans will naturally wonder what could have been had Rivers stuck around and kept the band together for another ride.
Don't lose too much sleep over it. Instead, embrace a team in transition and, heck, maybe even root for the Clippers and Nets when May or June rolls around since Boston will almost certainly be in full draft-prep mode by then.
Rivers will eventually be recalled as one the franchise's top coaches, his departure a mere footnote to his tenure. Any lingering bitterness that exists now will fade and only the fond memories will remain. Like Rivers' efforts in restoring Boston to contender status, or ending a 22-year title drought, or becoming the third-winningest coach in team history (behind only Red Auerbach and Tommy Heinsohn).
Rivers returns to town with the Clippers for an honest-to-goodness basketball visit on Wednesday, Dec. 11. The Celtics will have seen Garnett and Pierce the night before in Brooklyn and emotions will already be off the charts. But being mad won't bring Rivers back to this sideline. Rivers deserves a standing ovation during introductions for what he meant to this team, then boo him and his charges all you want during the game.
You gotta get past mad. Then instead of dwelling on the past, fans can embrace Stevens and what lies ahead when camp commences.
---
(Chris Forsberg can be reached at espnforsberg@gmail.com or on Twitter @ESPNForsberg. Hop HERE to submit a question for his Celtics Mailbag.)