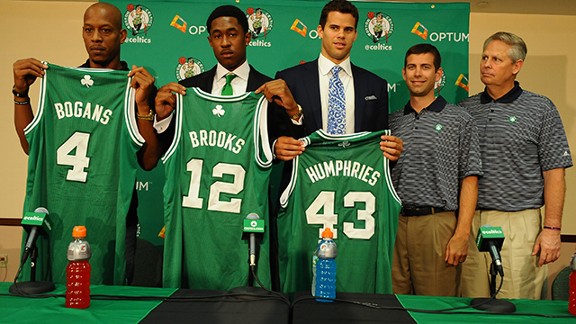 Brian Babineau/NBAE/Getty Images
Players acquired from the Nets are now able to be traded in package deals.Training camp begins at the end of the month for the Boston Celtics and each weekday leading up to the formal start of the 2013-14 campaign, we'll dive into our Celtics Mailbag and tackle a camp-related question:
Q: Sept. 12 is here and I know that date is when the Celtics can include any of the players from this summer's Nets transaction in a subsequent multiplayer deal. Do you see anybody getting shipped out? -- Mike (Newmarket, N.H.)
A: Ever since draft night when the Celtics and Nets first agreed to the blockbuster that sent Kevin Garnett and Paul Pierce to Brooklyn, Boston fans have wondered if another shoe might drop. It took another couple of weeks from that point before the two sides could make the eight-player swap official, but the Celtics' ability to make a secondary move really didn't become feasible until today.
Two months removed from the official consummation of the deal, the Celtics can now trade Gerald Wallace, Kris Humphries and/or MarShon Brooks as part of multiplayer deals. The collective bargaining agreement requires those two months to pass before teams over the salary cap can make what is defined as aggregated trades. Stated simpler: Boston could have flipped these former Nets individually at any time over the past two months, but now the team has more options with the ability to combine assets.
One thing to make clear here: The Celtics cannot trade Keith Bogans until Jan. 15 after acquiring him via sign-and-trade as part of the Nets deal. With an inflated $5.1 million price tag this season, it would be tough to move the journeyman anyhow, but he becomes a real asset next offseason as the final two years of his deal are nonguaranteed (meaning a team looking to shed cap space would be mighty intrigued by him in a swap).
That leaves Wallace, Humphries and Brooks in the spotlight with less than three weeks until the start of training camp. Boston still has traffic jams at the shooting guard and power forward spots, but there has been little indication that any additional move is in the offing with those players.
Brooks reported to Boston last month to partake in informal workouts leading up to camp. Humphries, entering a contract year, quietly arrived in town last week and is eager to prove himself after his role and production diminished last season in Brooklyn.
Wallace is a bit of a wild card. It was his contract -- with three years and $30.3 million remaining -- that made Celtics fans cringe a bit as part of the swap that brought back three future first-round picks. Despite the high price tag ($12 million), Humphries has an expiring deal; Brooks is a young player with low-cost, high-reward potential; Bogans got a hefty payday, but can provide leadership and will be an asset down the road. Wallace? He's a former All-Star seemingly on the decline and some wonder if Boston can move his contract without having to include young talent in the process.
Reading the tea leaves with the more minor moves Boston made late this offseason to ensure it could wiggle below the luxury tax line, the guess here is that the team is prepared to carry all four former Nets players on the roster to start the season. Now, there's always potential a deal materializes given the looser restrictions, but Boston and the rest of the league knew this date was coming and could have worked to be ready for it.
It's almost certainly in Boston's best interest to allow Wallace and Humphries (and Brooks, too, to a lesser degree) the opportunity to reestablish themselves here and increase their trade value in the process. The Celtics and first-year coach Brad Stevens still have to get a handle on their new-look roster and what sort of pieces the team needs to add as Boston attempts to start (and accelerate through) the process of reestablishing itself as a contender.
For now, Sept. 12 simply makes it easier for Celtics president of basketball operations Danny Ainge and his staff to work.
---
(Chris Forsberg can be reached at espnforsberg@gmail.com or on Twitter @ESPNForsberg. Hop HERE to submit a question for his Celtics Mailbag.)