When Brad Stevens was introduced as head coach of the Boston Celtics in early July, he pledged to use the remaining offseason months to learn the intricacies of the NBA game, study the strengths and weaknesses of his in-flux roster, and hit the ground running when training camp opened on Oct. 1.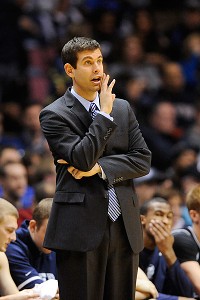 Howard Smith/US Presswire
Brad Stevens believes he's in good position for the start of training camp on Oct. 1.Little more than two months later, and with just two weeks until camp opens, Stevens is confident he's ready for what serves as the grand opening of his NBA tenure.
"I'm in pretty good shape," Stevens said Friday in Dorchester, where he joined a handful of players and staff in running a youth basketball clinic. "I've got a great staff and they've been great about answering any questions that I would have had.
"I think now it's like anything else, you have to come up with a progression for getting as much in as you possibly can in a very short amount of time. Also, a philosophy on how you're going to treat the exhibition games and the exhibition season with the practice opportunities during that month."
Stevens' first few weeks on the job featured a blizzard of activity (introductory press conference, summer league, traveling to meet his players), but things have calmed ever so slightly. Even still, as much of the NBA enjoyed the tranquility of August and early September, Stevens immersed himself in film study to further acclimate himself to the league and has spent much of the past month working with his players as they trickle back to the team's training facility in advance of camp.
"[Summer has] been good," Stevens said. "It's settled down a little bit in the last couple weeks -- kind of the calm before the storm now. A good number of players have been in town, off and on, for the last couple of weeks. And now, a pretty good number [of players] this week. It's been good to work out with them, individually and in the gym some. We're all getting ready for Oct. 1 and the start of it."
As if inheriting a storied franchise in transition wasn't enough for a 36-year-old, first-time NBA head coach, Stevens' truncated offseason has included obstacles in the uncertain rehab of All-Star point guard Rajon Rondo and the arrest of second-year forward Jared Sullinger. With his typically even-keeled demeanor, Stevens has calmly pledged to coach the players that are available and keeps his focus on what's next.
One of the biggest hurdles many believed Stevens would face is having a bunch of 20-somethings buy into the idea that a coach who doesn't look much older than them could return this franchise to contender status. But what Stevens accomplished at Butler and how he's carried himself in his NBA infancy has served him well with his personnel.
"First and foremost, it's a respect factor," Jordan Crawford said. "Back-to-back Finals Fours ... he knows the game. So it's really not about the transition to the NBA, it's just getting comfortable with yourself and knowing your team."
Pressed on why he's been impressed by Stevens, Crawford added, "Beyond his years, really knows the game. A workhorse, pretty much ... always watching film, always trying to figure ways to get better on offense and defense, individually with players and what they need to work on. He's always ahead of what's going to come."
That's been echoed by many on Boston's roster. Undrafted rookie guard Phil Pressey, one of the team's lone pure ball-handlers behind Rondo, said Stevens has been incredibly hands-on thus far.
"If you need something on the court, he'll help you. If you need to sit down and talk to him, he'll do that as well," Pressey said. "I've watched film with him already, and the season hasn't even started. Right now he's off to a good start, and I can't ask for anything else."
Echoed rookie Kelly Olynyk: "[Stevens is] real intelligent, real smart guy, real personable and fun to be around. And he's a great coach, and there's not a lot more you can ask for when you're a player than to have a great coach -- in all facets of the game too."
Stevens put a lot of thought into assembling a staff that would aid his transition and emerged with a diverse group. There's the veteran experience of longtime NBA assistant Ron Adams, the familiarity of former Butler assistant Micah Shrewsberry, and the player/coach experience of Walter McCarty paired with holdovers Jay Larranaga and Jamie Young.
Ready for the start of camp, Stevens' next task is figuring out how to maximize the month-long process so that he can put the most competitive group on the floor when the Celtics open the 2013-14 season in Toronto on Oct. 30.
One thing is certain from how he's approached the first two months on the job: He'll be prepared.