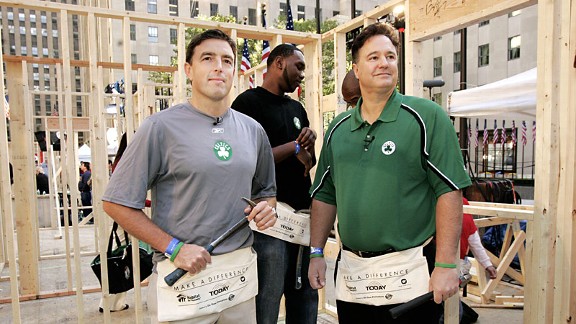 Jennifer Pottheiser/NBAE/Getty Images
Celtics owners Wyc Grousbeck and Steve Pagliuca are ready for the team's next building phase.The Boston Celtics ownership group -- Wyc Grousbeck, Irv Grousbeck, Steve Pagliuca, and Bob Epstein -- will be honored Tuesday night as part of the 12th annual Tradition hosted by The Sports Museum at TD Garden.
On the eve of training camp last season, the ownership group celebrated their 10th anniversary and reveled in delivering Banner 17 to Boston while ending a 22-year championship drought. Now, ownership is digging in for another rebuilding process that started with a roster overhaul this summer and the installation of Brad Stevens as head coach.
As the ownership group is toasted for what they've done in revitalizing the Celtics over the past 11 seasons, a few thoughts on why they've been successful:
* PAY TO PLAY: The way the NBA is structured now, teams must nimbly navigate the luxury tax line. But one thing is certain: In order to play, you can't be afraid to pay (right, Brooklyn Nets?) Since taking over in 2002, Celtics ownership has paid $47.3 million in luxury tax, according to data logged by salary site ShamSports.com. That's the fifth highest total in the league behind only the Knicks, Mavericks, Lakers, and Trail Blazers. Boston has been in the tax in each of the past six seasons -- and seven of the 10 years overall when tax was paid during their tenure -- showing a willingness to field the most competitive team possible. The Celtics likely would have paid the tax again during the upcoming 2013-14 season if they had kept a veteran core intact, but will now attempt (and that's no guarantee) to avoid it this season in order to reap the competitive advantage (and cash rebate) the new collective bargaining agreement affords teams that below the tax line.
* STRENGTH IN LEADERSHIP: Ownership has put a premium on putting the right people in control of their basketball operations. While ownership has been a visible presence, they appear to have been largely hands-off after hiring Danny Ainge to run basketball operations and Doc Rivers to coach the team. Once Ainge zeroed in on Stevens as Rivers' potential replacement this summer, Wyc Grousbeck and Pagliuca flew to Indiana with Ainge and assistant general manager Mike Zarren to sign off on the deal. Like Ainge, ownership came away gushing about Stevens and their faith and trust is reflected in the six-year deal he signed in July. That allows Ainge and Stevens to navigate this rebuild process without the pressure to deliver immediate results.
* COMPETITIVE NATURE: Just watch Grousbeck and Pagliuca courtside and you can tell they are as fiery as Ainge or their players. They also understand the ultra-competitive market in which they reside. "The thing I've learned with [this ownership group] is they encourage me to spend money," Ainge told ESPN in 2008. "All I can tell you is Steve and Wyc and Irv, they're very competitive. I think there's competition in the market. The Patriots are winning [three Super Bowls], the Red Sox are winning [two World Series]. We love the fact that the Red Sox and Patriots have set a standard for this city, just like the Celtics set a standard in the 60s, 70s and 80s."
* HOW BANNER 17 LLC CAME TO BE: This would be a good time to revisit Greg Garber's fantastic 2008 story on how Campbell Grousbeck was a driving force behind the creation of this ownership group. As Wyc Grousbeck noted during Boston's 2008 title run: "[The Grousbeck family] would be out in California, probably, and my golf game would be a little bit better, but I wouldn't be getting ready for a playoff game [back in 2008]. If not for Campbell, we wouldn't be here."